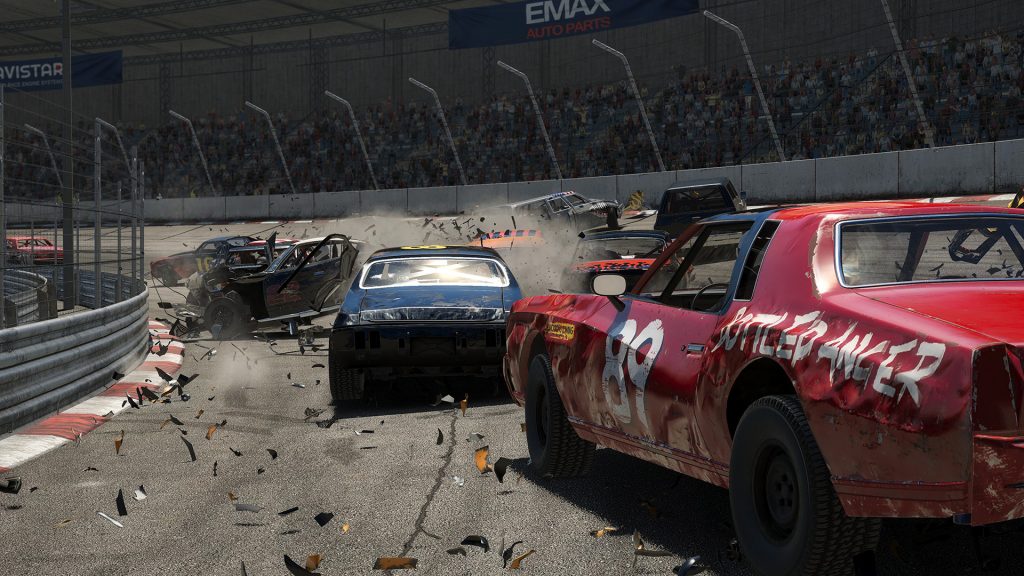 THQ Nordic has rolled a fresh Wreckfest trailer out of the garage ahead of the game's launch on PlayStation 4 and Xbox One later this summer. The latest footage introduces Lucky 99, a racer who lives for crossing the line in pole position. Anyway, if you haven't got an idea of what the game is about yet, then the trailer gets the job done.
Lucky 99 Stars In New Wreckfest Trailer
Check out the new Wreckfest trailer below.
Wreckfest is scheduled for release on August 27 for PS4 and Xbox One, having originally launched for the PC last summer. To coincide with its release on consoles, the game will receive a major update that gives PC users a host of extra content.
Often described as a marriage between FlatOut and Destruction Derby — the latter of which PlayStation fans should have fond members of, along with its sequel — Wreckfest also channels the classic Street Rod, and includes some impressive visual effects in the shape of location-based damage effects.
This is all thanks to the application of soft-body damage modelling, which allows vehicles to sustain realistic damage that alters how they perform on the track. The PC edition of Wreckfest was previously available in Early Access for for years, with the full version rolling out on June 14, 2018.
Developer Bugbear has the following to say on the game:
The most destructive and critically acclaimed racing game by legendary Finnish game developer Bugbear Entertainment has completed the qualifying and stands on pole position for its release to race onto PlayStation 4 and Xbox One.
Wreckfest will see players attempting to balance both defensive and offensive play, as players will have to not only avoid opponents and obstacles, but also fend off competing racers for a shot at victory. The game's slogan is Drive Hard, Die Last, so that should give you an idea of how things will go down.
Stay tuned to PSU.com for more details on Wreckfest as we get them.