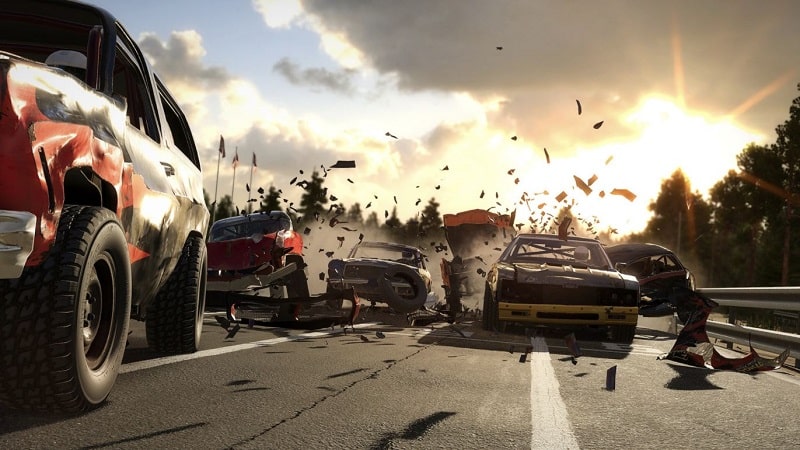 Wreckfest PS5 review. When we reviewed Wreckfest back in 2019, it's fair to say that we came away extremely impressed with what developer Bugbear Entertainment had achieved. Here, at last, was a true spiritual successor to Sony's Destruction Derby title from the first generation of PlayStation which encapsulated everything which made that original game so enjoyable. From the hellacious crashes and a real sense of spectacle, to a deep progression system and a deliciously enjoyable arcade handling model, Wreckfest was and is one of the finest racing games you can get on PS4.
Now making its debut on PlayStation 5 in 2021, Wreckfest brings a number of technical improvements to the table which add yet further lustre to what is arguably one of the finest pure arcade racers on PlayStation, not to mention perhaps the most overlooked. As this review will be primarily concerned with breaking down the technical improvements leveraged by the PS5 version of the game, you can catch a much more in-depth critique of Wreckfest in our original PS4 review.
Wreckfest PS5 Review
---
A Stunning Spiritual Successor To Destruction Derby Given The Polish It Deserves
By far the biggest upgrade that the PS5 version of Wreckfest brings to the table is a predictable one – namely that of visual and technical improvement. A massive world away from the lower resolution, 30 frames per second cap of the PS4 version of the game, Wreckfest on PS5 is quite simply the best the game has ever looked.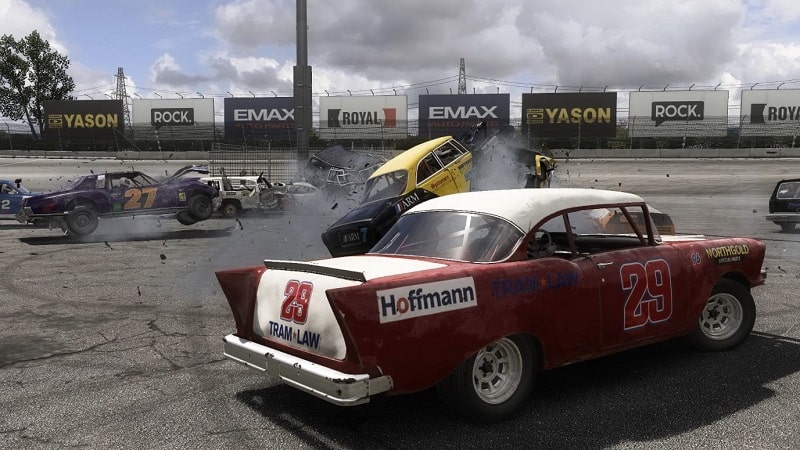 For a start not only do you get a razor sharp 4K presentation which underscores the visuals with an eye-pleasing level of sharpness and fidelity, but you also get a doubling of the framerate to 60 frames per second as well, making Wreckfest appear liquid smooth in motion and deliciously responsive to control as a result. In addition to such a brazen visual facelift, Wreckfest on PS5 also boasts a veritable smorgasbord of other visual improvements that all combine to elevate the visceral nature of Wreckfest's vehicle on vehicle violence.
Further Reading: The Best Racing Games On PS5
A notable uptick in shadow and lighting quality ensures that the tracks and the ambient environments of Wreckfest's races have never looked better, as shadows stretch across the track and volumetric lighting adds a sheen to the game that just wasn't there previously. Furthermore, Wreckfest on PS5 also brings higher resolution textures to the fore as well, making the logos and design work on each car really pop in a way that they just didn't before, while incidental trackside detail also resolves to a much higher standard.
Beyond the obvious resolution and framerate improvements, perhaps where Wreckfest on PS5 does some of its best work is in the more nuanced detail which helps to frame the mud-splattered, twisted metal showcase of Wreckfest's numerous races and vehicular clashes. In its leap to Sony's shiny new gaming box, Wreckfest now boasts much improved particle effect work and dynamic dirt on each vehicle, serving to further cement the believability of Wreckfest's delectably dirty and ramshackle races.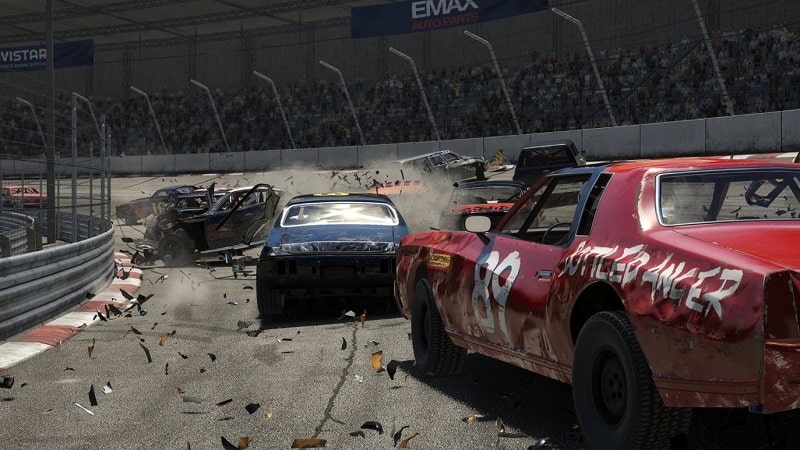 Now when you drift deeply around corners, ample quantities of mud spray up alongside the car in exaggerated fashion that neatly cements the believability of Wreckfest's scenario, while the tracks themselves now much more indelibly bear the scars of the motor-powered tonnage that criss-cross around and over the surfaces of each.
The culmination of Wreckfest's impressive PS5 visual performance profile is that a game which already obsessed over the minute physicality of vehicular violence, succeeds in greatly enhancing that spectacle as a result. From piles of tires being swept across the track, to bumpers hanging off cars, smashed windscreens, twisted chassis and scratched paintwork, this is the absolute best that Wreckfest has ever looked and, thanks to the new 60 frames per second uplift, played too.
One of the biggest bugbears (if you'll excuse the lazy pun) that plagued the PS4 version of Wreckfest are the torturous loading times. Indeed, when you're racing (again with the crappy puns) from one race to the next, the last thing that you need is to wait for a good 30 to 45 seconds for the thing to load. On PS5 however, loading times have been brutally cut all the way down to between 5 and 10 seconds; a massive improvement over the last gen version of the game that allows players to hop right back in with little delay. Thank Crom for the PS5's SSD eh?
Better still, the PS5's Activities system also really comes into its own here, allowing you to dip into a quick race for five or ten minutes with just a 8-12 second loading time from a cold boot. Again it's super impressive stuff that underscores just how important the screamingly fast access speeds of the PS5's SSD is to respecting the time of gamers.
Elsewhere, Wreckfest on PS5 also provides an expected level of DualSense support with the controller tailoring its rumble sensation depending on the ferocity of the on-screen action. It was expected certainly, but still enjoyable to experience all the same. Unfortunately, those folks looking for their hit of adaptive trigger goodness will be a little let down because though the feature is palpable in Wreckfest, the sensation isn't quite so keenly felt as it is in other games. A shame certainly, but definitely something that could be resolved by a future update.
More than anything, nearly two years later Wreckfest is still just pure, unadulterated fun. Quite simply, if you've been hankering after the glory days of Destruction Derby from the 1990s, or if you just want a proper, hell to leather, smashmouth racer with depth for days and style to spare, then you really cannot go wrong with Wreckfest on PlayStation 5.
Wreckfest on PS5 is available now for free as part of the PlayStation Plus May 2021 line-up. It will go on general release in June 2021.
Existing owners of the PS4 version will be able to upgrade to the PS5 version of Wreckfest in June 2021 for £10/$10 respectively.