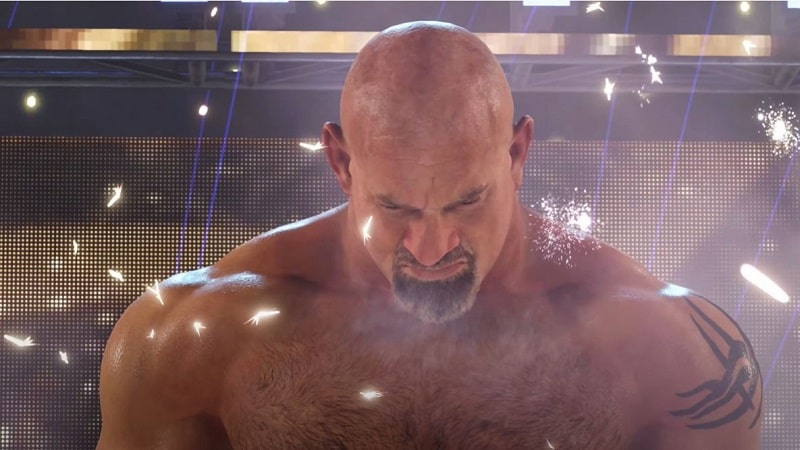 Ahead of its full unveiling in January 2022, 2K has revealed ten new features about WWE 2K22 that look set to set it apart from its predecessors. From a redesigned gameplay engine to the return of MyGM mode, here are the ten new features that 2K believe will make WWE 2K22 the freshest entry in the series for years (something that is sorely needed after the debacle that was WWE 2K20) – with more features to be revealed as we head into 2022.
WWE 2K22 New Features:
Redesigned Gameplay Engine
---
Arguably the most important change in WWE 2K22 is in the engine itself, not least because the WWE 2K games have been using essentially the same engine for nearly two decades. With a completely redesigned gameplay and animation engine from the ground up to make every dive, kickout, and finisher feel as real as if players were sitting ringside at WrestleMania, WWE 2K22 is looking set to deliver the most important overhaul that the series has needed to date.
New Controls
---
Seemingly 'configured to ensure that players have more control over every move, in every situation' the reworked control system in WWE 2K22 appears to be designed with both pick up and play accessibility and deep sophistication in mind. Certainly, if you look at the trailer at the bottom of the page you'll catch Big E doing some UFC style shoulder sways to avoid the incoming strikes unleashed by his opponent. Nice.
Stunning Graphics
---
Simply put, WWE 2K22 boasts the best-ever graphics of the WWE 2K franchise. Boasting the same scanning and animations practices that are used in Visual Concepts' NBA 2K franchise, combined with greatly improved effects and lighting work, this is the best that WWE 2K has ever looked. Don't believe me? Look at Goldberg's super detailed wrinkled mug at the top of the article.
Immersive Presentation
---
Focusing greatly on the immersive presentation that has long defined the WWE TV product, WWE 2K22 looks set to lean into that even further still with pin-point accurate entrances and sky high production values which look set to reflect exactly what you'll see on TV. Hopefully.
New WWE 2K Showcase
---
Essentially a continuation of the WWE 2K Showcase mode seen in previous games, WWE 2K22 allows players to wind back the clock and immerse themselves in the key career moments of a swathe of legendary WWE stars. Though we don't know exactly who those superstars are, we likely won't have to wait long in order to find out.
MyGM
---
Last seen in Smackdown Vs Raw 2009, players will get another chance to be a craft booker in WWE 2K22's MyGM mode as thy draft superstars, book matches, manage contracts, and prove they have what it takes to run the most successful brand in sports entertainment. Want to grow up to be like Vinny Mac? This is where you start.
MyFACTION
---
A brand nee franchise-first feature that will be making its debut in WWE 2K22, MyFACTION puts players in control of building a legendary faction that rivals the iconic nWo, DX or the bWo (well, maybe not that last one). Anyway, Visual Concepts and 2K looks set to support this mode for the long-term too with constant updates and new content which will revolve around MyFACTION.
Further Reading – 29 WWE Games – The Best And Worst Wrestling Games Ever
MyRISE
---
Basically the replacement for the awful 2KCareer mode that hit a new low with WWE 2K20, MyRISE is an overhauled take on this mode that lets players take a rookie and forge them into a legend through a series of dynamic matches, events and storylines. Even better still, all-new storylines will also be available for both male and female MyPLAYERs as well.
Universe Mode
---
The familiar core of the WWE 2K single-player experience returns, with Universe Mode seemingly offering players more control than ever before over brands, PPVs, match results, rivalries, and much more. Though details are thin on the ground at this point, we can certainly expect masses of content to be piled into this mode which will (hopefully) keep players busy for months and perhaps even years after release.
Creation Suite
---
Another element of the WWE 2K games that is in desperate need of an upgrade is the Creation Suite which allows players to fashion their own superstars, events, movesets and much more. Apparently massively overhauled, we'll have to wait and see just how much distance WWE 2K22's Creation Suite will be able to put between it and the disastrously limited Creation Suite in WWE 2K20.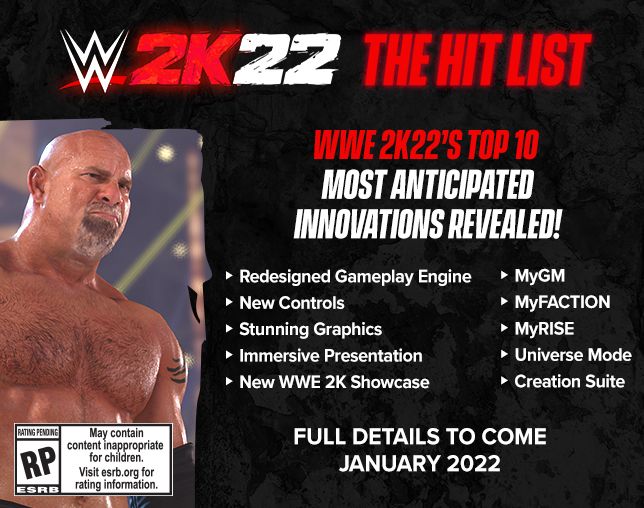 WWE 2K22 will release on PS4 and PS5 in March 2022.