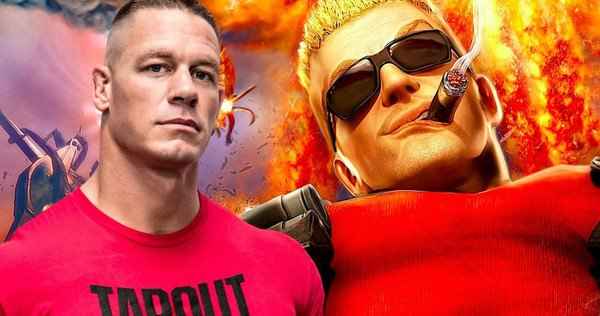 One's a cultural dinosaur who somehow maintains relevance long past his sell-by date, the other is Duke Nukem. So what better person to play the walking flat-top than WWE icon John Cena?
The wrestler-turned-actor is locked and loaded into negotiations to star in Duke Nukem, a big-screen adaptation of the once-popular video game franchise featuring the politically incorrect action hero and 80's action movie homage machine.
Platinum Dunes, run by Michael Bay, Andrew Form and Brad Fuller, will produce the movie. That's a surefire sign of quality.
No director is currently on board at this stage. A search for a writer will begin soon to develop a script befitting of a hulking misogynist who makes heavy knowing winks towards pop culture as he lays waste to anything he's uncomfortable with.
The Duke Nukem video games follow the adventures of its titular protagonist, who is a mash-up of action-hero tropes. The muscular cigar-chomping figure has been fighting aliens in order to save humanity since 1991. He truly came to prominence with Duke Nukem 3D. A game that was undeniably brilliant in terms of its level design.
Duke Nukem Film Incoming
The project was previously set up at Dimension Films, until the rights lapsed. Paramount then picked up the movie rights from Gearbox Software, who acquired the franchise from the ill-fated 3D Realms, and put out the long-gestating disasterpiece that was Duke Nukem Forever.
Platinum Dunes has the likes of The Purge, and Ninja Turtles as its cinematic achievements. So there's at least a chance that a Cena-led Duke Nukem movie will be the meta phenomenon it deserves to be.
Or y'know, it'll be a brainless, out of touch dirty bomb of a film, and John Cena will be even more pleased than usual that people cannot see him.
With Dwayne 'The Rock' Johnson starring in a video game-inspired Jumanji sequel, and soon to be starring in a movie based on the Rampage games, having the Doctor of Thuganomics tackle the science of playing gaming's most famous Hollywood action hero composite is a natural progression.
Personally, I'm more enthralled at the prospect of seeing The Miz in The Marine 6.
Source: Hollywood Reporter