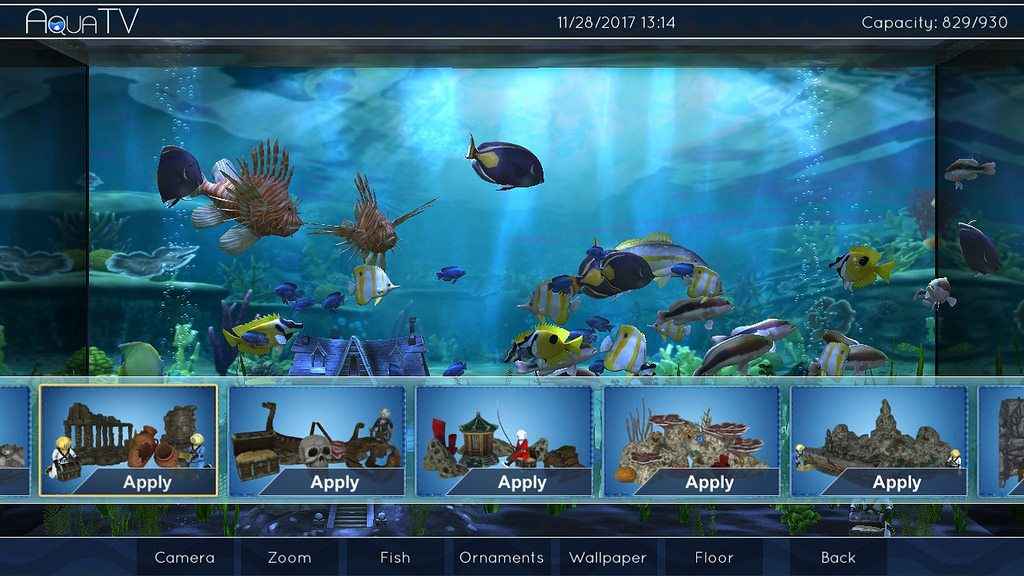 My cat gives Aqua TV a solid 10 out of 10. The customisable virtual aquarium for PS4 from Scottish developer EM Studios isn't a game as such, but a visual treat for fish fans, a simulation of schools of sea creatures swimming around a tank or a coral reef. Trust me though, if you've got cats then they'll still think it's a game.
Available to download from the PlayStation Store (€9.99/£7.99/$9.99) with a 30% discount for PlayStation Plus members, Aqua TV allows you to custom build an aquarium with various fish and tank decorations before sitting back and watching it all come to life.
The interface couldn't be simpler to use. First up, you choose a tank from the three available: Small, Medium and Large, and start to populate it. There's a bit of science behind it too, because each tank holds 'X' amount of a gallons. So, the smaller the tank, the less fish you can fit in it, and some fish can only be used in tanks that are suitable for their breed.
With the small tank, for example, you can choose from nine fish, including ClownFish and Melon Butterflies. You can read up on some details about each fish, including how many gallons of water each one requires to survive. Each tank has a maximum capacity, so this way you can work out which fish you want to place in the tank in advance, and how many of each type you can actually fit in.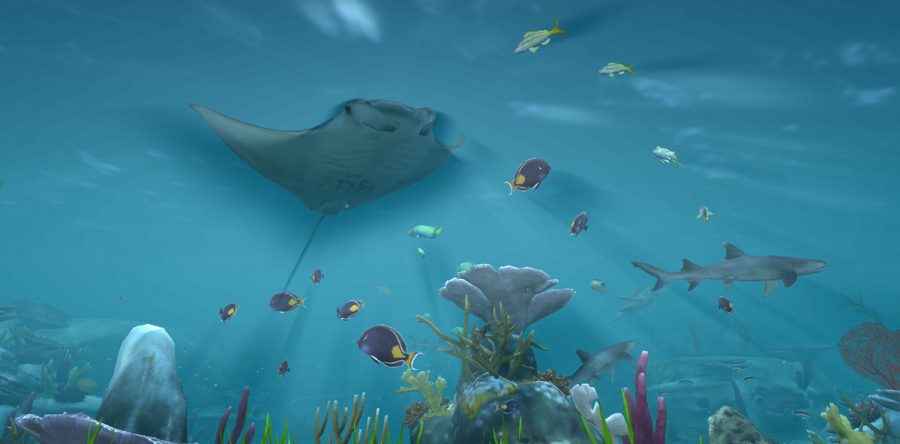 Fancy a wider choice of fish and sea creatures? The larger the tank, the more fish species you unlock, and aside from three standard tanks, you can opt to build a blossoming Coral Reef which opens up a huge selection of underwater creatures, including sea turtles, sharks, and Manta Rays.
The customisation begins with the option to choose from various coloured gravel floors, and a selection of over 20 backgrounds, from sunset scenes to tropical beaches. Each offers something a little different in terms of colour and design, so there's plenty of variety. Finally, you can select from a set of ornaments to brighten up your aquarium.
Currently, there's 10 ornament sets to choose from, including a circus set with a carousel, bouncy castle and a Helter Skelter, alongside more traditional options such as a selection of rocks and coral or skull and ships. Overall, there's a good range of customisation options to decorate your tank, and the animation of the fish and sea dwellers is impressive as they swim around the tank like their real-life counterparts.
Before you launch your new creation, you can zoom in so that the aquarium fills the whole TV screen, and choose from three different soundtracks, or turn it onto silent so you can just hear the relaxing sounds of the water pumps keeping those little fishy alive. Overall, the effect is impressive.
In all honesty, Aqua TV isn't going to win any awards for innovation, but what it does do well is present a fun and simple way to get creative while providing a pleasant backdrop to whatever else you might be doing in your living room. We've all had a go in our family at creating an aquarium, so it's also easy enough for kids to have fun too. Plus, the ability to be able to set them to automatically shuffle between the designs has saved a few arguments. And, the cat is a big fan.