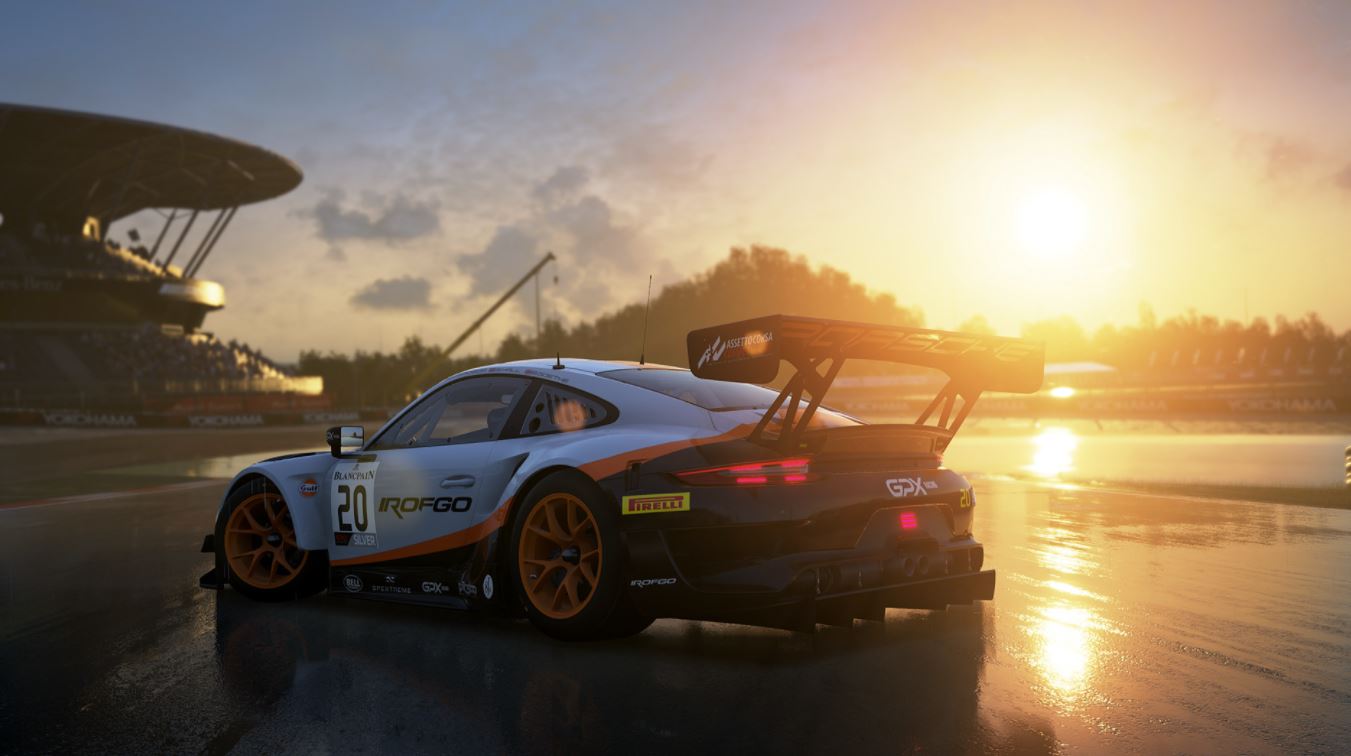 Assetto Corsa Competizione PS5 review. With a fresh coat of current generation paint lavished across its gleaming chassis, Assetto Corsa Competizione has re-emerged on PS5, looking to banish the visual and performance gremlins that hampered an otherwise resoundingly solid motorsport racing sim. Performance differences aside however, Assetto Corsa Competizione is functionally identical to the PS4 version of the game which released in 2020 – so if you're looking for an in-depth critique of how the game plays and the breadth of its content offering, I would humbly point you in the direction of our PS4 review.
Assetto Corsa Competizione PS5 Review
---
This Is How Assetto Corsa Competizione Is Supposed To Be Played
Like any racing simulator worth its salt, the integrity of Assetto Corsa Competizione is arguably predicated around its performance and in turn the level of responsiveness that affords to the player. In real terms, this relationship of a stable framerate to an approximate level of responsiveness is super important, not least because it'll reinforce (or compromise, if the framerate is too low or unstable) the ability of the player to make the sort of micro-adjustments to their racing line, turning, breaking and acceleration that are crucial to success in a racing simulation like Assetto Corsa Competizione.
On PS4 and PS4 Pro consoles, Assetto Corsa Competizione ran with an unlocked framerate which essentially meant that the level of responsiveness you were getting from the car on the track was massively variable and thus couldn't really be depended upon. Greatly improved in its PS5 incarnation, Assetto Corsa Competizione now runs at a mostly locked and super solid 60 frames per second – the lone exception to this being when the screen is filled with cars all screaming along on a track drenched with rain and spray effects. That said, this is *leagues* above and beyond what previous generation consoles could achieve and now Assetto Corsa Competizione feels much more satisfying to play as a result.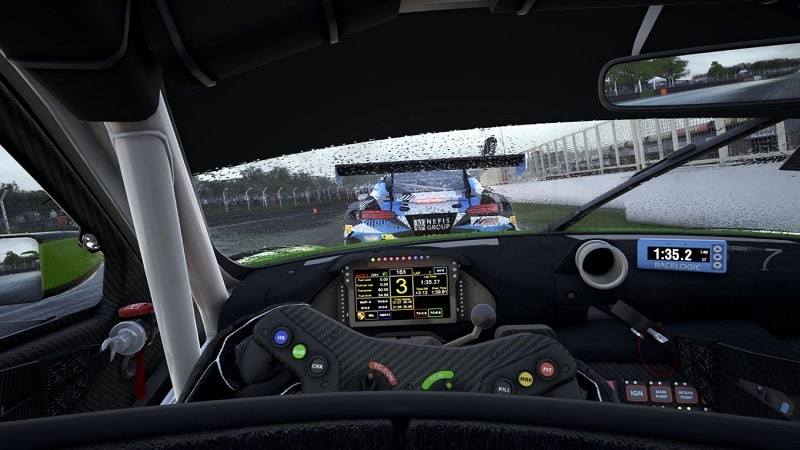 Beyond the greatly welcomed and much improved performance, Assetto Corsa Competizione also boasts substantial uplift in resolution to 4K – or at least close to it for much of the game. Using a dynamic resolution scaler, Assetto Corsa Competizione oscillates fairly broadly between full 4K resolution and a sub 1440p target, resulting in an image that can, at times, seem slightly soft during especially busy scenes. Nonetheless, Assetto Corsa Competizione on PS5 is still streets ahead of what we saw on PS4 and PS4 Pro and is still an attractive looking game all the same.
Away from the frame rate and resolution upgrades, developer KUNOS-Simulazioni has also made a variety of other aesthetic nips and tucks in the PS5 version of Assetto Corsa Competizione. Natural trackside detail sees an improvement, with much more in the way of flora (well, trees, bushes and other such things) popping up in the PS5 version of Assetto Corsa Competizione than what was seen on either PS4 or PS4 Pro. Additionally, sharper effects for lighting and water spray when you're tailgating a rival in the rain all appear to be in place here too. So that's nice – but also hardly a substantial step beyond what we already saw in the last generation version of Assetto Corsa Competizione.
Another nice bonus that Assetto Corsa Competizione's trip to the PS5 brings is an increase in the number of other cars that you'll be racing against. Boasting no less than 30 cars to race against, which represents a 50 percent increase over the 20 car limit that was present in the PS4 and PS4 Pro versions of Assetto Corsa Competizione, races can now feel much more packed and intense – ending up in a spectacle that much more closely mirrors the real thing as a result.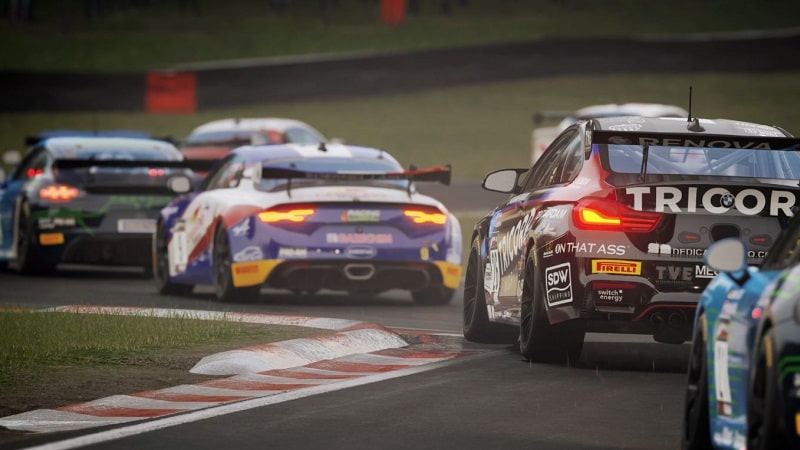 Unfortunately, not everything that needed polish in the last gen version of Assetto Corsa Competizione has necessarily been given the TLC that it needs. Other than a still wonky replay which sometimes glitches out with clipping through objects (or occasionally failing to even display an image at all), one of the most noticeable downgrades that remains in place is that of the rear-view mirror, with the image being displayed here appearing to be super low resolution and thus not really jiving with the rest of what is an ostensibly sumptuous visual offering. Hopefully this is something that can be addressed by a future update because right now it looks pretty jarring to say the least.
Loading times are thankfully much better, with getting into races reduced to around ten seconds or so versus the nearly half a minute duration that the last gen versions of the game made players suffer through. Happily, I can also report that the DualSense controller is given an impressive workout here with the haptic feedback accurately conveying the physicality of every burst of acceleration, sudden break and even the sensation of driving over a range of undulating track surfaces. Equally, the adaptive triggers are leveraged appropriately well too and succeed in immersing the player further in Assetto Corsa Competizione's detailed motorsport simulation, exercising just the right amount of resistance as you slam the breaks or hit the gas respectively.
With its massively upgraded visual presentation and much more responsive racing together with a surprisingly immersive DualSense implementation, one of the best hardcore racing simulators out just got even better on PS5. This is the definitive version of Assetto Corsa Competizione on console and that fact alone should be a cause for celebration for anyone with even a passing interest in highly detailed racing simulations.
Assetto Corsa Competizione is out now on PS4 and PS5.
Review code kindly provided by PR.