Bugsnax PS4 Review – The moment I found myself aimlessly lobbing ranch dressing at a fire-spitting scorpion in the vein hope that it would stop it from igniting some non-popped corn that I was trying to catch was the moment I knew Bugsnax was scratching an itch I didn't know needed scratching.
From the foreboding lo-fi presentation of its main menu theme song to its colorful quirky demeanor, developer Young Horses newest title has proved to be a bit of an enigma since its opening salvo at PS5's reveal event back in June this year. Undeterred by being shoehorned between heavy hitters like Spider-Man: Miles Morales and Demon's Souls, Bugsnax emerged as one of the event's main talking points, not least for the outrageously catchy theme song supplied by British indie pop trio Kero Kero Bonito.
Bugsnax PS4 Review
---
An Eclectic Journey That's Equal Parts Hilarity And Heart
Ranch escapades notwithstanding, the crux of Bugsnax revolves around you playing as a journalist chasing a story of strange events happening on Snacktooth Island, where a bunch of Grumpuses have travelled on the back of an open invitation from disgraced explorer, Elizabert Megafig, who has since disappeared.
Underpinning this journalistic intrigue is the fact that the mysterious island is inhabited by Bugsnax, creatures that are half bug, half snack – think of a sentient rack of ribs combined with a centipede, and then erase that from your mind immediately – and if one of these creatures happens to be eaten by a Grumpus it will cause one of their limbs to adopt the properties of that very snack. Much of the time, then, is spent cataloging this phenomenon, capturing creatures to barter with the locals, in addition to your investigative work with regards to Elizabert's whereabouts.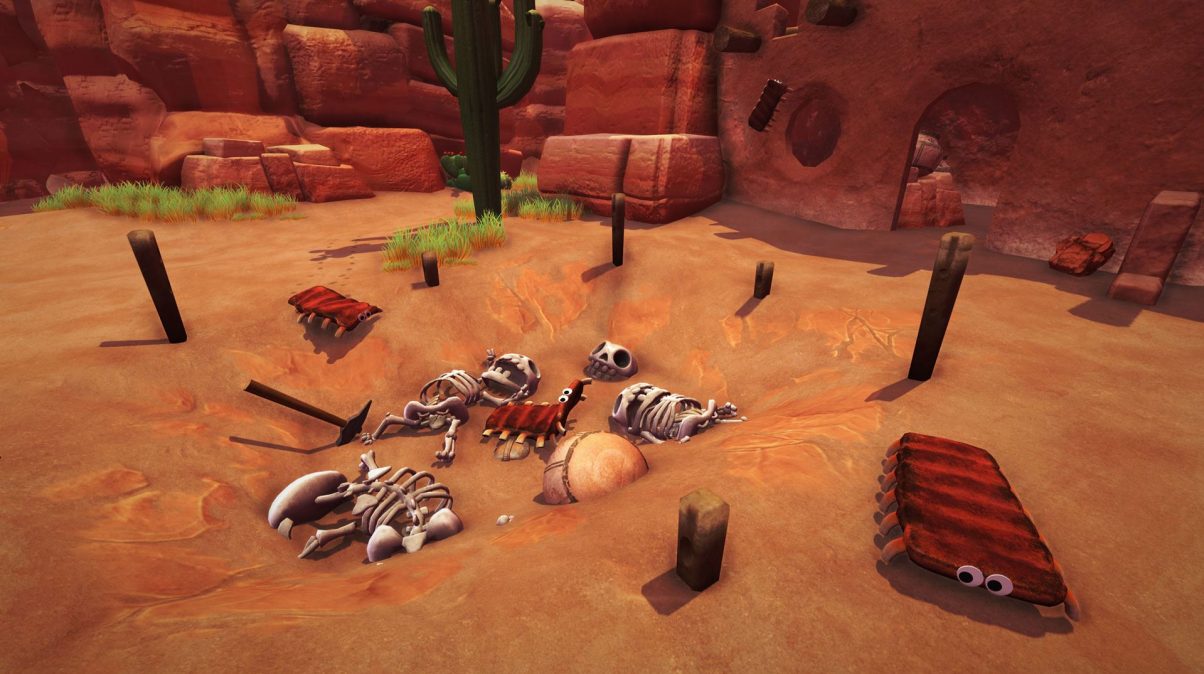 And though these central themes have the potential to present a myriad of crazy situations, (and they do) it actually makes for a game that's refreshing, fun, and exudes a calmness that I wasn't exactly expecting. And it's that relaxed sort of pacing that proves to be suitably welcoming. Before long you're in a breadcrumb-style rhythm where the game allows you to explore with ease, gently pointing you in directions of interest but still encouraging you to catalog what you can in your own time.
As you traverse the game's nine areas, you'll meet various Grumpuses who you have to try and coax back to the town of Snaxburg in order to interview them and find out what they know about Elizabert's disappearance and why they left the town in the first place.
Each meeting with a member of the eclectic cast typically resolves around receiving a new tool and then putting it to good use by collecting various Bugsnak who are specific to that region and feeding them to said Grumpus. Though this may seem repetitive in nature, in reality it's not, as the opportunity to try out new tools and combine them with what's already at your disposal has the propensity to produce interesting results.
Not only that, but some of the Bugsnak designs and more specifically their voiceovers when in a spot of bother – be it splashed with a condiment or engaging in fisticuffs with a fellow creature – can be pretty amusing, so it's always in your interest to keep exploring and trying new things.
Further to that, the adoption of new tools also allows you to backtrack to previous areas to try and catch creatures that were initially out of reach on your first go around. The appearance of each Bugsnak is dictated by both time of day and weather – with some preferring a jaunt around 9:00pm, whilst others are much more at home in the lashings of rain at dawn. On top of the ever-expanding toolset, most regions also present a new sauce to utilize in your Sauce Slinger, ranging from the likes of ketchup, ranch dressing, and chocolate (that's why Oxford commas are important – imagine mixing those two).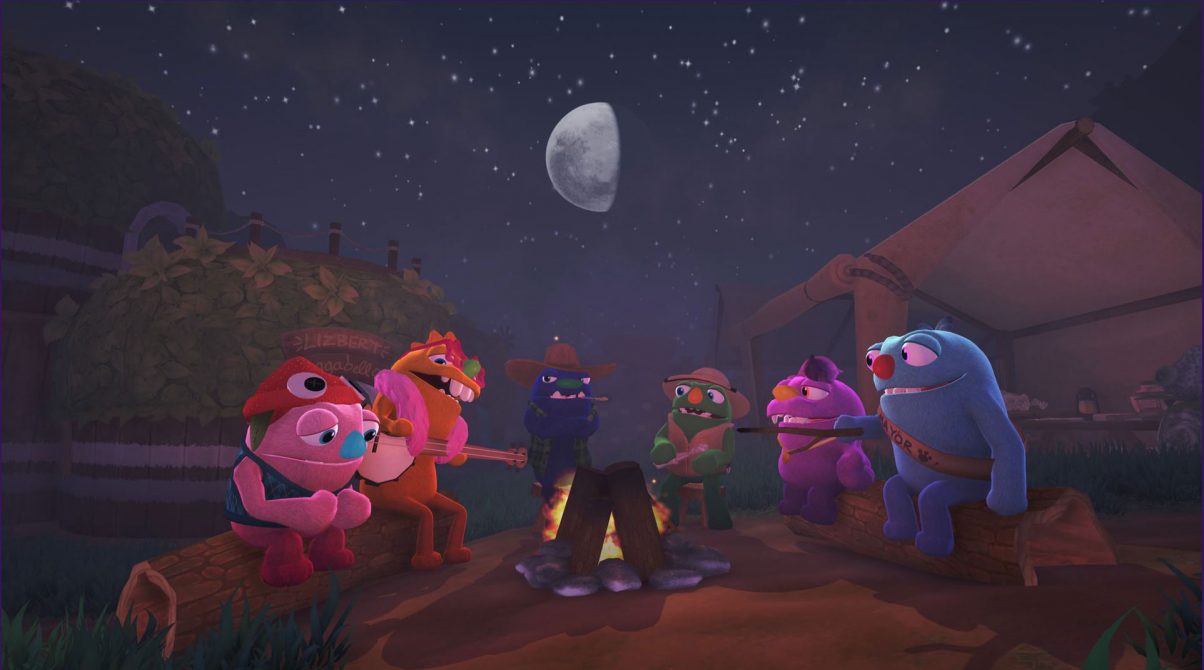 These sauces can be used to humiliate some of the pesky Bugsnak – no, I haven't forgotten about Scorpepper, the scorpion from earlier – but in a proper fashion they're used to entice Bugsnak into whatever trap you've got laid out. Each Bugsnak has a particular temperament, too, as well as likes and dislikes, so this informs how you go about trying to capture them.
Some are small in stature, nimble, and easily spooked, so you need to set the Snaktrap and hide until they think the coast is clear, whilst others need to be lured with a particular sauce they like, before being electrocuted, and caught. It may sound grim but it's Grumpus-eat-Snak world out there, after all.
In later areas, the environment can also come into play as a conduit for which to catch each area's assortment of Bugsnak. It's worth stressing that the game isn't aimless by any means and never manages to fall into a lull, areas are suitably sized and the mystery and intrigue of what's happened to Elizabert eggs you on to keep up the pace. In reality, the intrigue's one thing, sure, but in essence the reason you're pushing for the Grumpuses to return to Snaxburg is for Filbo, the town's de facto mayor – he gets a hard time and is only trying his best, so shout out to him.
Related Content – PS4, PS5 PS Plus Free Games November 2020 Available Now
The game's not without its irritants, though – some of the toolset mechanics can be a little finicky, especially when you're attempting to combine tools and have them play off each other, it's not a deal-breaker by any means and can oftentimes have slapstick-like results but when you're trying to eye up one of the grander Bugsnak takedowns and the physics end up going haywire you can be left with some of your tools many yards away, and sometimes out of bounds to the player entirely.
In particular, this can rear its head whenever the Lunchpad comes into play, which is combined with numerous other tools for aerial catches as well as acting as a pad to place the Trip Shot, which has limits to what surfaces it can be placed on. And it's with that Trip Shot that some of these small problems can arise.
And although not looking like the most taxing of games, Bugsnax does also exhibit some cross-generation sluggishness with its relatively sizeable loading times between areas and early-game framerate dipping. The latter of which does seem to even out over time and is not a major issue but worth acknowledging in the context of the impending release of the game on PlayStation Plus to coincide with the launch of PS5.
Despite early fanfare very much focusing on Kero Kero Bonito's catchy theme song, and on just how outlandish a game the initial trailer seemed to show it as, the actual fact of the matter is Bugsnax is a real success, a game chockful of charm, wit, and plenty of heart – and one that revels in its eccentric trappings and delivers a meaningful adventure that'll ensure you never quite want to leave the inhabitants of Snacktooth Island after all.
Bugsnax releases on PS4 and PS5 on November 12, 2020.
Review code kindly provided by Young Horses.