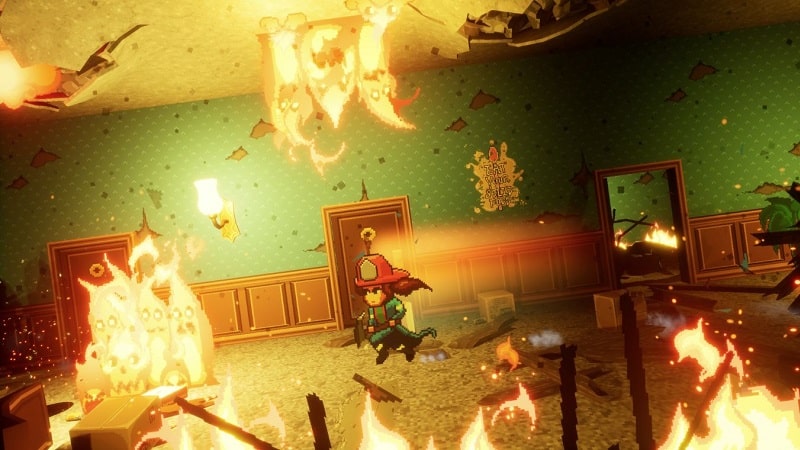 Firegirl: Hack 'n Splash Rescue DXPS5review. I really, really wanted to love Firegirl: Hack 'n Splash Rescue DX. On the surface it has everything going for it – drop dead gorgeous pixel art sprites that are perfectly mixed in with sharply rendered three-dimensional backgrounds, decently judged roguelike style progression, oodles of charm and for the love of Crom, you get to put out fires. FIRES. And rescue cats and dogs. Cats AND dogs. The problem is (and it's a biggie), Firegirl: Hack 'n Splash Rescue DX is absolutely rammed with bugs from top to bottom – a fair collection of which are extremely serious indeed.
Firegirl: Hack 'n Splash Rescue DX Review
---
An Adorably Framed Firefighting Roguelike That Is Absolutely Ruined By Bugs
First the good stuff. Firegirl: Hack 'n Splash Rescue DX would seem to be a whole heap of fun in the early going. Thrust into the fire-retardant boots of the titular Firegirl, players are primarily tasked with going into a building, rescuing any survivors and then leaving before the whole thing falls down around your ears. Viewed from a two-dimensional perspective, Firegirl must use her trusty axe to break down doors and her equally trusty fire hose to put out fires so that she can proceed further into the building, in a bid to discover any survivors that may be holding out.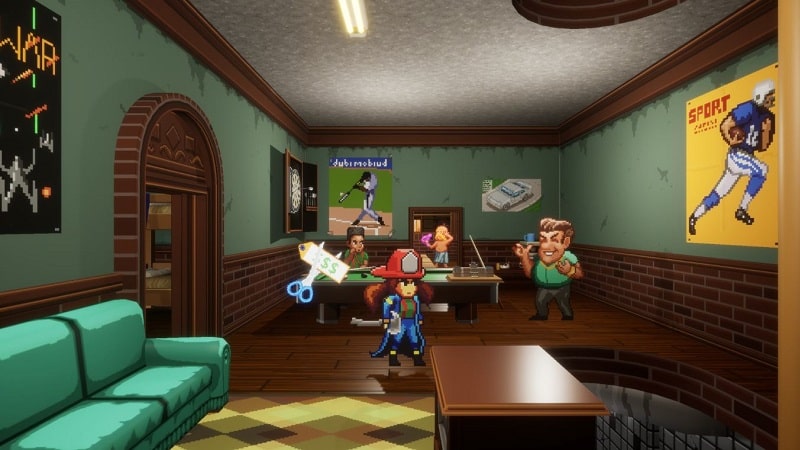 Rather than being a linear affair, every building that the game procedurally generates is generously stuffed with all manner of rooms spread across multiple floors for you to explore and break into – the kicker though, is that you're up against the clock and failing to extract yourself in time, will result in, well, a trip to the hospital and also the death of any survivors in the building.
Luckily though, you can not only claw a chunk of time back by collecting some cutesy bouncing alarm clocks that are dotted around each area, but putting out fires and dousing the various elemental beasties that roam the place (more on those in a bit), will also allow you to regain some precious seconds as well. Where Firegirl provides the player with some welcome freedom though, is in how it doesn't insist that you rescue each survivor – allowing you to leave the level whenever you like (assuming you know where the exit is).
In practice, this actually lends Firegirl: Hack 'n Splash Rescue DX something of a neatly implemented risk/reward dynamic, because you could spend a great deal of your time rescuing a single survivor only for less than a minute to be left on the clock. Do you make a dash for the exit? Or, do you wade back into the building and attempt to find the other survivor? Unfortunately, what makes all of this more difficult than it needs to be is the fact that Firegirl: Hack 'n Splash Rescue DX doesn't have any kind of map, making it virtually impossible to backtrack to a known exit, let alone avoid rooms that you may have already explored and thus waste a heap of much needed time in the process. It's quite an omission, for sure.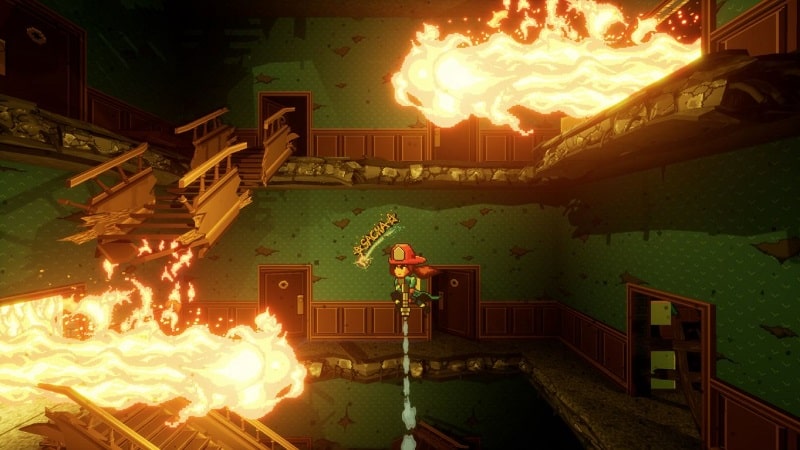 At its heart, Firegirl: Hack 'n Splash Rescue DX is also something of a platformer. While smashing up doors and putting out fires does indeed take up a whole chunk of your time, so too does navigating the various floors and soaring through the air. Using your water hose as a means of propelling yourself upwards, this allows Firegirl to not only access higher floors in the various buildings, but also leap across train carriages and crevices in the forest levels too and evade the various fire monsters that populate each area. That said, you cannot simply abuse your water supply ad infinitum, as it will drain with every use, resulting in eventually low water pressure that can leave Firegirl only able to put out some weak fires and not much else.
Luckily, water can be replenished from the various water containers and smashed sinks that are laying around, but you'll have much more than just the regular old fire and flames to deal with. You see, there is a story of sorts that is underpinned by Firegirl's escapades and the long and short of it revolves around a massive fire spirit has awakened and is causing a whole load of fire-related ruckus, resulting in all kinds of fire monsters appearing that Firegirl will have to deal with. From fire bats, to floating fire spiked balls, fire eagles, fire dwarves, fire turrets and just about every other fire-thing that you can think of, it's certainly fair to say that the Firegirl: Hack 'n Splash Rescue DX gets quite difficult indeed the further you get into the game as each enemy presents its own challenge that must be overcome in addition to everything else.
Where Firegirl: Hack 'n Splash Rescue DX trips over itself a bit however from a design perspective, is when it ventures outside of the procedurally burning buildings that arguably serve as the backbone to the whole experience. In addition to rescuing desperate survivors from these buildings, Firegirl can also be tasked with stopping runaway trains and navigating through burning forests. The issue here though, is that none of the environments that you venture into outside of those buildings is anywhere as interesting, nor as well designed and as a result, each minute spent in those less-than-great areas feels like time wasted.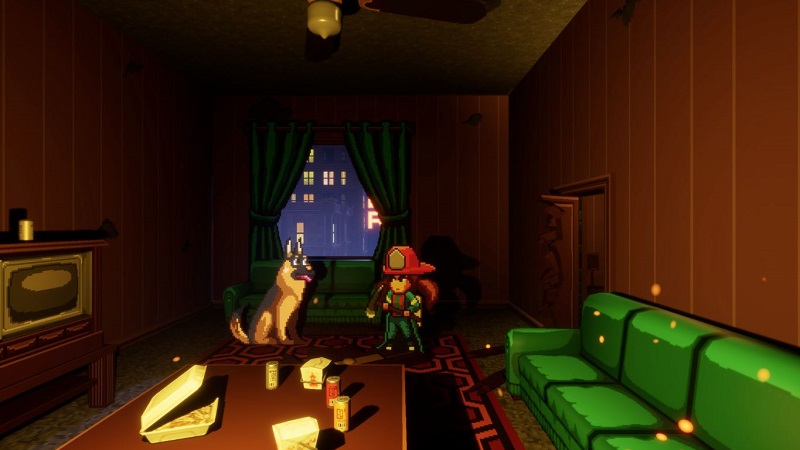 Fortunately, Firegirl: Hack 'n Splash Rescue DX offsets its difficulty somewhat with its roguelike design, as rescuing survivors does more than just make you feel better; it also allows you to recruit them to help you out in the fire station hub area between missions too. You see, each time you rescue a survivor you gain both fans and money from the city council, the former can be used to generate more of the latter, while the latter can be used to recruit the survivors that you've liberated from their fiery fates.
Essentially each rescued survivor provides you with a permanent buff that you can take with you on the next mission. Whether that's additional maximum health, extra fans to generate more income, lower hospital bills if you 'die' in a fire or enhancing the supply and power of water available to you, there's never a shortage of new abilities to obtain and skills to upgrade – all of which provides more than ample incentive for keeping Firegirl: Hack 'n Splash Rescue DX as a relatively permanent fixture of your gaming diet.
The problem is, Firegirl: Hack 'n Splash Rescue DX is so full of bugs that it makes it practically impossible for you to play it as much as you would like. Though some bugs are fairly innocuous, such as occasionally bouncing off of scenery that you're not meant to bounce off of, or clipping through the odd wall here and there, far too many of them are of the game-breaking kind that just absolutely kills any interest that you might have had in continuing to play the game.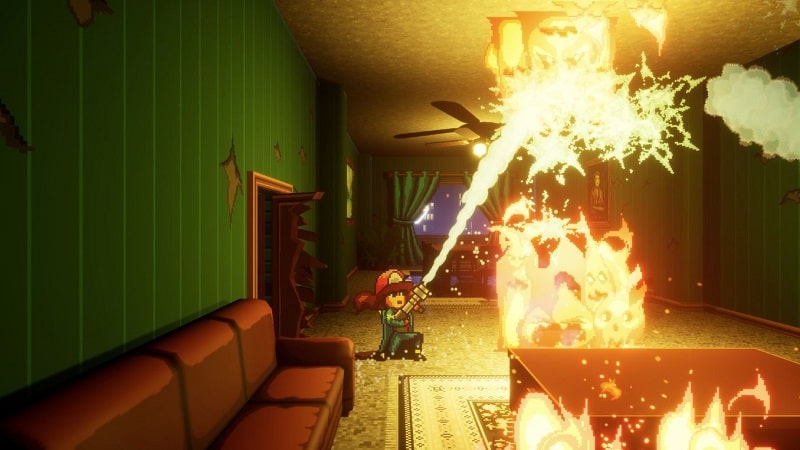 Take the most recent game-breaking bug that I had the pleasure of encountering late last week. After pulling off a hugely satisfying rescue of all the survivors from a particularly difficult map, when I was whisked back to the fire station, Firegirl was actually stuck partially into the floor and was completely unable to free herself. Naturally, I thought that reloading my save would remedy the issue. It didn't. So that entire save of around eight hours play was flushed down the toilet thanks to that one horrific bug. Happy times. Oh and don't get me started on the amount of times that Firegirl: Hack 'n Splash Rescue DX has crashed on me because it has been a lot. A whole lot.
And this is the tragedy of Firegirl: Hack 'n Splash Rescue DX. With it's charming sprites, vivid colour palette and super sharp backgrounds, the game is undeniably attractive to watch as everyone that would walk past my TV would stop and ask what game I was playing and equally, it's a mostly blast to play (odd design decisions and uneven level design notwithstanding), it's just super, super disappointing that all of that good stuff is buried under an absolute avalanche of bugs.
With more time in development and tweaks here and there to its overall design, Firegirl: Hack 'n Splash Rescue DX could really have been something. As things currently stand however, the superb premise, gorgeous visuals and compelling platforming roguelike gameplay all feel stifled under the weight of some really nasty game breaking bugs that make the game almost impossible to play for any decent period of time. A real shame.
Firegirl: Hack 'n Splash Rescue DX is out now on PS4 and PS5.
Review code kindly provided by PR.