Ghost of Tsushima: Legends PS4 Review – Ghost of Tsushima is the gift that keeps on giving. Launching mid-summer, Ghost of Tsushima was met with both critical and commercial success. You can check out our review of the base game here. However, in this review, we will be focusing primarily on update 1.1. And, with that update Ghost of Tsushima: Legends has no business being free. In an expansion to one of the best games of the generation, we are given new features, new content, and new modes. All of which add to the base experience of Ghost of Tsushima.
Ghost Of Tsushima: Legends PS4 Review
---
Legends Of Tsushima
The core addition with this update is Ghost of Tsushima: Legends, an impressive, free expansion you can download from the PlayStation Store. You can access Legends from the main menu, or from the single-player map via storytellers.
Ghost of Tsushima: Legends allows you to play a 1-4 player campaign with friends and in quickplay, you can access levels that you've already completed from that story or randomised missions. Regardless of if you have four friends or use matchmaking, you can choose any of the four classes in the game to play as and tackle your objective. These characters you use in random missions are the same ones you play as and level from the Legends campaign. However, if you decide to play through the new campaign you and a friend can run through the story in 1-2 player co-op or matchmaking. These different options allow anyone who wishes to either play in solo or co-op to jump in and enjoy Ghost of Tsushima: Legends.
While Legends can be played solo, it really shines in co-op. As mentioned before, there are four classes to choose from; Hunter, Samurai, Ronin, and Assassin. When you first jump into the DLC you will be given a chance to play out all four before choosing which class best suits you. Each class has its own unique ability and super; from the Hunter calling down a rain of arrows to the Samurai moving at superhuman speeds. Each class has a great feel to them. Rest assured, however, that your choice isn't permanent. As you progress through the story you will not only increase your Ghost level and power but unlock the other classes to level and play as too.
Gearing Up For Ghost Stories
While the base game is very much based in reality, Ghost of Tsushima: Legends is based in lore. From the very being of the Legends campaign, you discover that while Jin is the Ghost of Tsushima, you play as other Ghosts that inhabit Tsushima. This sets up a surprisingly compelling supernatural story in an otherwise very grounded game. While the campaign for the expansion itself is rather short, it exists for re-playability. The story is only there as an explanation of why your character exists and what their objective is.
When the Mongols invaded they unleashed evil beings called Oni. The awful crimes the Mongols committed allowed these spirits to thrive. Past heroes rose to meet and push back the evil spirits that now roam free in Tsushima. This is the main premise of the story. While the story doesn't do anything too drastic, it serves its purpose by explaining how and why Ghost of Tsushima now has co-op. It is lacking when compared to the super robust main campaign, but the narrative isn't the core of the experience Legends offers.
The main focus is the missions and the ability to play co-op. Each mission is presented in three chapters that will take about 10-15 mins to complete depending on the difficulty. Here you and your co-op partner, or partners, will be tasked with tracking, saving hostages, or killing all of the Mongols. You can choose how to handle each situation. The same gameplay options are available in Legends that are available in the base game. Sneaking up to a group of enemies with a friend and taking them out without saying a word to each other is one of the most satisfying feelings in gaming I've had in a while.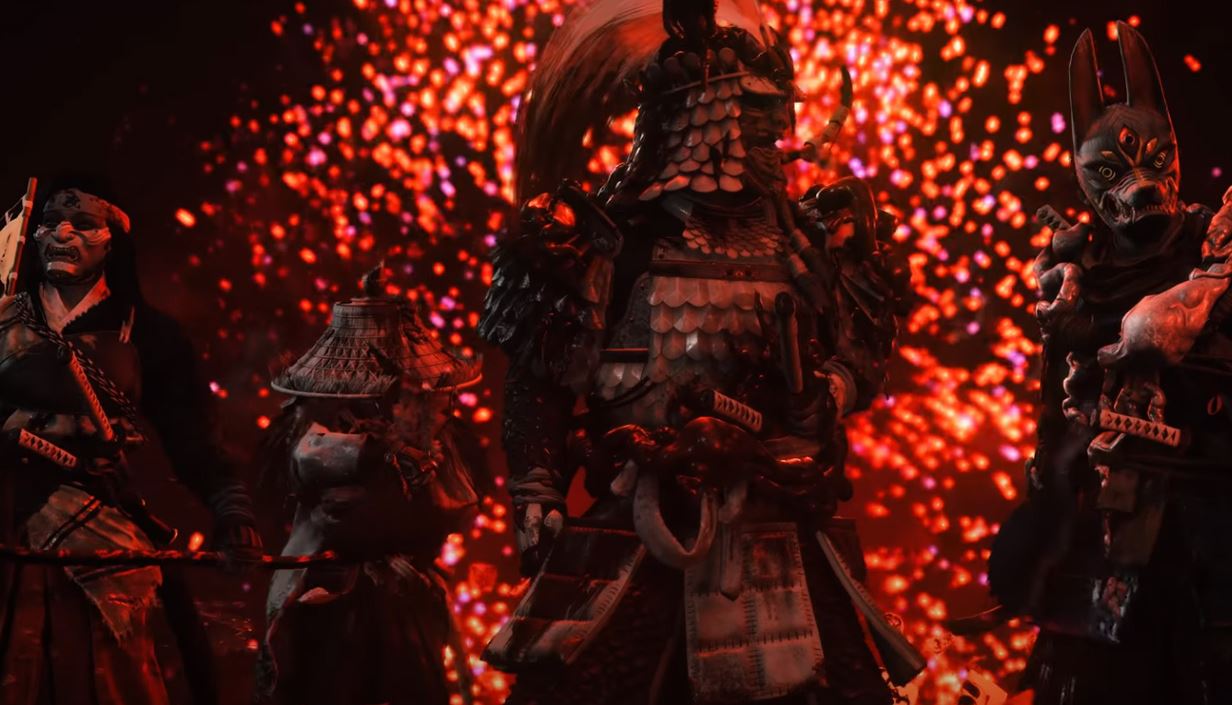 However, if guns blazing is more your playstyle that is also an option. With that being said, while playing with matchmaking you will often run into random players without a mic. So sometimes you need to coordinate with the other players' moves rather than how you would like to play yourself. Nevertheless even when surrounded by enemies you're never helpless. With the exception of changing your stance for different enemies, everything from the main game has come over and performs great even in a co-op situation.
While the gameplay feels amazing, what got me most hooked in Ghost of Tsushima: Legends was the gear. In Ghost of Tsushima: Legends every mission you complete and depending on the difficulty you play on (Bronze, Silver, or Gold), different tiers of gear will be awarded to you. This can increase you Ki, the games name for your power, or your abilities. For example, you may get a Charm that increases your Ki by one and grant a 20% increase to flaming arrows. Along with charms and ability unlocks there is also cosmetic gear. This allows you to personalize your Ghost to your liking.
If you have completed the story of the base game, and varying on what side missions you have completed, you will have access to some of the same gear as Jin. Nevertheless, each character has their own gear and class items to hunt for. These will change your characters look so when you join a friend's game, everyone knows what tasks you have completed.
From a new story campaign, fresh gear to acquire, different classes to unlock and level up, and co-op, you will be busy in Ghost of Tsushima: Legends. While they implement all of these new features nothing ever felt daunting or boring. Even playing classes I personally wasn't into, like the healing Ronin class, I was still enjoying it and having fun. It's hard not to when everything is so well implemented.
Reasons To Return With Update 1.1
There is so much new content, it's difficult to not go on a tangent every few lines about another new thing that has popped into my head. Nevertheless, I'll try my best to be as focused as possible. Sucker Punch has been listening to the fan base about what can be improved in the base game. New Game +, a new mysterious merchant, and a new horse have all been added to the game. These are nice additions for players who needed some incentive to jump back into the game and for those who have it already platinumed. However, regardless of if you're returning or jumping in for the first time some quality of life improvements have also been added.
New gear loadout options have been added to different outfits, as you can now change outfits and charms with the click of a button, giving players more choice and agency over every situation. I found myself spending an embarrassing amount of time just min/maxing outfits for all situations I may come across. If you jump into the settings you can turn this feature on at any point. As you progress through Ghost of Tsushima you will discover different outfits with their unique perks, play better with specific charms that you earn throughout your playthrough of the game.
Another improvement Sucker Punch has made is to Photo Mode. If you're like millions of players, myself included, Ghost of Tsushima took much longer to complete than other games just because of the sheer amount of pictures you were taking. This isn't a bad thing, Ghost of Tsushima is a beautiful game, and deserves to be doted on. However, if you wanted a great action shot of Jin you were limited to jumping into photo mode mid sword fight. Not any more.
If you choose to turn it on in the settings, you can enter photo mode while shooting your bow. This may seem like a small addition however it's the feature that I've used the most so far in update 1.1. While you aim an arrow if you hit right on the directional button you will be pulled off of Jin and be able to use the free camera while Jin stays aiming. For those who love photo mode, this is a feature you have to try out.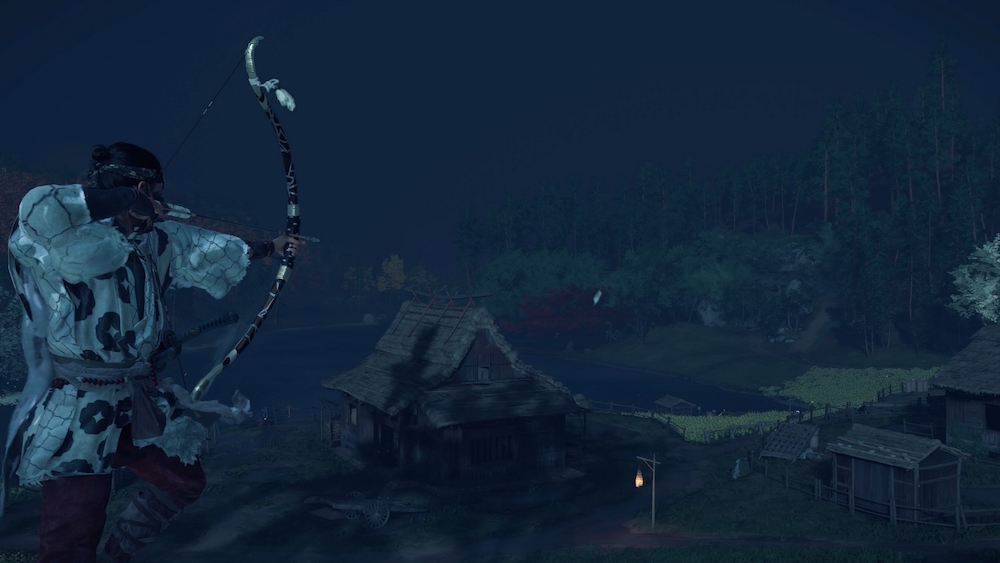 The Game That Keeps Giving
Ghost of Tsushima: Legends adds to an already amazing experience offered with the main campaign. With new Game +, photo mode additions, as well as the new merchant, and gear loadouts, there are more reasons that you can count for why players should jump back in. Meanwhile, with the addition of Legends, there's now a reason never to leave. Levelling up your Ghost and taking on missions with your friends have been some of the most fun I've had online in some time. Regardless of if you're an old player returning or a new player experiencing Ghost of Tsushima for the first time. I cannot recommend Ghost of Tsushima and the Legends update and expansion enough.
Ghost of Tsushima: Legends is available now on PS4 through the PlayStation Store for owners of the main game.