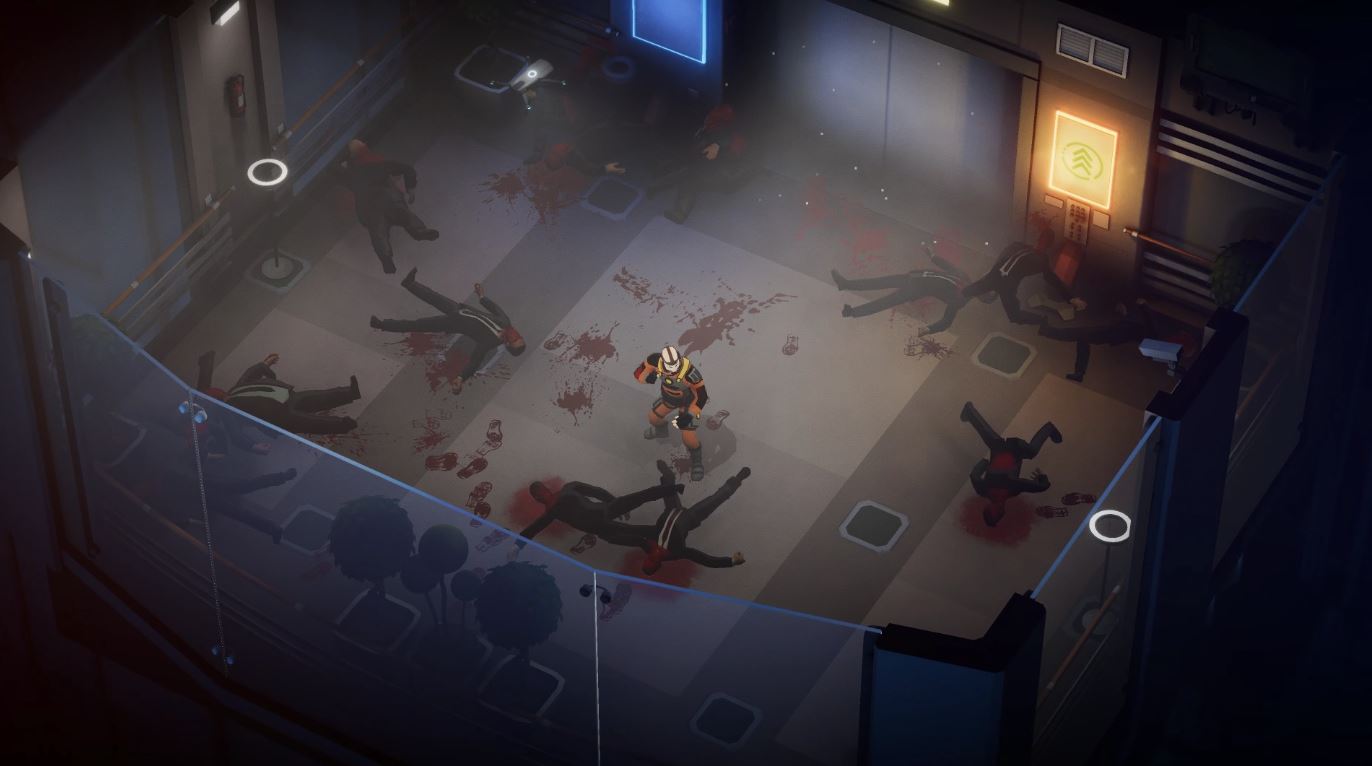 Midnight Fight Express PS4 review. A third-person roaming brawler with brutality to spare, Midnight Fight Express is essentially what you would get if you married a series of Jason Statham action flicks with the Hotline Miami games. Essentially casting the player as a murderous engine (the title 'Midnight Fight Express' is certainly apt) with a dizzying freedom to hurt, maim and outright murder your enemies, there is an explosive spontaneity to the fistic pursuits in Midnight Fight Express that feels blissfully empowering in a way that many games of a similar ilk simply haven't been able to replicate.
Midnight Fight Express PS4 Review
---
A Bone-Crunching Delight That Feels Like Hotline Miami By Way Of Jason Statham
In Midnight Fight Express you're Babyface, a former member of the criminal underworld lured back into a world of violence by a mysterious voice coming from a drone that's just been posted into your apartment. Suffering from amnesia, your mission is against impossible odds: fight your way across the city before the sun rises and prevent a citywide criminal takeover. It's the sort of low complexity, high-nonsense setting that serves Midnight Fight Express well in its pursuit of relentless violence. But you're not here for the story and neither I, instead we're all here for the relentless torrent of violence that Midnight Fight Express swells with at every turn.
With its forty-one levels neatly divided up into a series of interconnected areas, each one feels like a Hollywood fight stage where every element of the environment feels precisely calibrated for danger and inflicting the most terrible damage on your opponent that you can within an extremely short period of time. From the transitions between grapples, combos and evasions to being able to roll and pick up weapons mid-roll, it's clear that developer Jacob Dwinzel is a dual-genre student, showing an astute understanding of the best roaming fighters such as Batman Arkham and also their silver screen equivalents such as John Wick and The Raid.
There's a deeply technical and functional nature to the combat in Midnight Fight Express, too. In addition to the aforementioned array of strikes, grapples, counters and takedowns, it's really the different sort of enemies and the manner in which they are intermixed which presents the crux of Midnight Fight Express' seemingly ever evolving challenge. Though simple goons can be straightforwardly done away with a rudimentary set of attacks, other enemies leverage a mixture of melee and firearms, while others can unleash unblockable attacks on our hero – all of which demands a split-second and immediately violent response.
Where Midnight Fight Express really turns up the heat is in how it overlaps these various enemy types, forcing the player to adapt their own particular brand of fistic violence on the fly. When you're not smashing femurs and cracking vertebrae, you'll find yourself accosted by a intermission screen that allows you to purchase new skills, abilities and a range of cosmetic options for your bloody fisted brawler. With a range of upgrade trees available that incrementally empower Babyface, you'll gain the ability to string together improved combos, a wider range of counters that extend to weapons allowing you to snatch a weapon from an enemy and then use it instantly against them, the ability to use a secondary firearm and much more besides – all of which helps Babyface to deal with a seemingly endless tidal wave of more numerous and more capable enemies.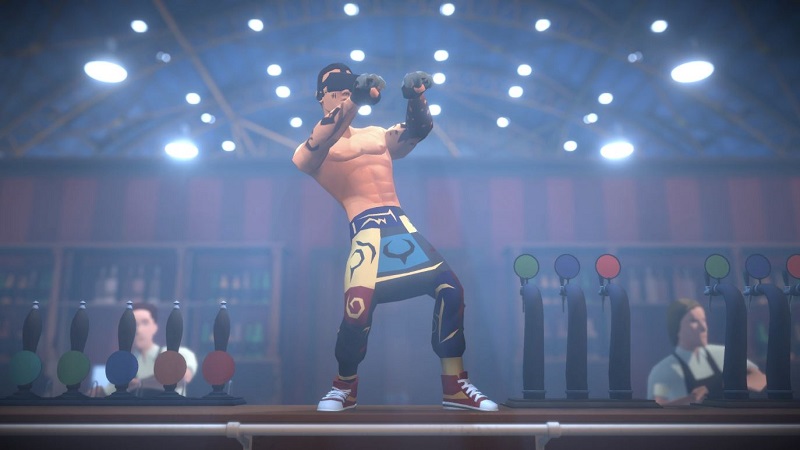 It's only when you start to accumulate these additional abilities, such as being able to counter weapon attacks and leverage the environment to create a range of innovative kills early on, that the beating, brutal core of Midnight Fight Express reveals itself. A veritable playground of ultraviolent delights set against a twilight-kissed urban sprawl, the creative latitude that the player is given to wreck their enemies is pleasingly substantial and in a sense, the later fights of Midnight Fight Express seem akin to a puzzler played out at breakneck pace with literal broken necks, as all manner of foes attack with a mix of unstoppable attacks, melee weapons, firearms and other hazards, forcing you to think both on and with your feet as you evade, strike, smash and counter your way to a bloody victory.
Matching up perfectly the on-screen action is a pulsating soundtrack that thrums through every knuckle in your fist, every toe in your foot and the points in your elbows and tip of your skull that will all be used to decimate your enemies with prejudice. Certainly, the rumbling synthwave of Midnight Fight Express echoes the same rhythmic fury of the Hotline Miami games – another series of genre efforts that understands that the marriage of music and violence is paramount to getting the adrenaline pumping in anybody that picks up the controller.
Though Midnight Fight Express mechanically owes a debt to the likes of the Batman Arkham games and is roundly satisfying as a result, that feeling of brutal bliss is further magnified by the superb motion capture work that has gone into every punch, kick, slam and weapon attack in the game. Acted out by motion artist and stunt performer Eric Jacobus, seeing Babyface use a claw hammer to counter an incoming right hook by blocking with his left forearm before turning the hammer sideways and bringing it across the face of his enemy twice before kicking out their knees and hitting a coup de grace on the top of their skull, is quite the sight to behold indeed. And certainly, it's just one of many savage sights that you'll come across too, as you smoothly go from one countering or takedown sequence to another, making the frankly magical combat of Midnight Fight Express look and feel every bit as satisfying as a Jason Statham or John Wick action movie.
Elsewhere, the bite-sized nature of the levels of Midnight Fight Express don't just lend themselves to immediate gratification, deftly allowing you to hop in and out for a quick scrap (each of the forty-one levels are between five and ten minutes long, give or take), but they're also separately styled to boot as well. Ensuring that you're not stuck in some grey warehouse beating on identikit goons, Midnight Fight Express has you beating up game developers with pillows in an office building, squaring off with mutants in a sewer, caving in the faces of bikers in a truck stop and slicing up villainous sailors on a ship – all of which feels immeasurably refresher than many other brawlers on the market right now.
Midnight Fight Express and by extension its creator Jacob Dwinzel also clearly has a welcome sense of humour too. With a knowing wink and nod at pop culture icons such as Fight Club, The Warriors, Sons of Anarchy and even Popeye(!) not to mention a cheeky dig in the ribs of games such as Hotline Miami and even game development itself, the eschewing of more serious, po-faced writing arguably works in the favour of Midnight Fight Express and keeps you grinning like a loon as the punches and kicks rain down around you.
Midnight Fight Express does have some chinks in its thickly layered armour however. Firstly, there are a couple of vertical shooter inspired sections which have you riding bikes and destroying enemy cars in a minigame that while perfectly serviceable, still feels like an utterly unnecessary distraction from the high calibre bone-crunching that is arguably the raison d'etre of Midnight Fight Express at large. Additionally, the game in its current form has more bugs than I would like to see, with a few, such as being stuck in the scenery, requiring a level restart (though luckily such a restart is done quickly enough) as a result.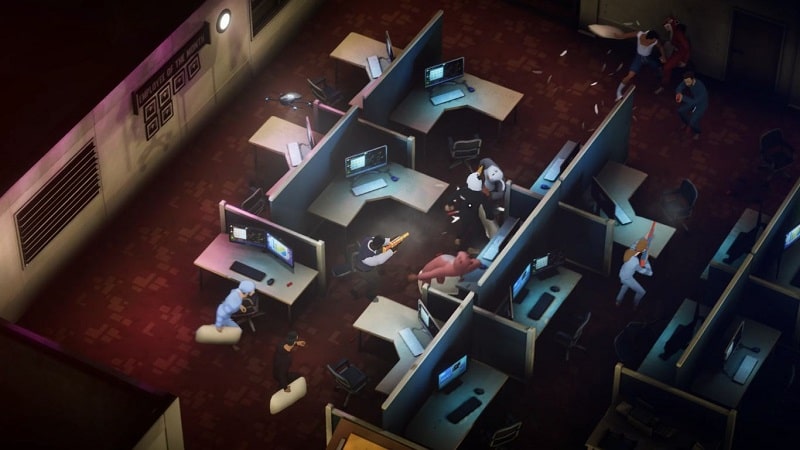 Once Midnight Fight Express hands over its credit sequence, there's still a fair chunk of mileage left in the game, as players can take on numerous challenges which requires players to complete a series of unique objectives such as killing bosses with their own weapons, carry a particular item with you from the start of the level to the end or wreck a quartet of enemies with explosives.
With a range of trophies also tied into these challenges and not to mention a wide range of cosmetics to earn and collect, it's certainly fair to say that Midnight Fight Express has plenty additional meat around its bones to keep players busy long after that initial playthrough. Further afield, the neatly constructed Playground mode extends the bone-breaking joy even further still, essentially turning players into impromptu action directors as Midnight Fight Express allows players to create custom levels with any selection of enemies, weapons and environments that you could possibly choose from.
If you're the sort of person who saw martial arts movies in your teens (or younger) and immediately started mimicking scraps with your best mates as you left the cinema, then Midnight Fight Express is for you. Jacob Dwinzel feels like he is aspiring to be the games industry's equivalent of The Raid and Gangs of London director Gareth Edwards and I cannot wait to see whatever violent delights this acolyte of cinematic violence comes up with next. For anyone else with even a passing affection for roaming brawlers, Midnight Fight Express boasts some of the most satisfying combat I have experienced in any game of the last few years and on that fact alone carries it to a high recommended indeed.
Midnight Fight Express is out now on PS4.
Review code kindly provided by Humble Bundle PR.