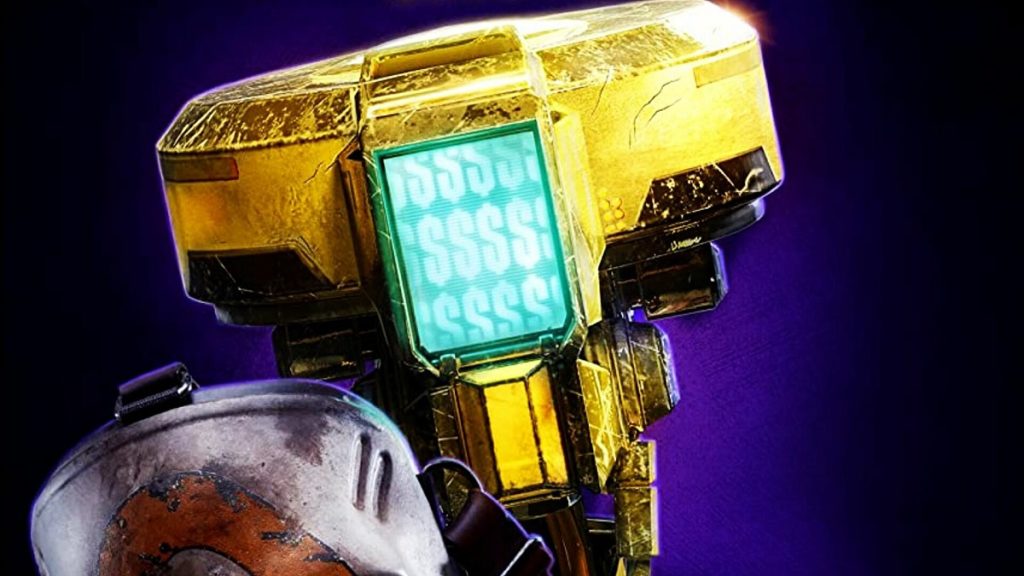 New Tales from the Borderlands Review (PS5) – I do love Borderlands, while not being everyone's cup of tea, I adore the toilet humour, the wacky characters and the world they are folded into.
Tales from the Borderlands, released in 2014 was an old TellTale game, a breath of fresh air and a departure from the tried and tested Vault Hunting formula.
New Tales from the Borderlands, the spiritual successor is made by Gearbox, not TellTale but follows in the same vein. Telling a side story, so to speak, not Vault Hunters but a group of uncanny characters each struggling in their own way to survive.
New Tales has all the hallmarks of a Borderlands title, with a bit less pew-pew.
New Tales from the Borderlands Review (PS5) – A Great Cast of Characters
---
L0u13 FTW!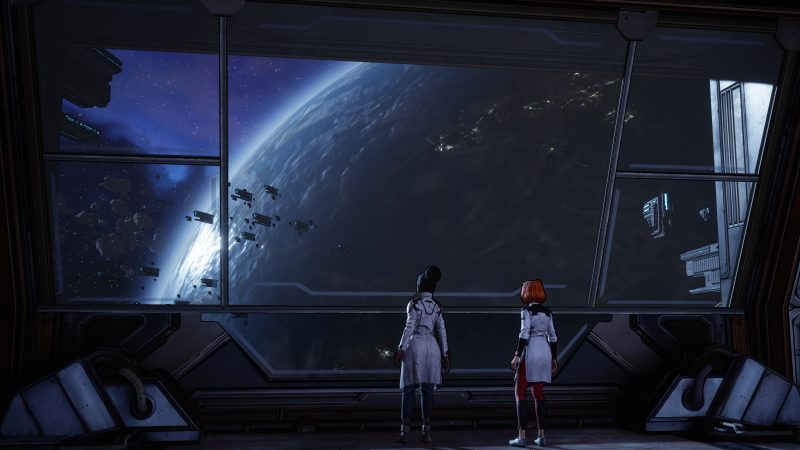 What pulled me through this narrative was how well I resonated with the main characters and even more so, some of the side characters. The brother and sister, Anu and Octavio, who had grown apart by their life decisions were thrust back together during the ongoing Tediore invasion.
After that there's Fran, a recovering anger addict come froyo shop owner who is both insane and sexually obsessed which was at times hilarious.
These three protagonists were both varied and deep in character. They gel together in an unexpected way but on the whole, it works.
From a side character point of view, by far my favourite character in the game was Octavio's sidekick, L0u13 ("Louie"), he is a murder-bot with a prim and proper way of doing things.
He speaks his mind and goes about his job with aplomb. Both witty and well-written, L0u13, for me anyway, stole the show.
A recovering Psyco called Stapleface and a constantly being revealed in tight spaces Tediore recruit who wants to play Vaultlanders (more on that later) fill out the entertaining character roster, which does also include a few cameos from the other games in the series, wink wink!
A Pretty Standard Plot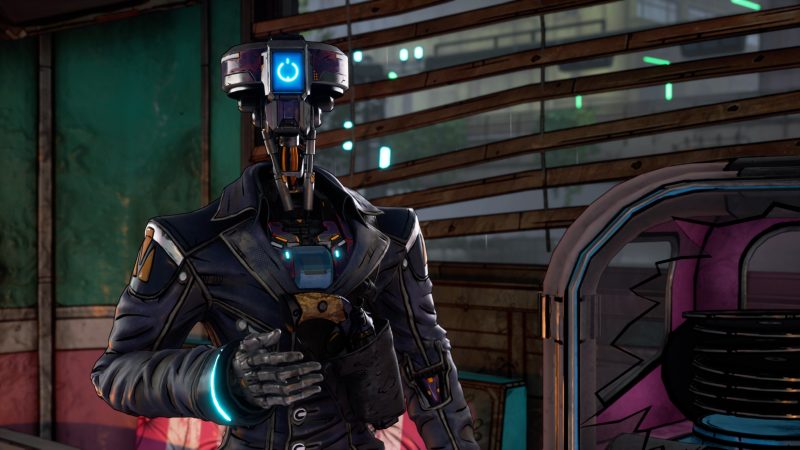 All these characters start off on separate paths but over the course of the game, become a rag-tag group of friends. With this being a narrative game I will not talk too much about plot-related stuff but I did find the story slightly lacking.
Unfortunately, a pretty standard, by-the-numbers narrative was held up by its cast of weird and wonderful characters.
From a gameplay standpoint, while being a bit thin on the ground, I did find New Tales had a few quirks I found entertaining.
Walking around scenes and raiding containers in a true and tested Borderlands fashion to buy cosmetics gave the player something to do between narrative threads. Tales was also full of weird mini-games that ranged from borderline pointless nonsense to actually a lot of fun.
From hacking minigames to a turn-based RPG, Tales does take a few forays into the strange and wacky, which I admired.
Vaultlanders!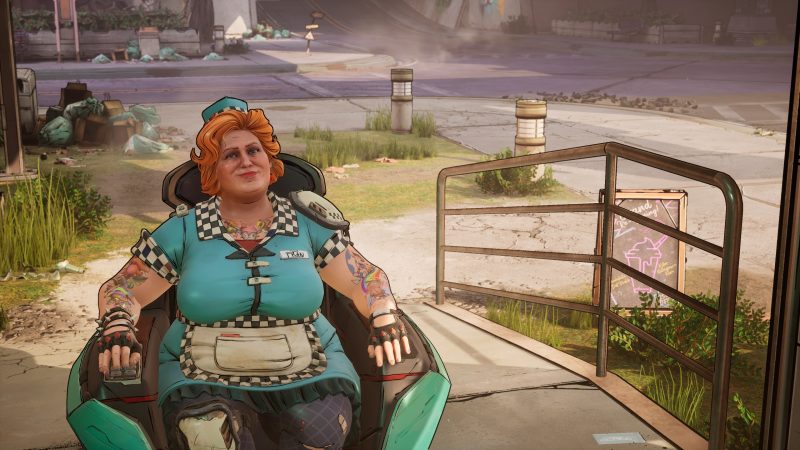 Vaultlanders was my favourite though. In the world of New Tales, people play a collectable figurine-based battle game where the winner takes the other figure for their collection.
It was great fun finding the Tediore employee hiding in fridges and other containers, for him to just jump out, whip out his Vaultlanders figure and vow to this time, kick your ass!
Vaultlanders is silly, yet I found it wildly entertaining and I don't even know why. All you do is pick one of your Vaultlanders, who all have different abilities and then press X to attack and dodge incoming attacks.
It's not even a good game but I thoroughly enjoyed it – weird, I know!
As is par for the course your gameplay will mostly be quick time events, selecting dialogue and making decisions. This has not really changed from the first game and let's be honest, we did not really want it to change too much, did we?
It's light, breezy, does not hang around too long and does not take too much brain power to play.
Sharp, Bright and Sounding Great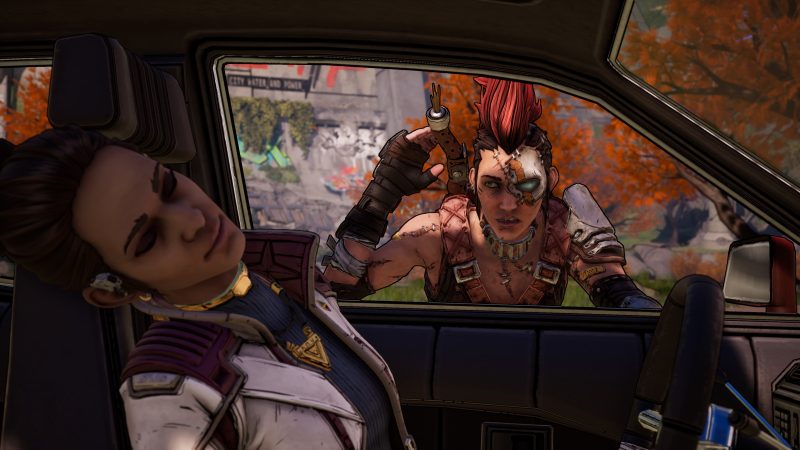 Graphically, I can certainly see a step up from the old Telltale game. New Tales is sharper, brighter and just looks, on the whole, better. The characters are brilliantly detailed, as are the environments, yet everything has that Borderlands cell-shaded vibe we all know and love. It would not be Borderlands without it, let's be honest.
New Tales has some good sound work too, the voice acting is great, which in a narrative title is paramount. I was fully on board with all the characters and totally believed in their performances.
The music was catchy and progressive and regularly had me bobbing my head to catchy tunes.
Another thing I noticed about this, Gearbox-made iteration, was how well it performed. I remember playing some of the old Telltale titles and having graphical or performance issues but I had no such quirks with New Tales. It ran well and looked great.
Worth Playing, If Not Amazing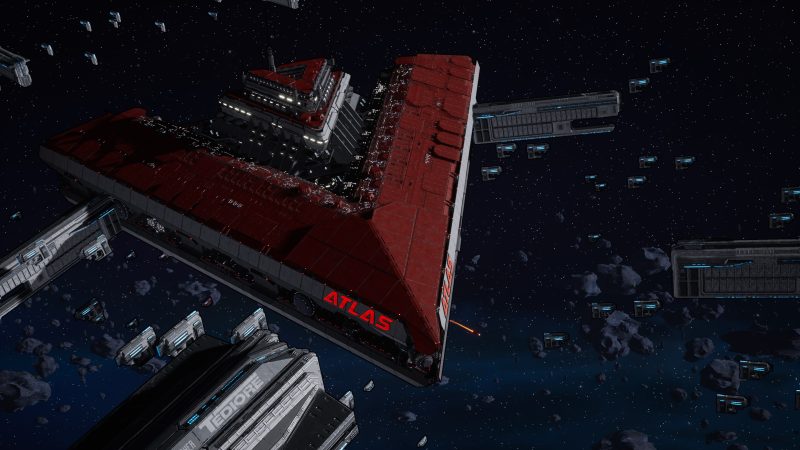 Overall I enjoyed my time with New Tales from the Borderlands, I preferred the first and thought the story here could have done with a tad more work, especially the last episode.
Where this game excels is in its character roster and their interactions together, they were well written, well performed and kept me entertained throughout.
If you like games of this ilk or you love Borderlands I do recommend playing this title, just don't expect something magnificent. Apart from L0u13, he is magnificent. See you on Promethea Vault Hunters!
New Tales from the Borderlands is out now for PS5 and PS4.
Review code generously provided by the publisher.