Nioh Remastered: The Complete Edition PS5 Review. Cementing its reputation as easily one of the best action RPGs released in 2017 (you can catch our full review of Nioh here, as we'll be mainly covering the technical improvements in this review), Team Ninja's Nioh was an incredible Soulslike to say the least. Beautifully combining endlessly sophisticated combat with a fantastical vision of Japan's Sengoku period, Nioh was pretty much as it essential as action RPGs could get when it released almost exactly four years ago.
Taking a second bite of the apple on Sony's shiny new PlayStation 5 console, Team Ninja's most ambitious title (aside from Nioh 2, of course) looks set to unfurl itself in front of an all-new generation of gamers. How has Nioh aged though? Well…
Nioh Remastered: The Complete Edition PS5 Review
---
The truth is that Nioh has aged fantastically on PlayStation 5. Bolstered by the significant horsepower of Sony's latest chunk of gaming silicon, Nioh Remastered allows players to experience Team Ninja's action RPG epic in full 4K resolution at 60 frames per second, or engage a high end performance profile that allows for reduced resolution visuals at a liquid smooth 120 frames per second.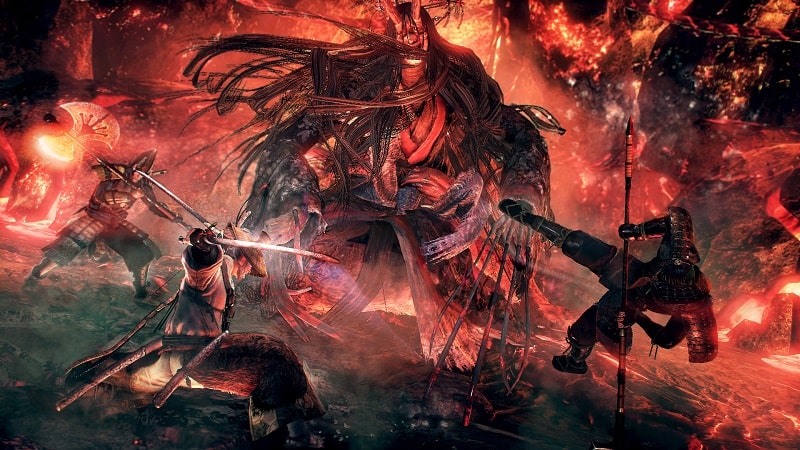 When played in its resolution focused preset, Nioh Remastered is the best it is ever looked, boasting a razor sharp visual presentation and gorgeously lit environments. That said, it is worth remembering that the increase in resolution does little to improve the texture detail and geometric complexities of Nioh's game world. This is still very much a 2017 videogame and it shows as low-res textures still abound in various places and character models which certainly look like products of their time.
Related Content – Sony PS5 Complete Guide – A Total Resource On PlayStation 5
That said, it seems churlish to criticise a game on such a technical level when it's obvious that the bounty of its visual opulence lay in its extravagant art style, character designs and mystical, Sengoku-era environments. Certainly, Nioh has aged incredibly gracefully here. As players take up the mantle of Irish warrior William Adams as he cuts a swathe through the mystical corruption of 1600s fictional Japan, the player is treated to all manner of astounding locations such as the Kyushu, Tokai regions and much more besides.
Then there are the enemies that you'll face in Nioh – and what a bunch they are. From the absolutely terrifying nightmarish visage of Nue (see the screenshot below) to the seductive evil of Joro-gumo, the sheer variety of enemies that you'll face in Team Ninja's masterpiece arguably sits atop of the soulslike genre – and yes, that does include the likes of Dark Souls and Demon's Souls too.
Perhaps more so than any other aspect of its design however, it's the combat that makes Nioh Remastered such a thoroughly engrossing effort that stands tall even today amongst its genre stablemates. With sophisticated hack and slash combat that is bolstered by an extremely nuanced Ki Pulse system which rewards players with special buffs and stat boosts at key intervals, and a whole range of play style altering weaponry to use, Nioh's third person combat still remains one of the best in the genre.
Elsewhere, the 120 frames per second mode that Nioh Remastered boasts on PlayStation 5 is also a superb addition to the game for those lucky folks that have a HDMI 2.1 compliant display hooked up to their PlayStation 5. Providing much more than just buttery smooth animation, the 120 frames per second mode of Nioh Remastered also makes Team Ninja's action RPG effort feel much more responsive than it ever has. Chiefly, the benefit of the improved responsiveness afforded by the 120 frames per second mode is felt most keenly combat, where the latency between player commands and on-screen action is practically non-existent.
Related Content – All PS5 Games That Support 120 FPS – The Smoothest Games On PlayStation 5
Further afield, the power of PlayStation 5 is also felt in the loading screens now, too. Greatly reduced from what they were on PS4 and PS4 Pro, the loading screens in Nioh Remastered are so short now that the getting back into the fight after an untimely death has never been quicker; reducing the amount of frustration that is felt as a result.
Aside from such technical improvements, Nioh Remastered: The Complete Edition not only boasts all of the DLC and premium expansion packs that released for the game, but Nioh Remastered also allows you to continue exactly where you left off in your PS4 save.
Oh and as an added bonus, Nioh Remastered allows PS5 players to play cooperatively with PS4 owners too. Quite simply, Nioh Remastered is the definitive way to play the game and if you've been sitting on the fence, now is the best time to get off it.
More so than ever before, Nioh is a great choice for players who have since exhausted the superb Demon's Souls. Sure enough, even in its remastered form, Nioh cannot hope to match the visual magic that developer Bluepoint Games performed with From Software's opus, but in every other way that counts Nioh Remastered is a tremendous action RPG that holds up strongly even today.
Nioh Remastered: The Complete Edition releases for PlayStation 5 on February 5, 2021.
Review code kindly provided by publisher.