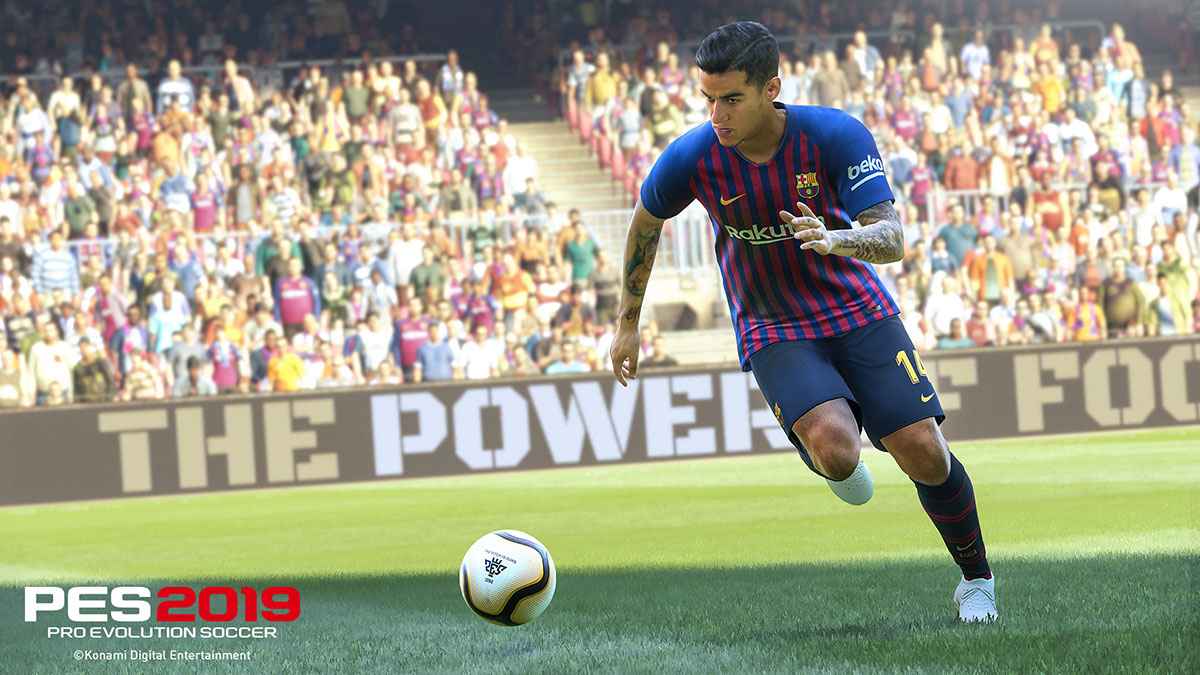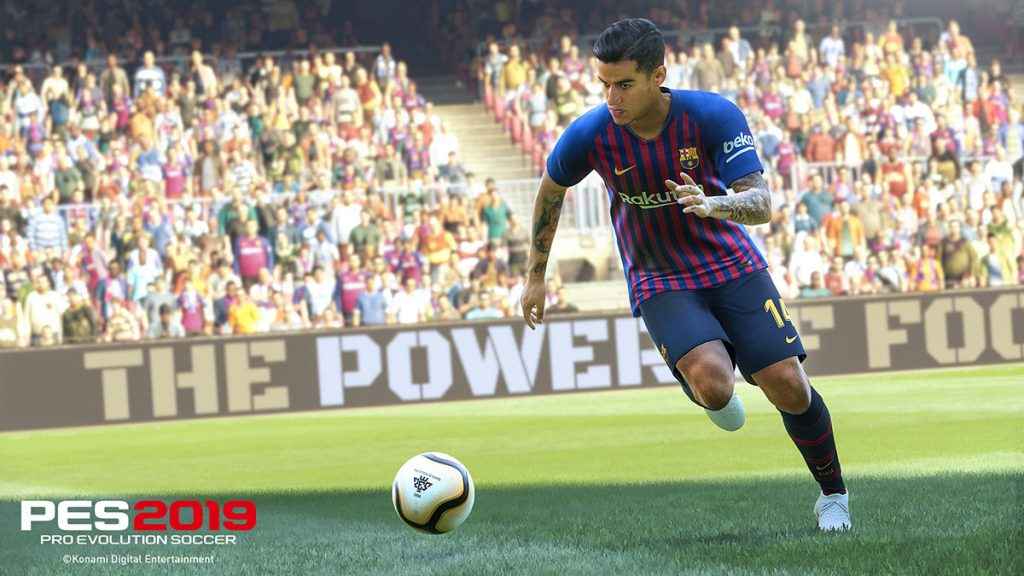 Expectations are always high when a new iteration of PES is released, and PES 2019 is no different.
Over the years, Konami has garnered a reputation for creating a series of meticulously designed simulations that provide an unparalleled virtual footballing experience – at least in purely mechanical terms.
And it's largely the same this time around.
Building upon the foundations of the previous year's game, PES 2019 offers the same enthralling brand of tactical, physical football with a generous dusting of enjoyable and distinctive game modes.
But, without any significant alterations to the established formula and a handful of longstanding issues holding it back, PES 2019 feels like yet another stopgap on the way to bigger and better things.
The Importance of an Effective Strategy in PES 2019
Even before your team of world class professionals step foot on the pitch, the sheer tactical depth of PES 2019 becomes immediately apparent.
An impressive array of tools gives the player everything they need to fine tune the DNA of their team; what style of football they play, how to get the most out of their star players, how to counteract the opposition's tactics.
From minor positional tweaks to selecting which of the various Advanced Instructions best suit their playstyle, PES 2019 offers an unprecedented level of control to those who want it.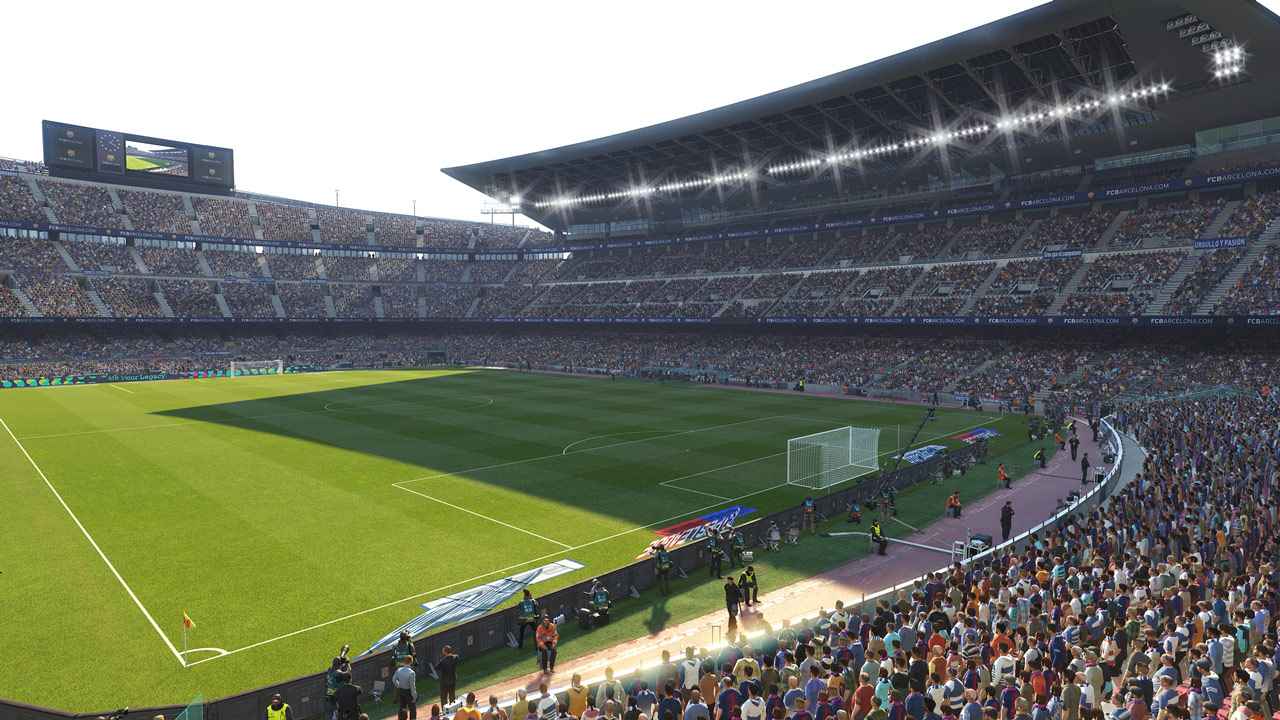 Yet, crucially, while mastering these systems is a must at the highest difficulty levels or when competing against the best players online, they aren't prohibitive to those who want nothing more than to enjoy a simple game of football.
Leave the tactical menus untouched and, so long as you don't go overboard with the skill stick or raking, 60-yard passes, there's nothing stopping you from winning your fair share of matches and having fun.
Mechanical Excellence
It's on the pitch where PES really shines, however. Utilising the same blend of methodical, adaptable football and physical play that made 2018's offering both entertaining and infinitely more authentic than its peers.
A considered, patient approach remains the best strategy for new and veteran players alike. PES rewarding those who take the time to gradually open up gaps in the opposition defence with slick passing moves reminiscent of Pep Guardiola's legendary Barcelona team of a few years' back.
However, Konami has clearly worked very hard to accommodate other styles as well. Playing on the counter-attack is thus a perfectly viable strategy in PES 2019, as is the old-fashioned long ball approach pioneered by English teams of the past and, more recently, Stoke City. Assuming, that is, the team in question has a target man capable of exploiting the game's startlingly realistic physics to win the majority aerial balls.
And yet it's not only PES' versatility and finely-tuned mechanics that give it the edge over FIFA. For me, at least, the biggest and most important difference is random chance. Let me explain.
In past iterations of FIFA, the ball seemed incapable of deflecting into open space. Inevitably finding its way to the feet of the nearest opposition player whether a beleaguered defender was blindly hoofing the ball forward to clear his lines or as a result of an inconclusive 50/50. It felt as if the ball wasn't an independent object, but something that was overwhelmingly, inexorably attracted to the nearest pair of gaudy football boots.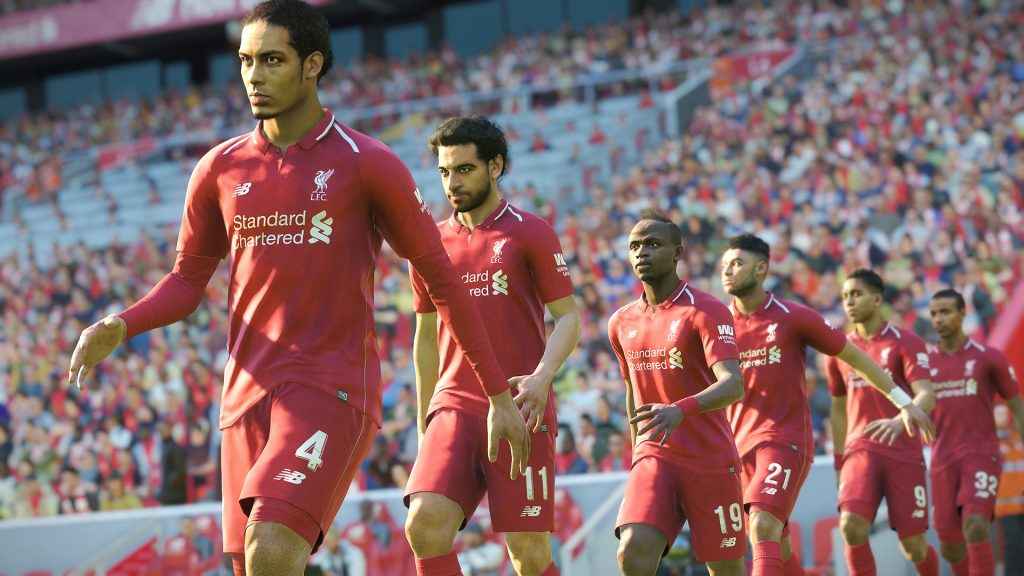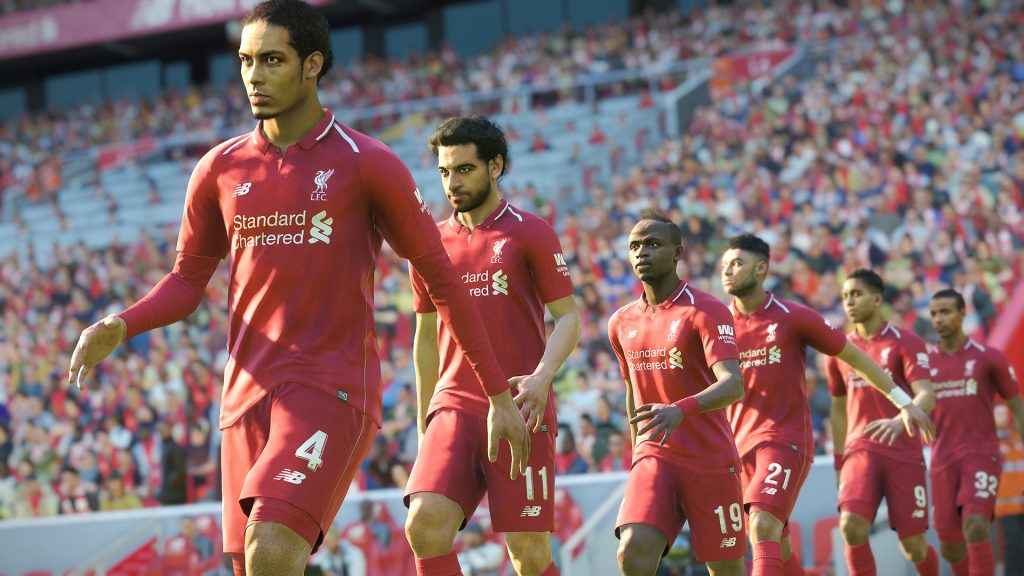 Harry a defender in PES 2019, on the other hand, and there's every chance they'll simply boot the ball out of play. And, even if they do hack it halfway up the pitch, there's no guarantee it'll land at the feet of an opposition player.
It might seem like a small thing, but it provides a level of authenticity that FIFA has always lacked. So that, when you do concede a goal, you simply applaud the opposition or, at worst, bemoan your bad luck.
Hugely impressive though it is, PES 2019 isn't without its drawbacks in the gameplay department. Most of them are fairly innocuous, such as the unrealistic handling ability of the game's various goalkeepers – which, if you watch football regularly, you'll know is becoming increasingly uncommon.
There is a slightly bigger issue with the passing, however. Extremely satisfying and well-designed in the main, PES does have an annoying, if thankfully infrequent, tendency to misinterpret your button inputs. Redirecting a carefully considered through ball towards your heavily marked striker rather than the fleet-footed winger you've just spotted bursting into space down the wing; or hitting the diminutive attacking midfield with an early cross instead of Peter Crouch who's standing at the back post looking bemused.
PES 2019 Offline Play
Obviously, PES 2019's mechanical superiority wouldn't count for much if it wasn't supported by a decent selection of enjoyable game modes. Fortunately, it is.
Master League is the main draw, as always. Letting players fulfil their wish of taking their favourite club and leading them to domestic and European glory. I'm still on my initial, pre-option file run at the moment. Meaning I'm stuck with the default, off-brand team names, kits etc.
Despite the immersion-breaking effect of running onto the pitch as North East London rather than Tottenham Hotspur, however, I've been pleasantly surprised by the amount of depth on offer.
Everything from the regular performance reports that make monitoring your team and deciding who deserves a place in the starting eleven wonderfully easy, to player nicknames and personalised training schedules, aside from adding another layer of authenticity of the experience, make the process of building and nurturing your team as rewarding as possible.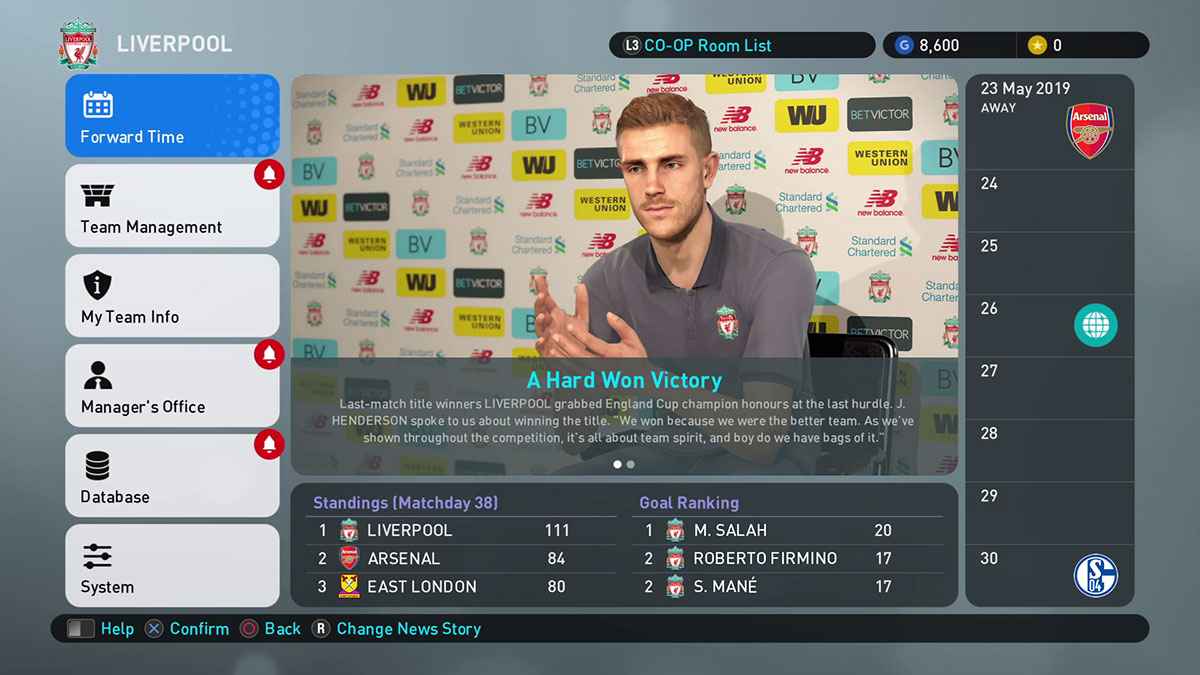 Master League's core gameplay loop remains pretty much the same in other areas. The transfer market is still the imperfect system it has been for years now: reducing the market value of the world's best players by tens of millions of pounds and rating your chances of signing any given player seemingly at random.
At least, that's how I explain the fact I managed to sign Thiago Alcantara without any difficulty but was rejected outright by relegation-threated Fulham's Ryan Sessegnon.
Konami continues to offer the same generous array of alternative offline game modes outside of Master League.
Become a Legend returns alongside Random Selection. The former putting you in the gold-tinted boots of a single player (either an existing footballer or custom avatar) that's as theoretically interesting if ultimately dull as such sedentary game modes always are. The latter letting you create hybrid teams of randomly selected players for use in an always entertaining one-off match.
Much like the various offline leagues and cups, Random Selection offers a quick and easy alternative to Master League for those who just want to enjoy the game's peerless mechanics without all the faff.
PES 2019 Online Play
In terms of online play, the highlight is undoubtedly myClub: PES's answer to FIFA Ultimate Team.
The simplified systems and mechanics make it a far more accessible and less laborious undertaking than FUT, stripping out much of the excess that can make Ultimate Team a little intimidating to new players.
You still have to monitor player/manager contracts, keep an eye on accumulated fatigue, pay close attention to squad chemistry etc. in between online or offline matches. However, the in-game economy is less inflated, while the investment of time needed to obtain star players like Lionel Messi, Harry Kane, Virgil Van Dijk and co. is substantially smaller.
I've already managed to acquire Luis Suarez and Bernado Silva during the handful of hours I've spent in myClub. By comparison, the last time I played FUT, it took me two or three weeks before I'd accrued sufficient funds to purchase a gold player. And even then, the best I could afford was Michael bloody Carrick.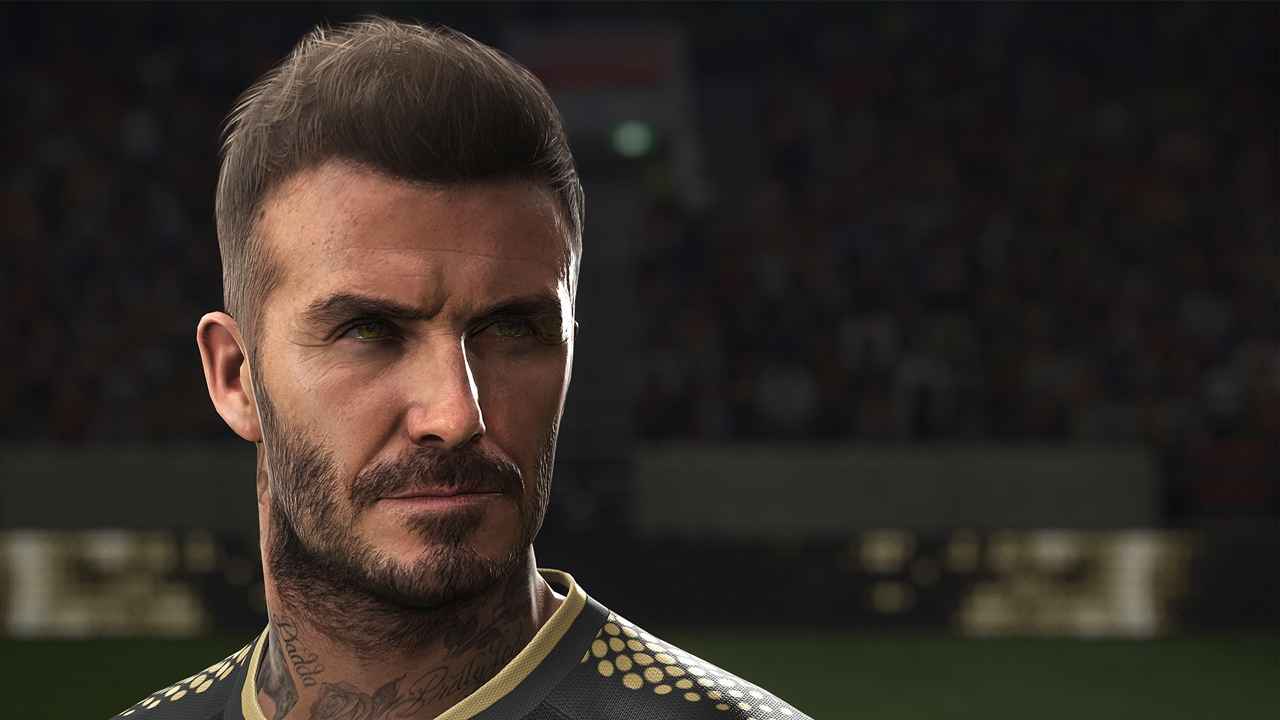 On the flip side, it's this very depth and complexity that attracts FUT players in the first place. Making PES's streamlined alternative look somewhat rudimentary by comparison.
This, combined with the fact you can't simply search for and buy the players you want (transfers are made semi-randomly using agent or scout consumables) makes it difficult to envision myClub rivalling FIFA's hugely popular counterpart anytime soon.
The good news is, there are plenty of other ways to enjoy PES 2019 online. Seasons lets you test your mettle against the PES community across a series of 10-match-long campaigns; the sternness of the challenge increasing as you yourself rise through the online ranks. While 3-on-3 co-op and Team Play Lobby let you join forces with friends or randoms to take on other groups of players from around the world.
Just make sure you set network connection restrictions to level 4 or 5 when setting up an online game. Matches can be exceedingly laggy if you don't.
Performance, Presentation, and those Pesky Licences
Unfortunately, the game's biggest problem continues to be the lack of official licences and the resulting dearth of popular leagues and teams.
Now, it's only fair to say Konami has certainly tried to fill the hole left by the departure of the Champions League and the absence of competitions like the Bundesliga. Nonetheless, the chances of someone outside of Chile and Turkey devoting any significant amount of time to their domestic league is slim.
Moreover, the laborious process of copying individual option files from your PC onto the game itself using an external USB stick, just to correct the widespread errors in nomenclature, is almost certainly going to be a deal breaker for many.
Still, aside from some typically lacklustre commentary and bland menu screens, PES 2019 looks, feels, and sounds spectacular.
Player animations are beautifully designed. Their motions possessing a weight and grace that makes even simple things like controlling the ball or playing a two-yard pass feel uncannily lifelike.
I'm not sure there's anything more satisfying in the entire game than watching the net bulge following a dipping pile driver from the edge of the box or barging past an opposition player to head the ball clear.
Similarly, the stadiums convey a sense of spectacle that makes you forget your favourite team is playing in the wrong colour, brought to life by atmospheric crowds and an array of ambient weather conditions.
Review code provided by publisher