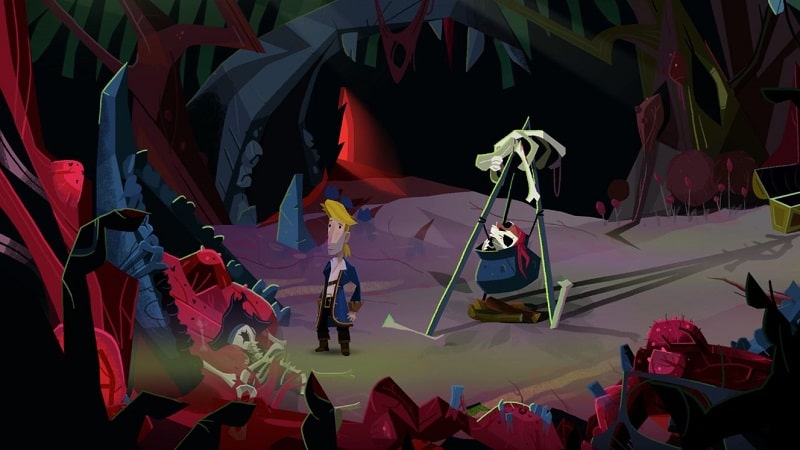 Return to Monkey Island PS5 review. It feels so great to have Monkey Island back. Surprisingly resurrected by Devolver Digital, developer Terrible Toybox and series creator Ron Gilbert, Return to Monkey Island has seemingly done the impossible; bringing back the essence of an oft-missed beloved point and click adventure franchise while adding enough fabulous new elements to bring it bang up to date. If, like me, you've been feverishly waiting for the Monkey Island series to return your wait has, definitively, come to an end.
Return To Monkey Island PS5 Review
---
A Frequently Hilarious And Charming Monkey Island Adventure That Cannot Be Missed
If however, you've somehow you have managed to go this long without indulging in the myriad charms and pleasures of the Monkey Island games, Return to Monkey Island has you covered there too as a handily cheerful recap of the events of all the previous games in the series to date, allowing the uninitiated to start playing right away,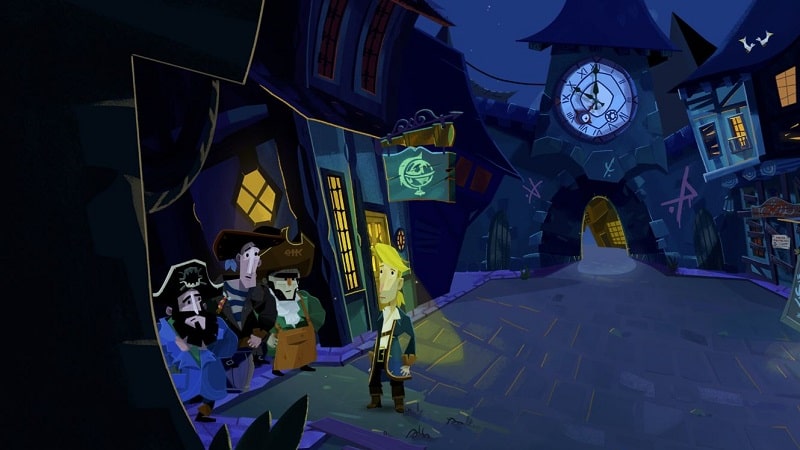 Return to Monkey Island initially sees players take control of Boybrush Threepwood, the son of the mighty, swashbuckling pirate (with a wink) Guybrush Threepwood. Essentially doubling up as both narrative introduction and a functional tutorial of sorts, the introductory act has players taking control of Boybrush as he nips around an island, completing his trusty to-do-list and getting into trouble with his best friend Chuckie.
Once into the game proper, Return to Monkey Island wastes no time in dropping players back into the familiar setting of Mêlée Island as Guybrush Threepwood himself and indeed Return to Monkey Island deftly calls back to the original Monkey Island games, with a zoomed out shot of the island at night being slowly zoomed in as the iconic Monkey Island theme begins to swell. Make no mistake, Ron Gilbert and developer Terrible Toybox know exactly what they're doing when it comes to pushing your nostalgia buttons and they're very, very good at it.
As much as Return to Monkey Island looks to the past so too does it cast an eye to the future in a great many ways. Though the trip back to Mêlée Island is certainly awash with nostalgia and fond memories, so too have events moved on as well. Seemingly Grog has since fallen out of favour as the primary swig for pirates everywhere, while the Pirate Lords of the Scumm Inn, once a trio of miserable old scurvy dogs, are now a group of younger, more obnoxious sorts. This framing of nostalgic locations and characters that have been brought up to date is bittersweet – simultaneously taking us back to a simpler time, while also clearly showing players how time has marched on too – as it has in the games industry at large.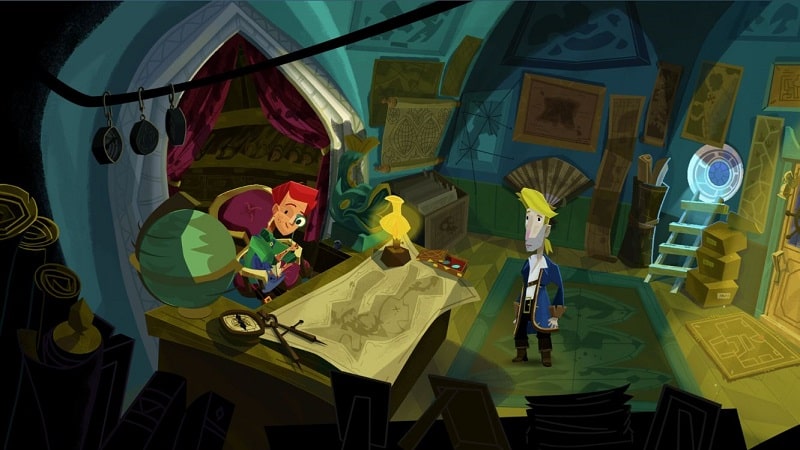 Return to Monkey Island not only brings back characters from the past while also introducing a cadre of all new faces, but so too does it also share the penchant of previous games for weaving together smart, branching dialogue too. Quite simply, much of the dialogue is hugely charming and witty, rarely failing to elicit a face creasing smile throughout. Return to Monkey Island is, to this scribe at least, as funny as the previous games and that is no mean feat.
Being a Monkey Island game, Return to Monkey Island also boasts more than its fair share of puzzles and as with previous titles in the franchise, they run the spectrum of logic and absurdity with the two often intertwining throughout. Brilliantly, developers Terrible Toybox realises quite acutely that not every gamer will want to engage with the puzzles and so the provision of two game modes that cut back on the puzzles so players can enjoy the story, or the reinstatement of all the conundrums for Monkey Island veterans, is very welcome indeed.
To reinforce its game world, the lore and the characters that exist within it, Return to Monkey Island also introduces the trivia cards based on characters, events and places that can be collected and filled out. More than just trophy bait, these trivia cards are super useful in getting players, especially new players, familiar with the world of Monkey Island and stand as just another neat feature to make the onboarding of the uninitiated that much easier as a result.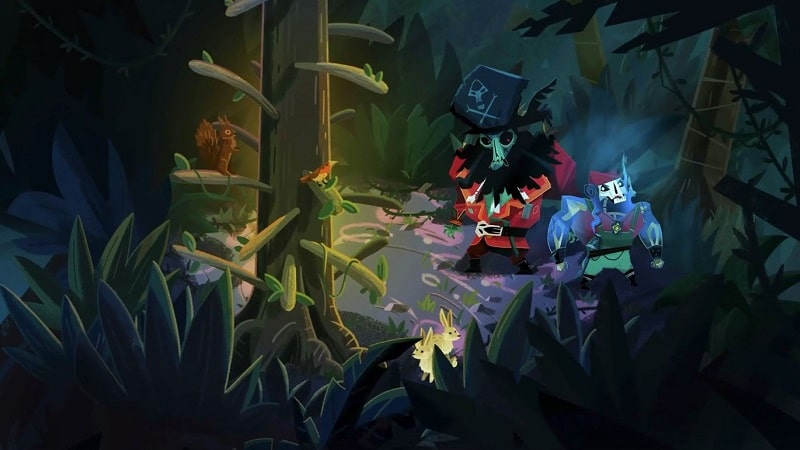 With Return to Monkey Island developer Terrible Toybox is clearly cogent of the fact that in 2022 a new Monkey Island game had to look and play a little different than it had in previous years and on both fronts Ron Gilbert and his team have been appreciably hard at work. With the embedded grid inventory UI of the first few Monkey Island games now gone from the screen, Return to Monkey Island instead favours a separate inventory screen to manage all of your items and trinkets. It works too, not least because it allows players to soak in all of Return to Monkey Island's gorgeous aesthetic without having to worry about some ungainly inventory UI menu cluttering up the screen.
And about that. A point of some contention since Return to Monkey Island was announced has been the change in art style that the game has embraced and quite honestly, in attempting to seek out a more contemporary audience, I feel that the new art style is absolutely perfect. Spearheaded by art director Rex Crowle (Knights & Bikes, Tearaway), Return to Monkey Island's visual aesthetic is both at once charming and vibrant, with the colourful contours of its bouncy characters and detailed backdrops giving Monkey Island the makeover it has long craved and deserved.
One point I can't ram home enough though is just how witty and amusing the writing is in Return to Monkey Island. While the humour and meta commentary that the series is rightfully known for is front and centre (this is a whimsical tale about Mighty Pirates(tm), zombie ghost pirates and cursed treasure after all), so too is a new element of warm heartedness that helps to make Return to Monkey Island feel much more emotionally compelling than it has done in previous instalments.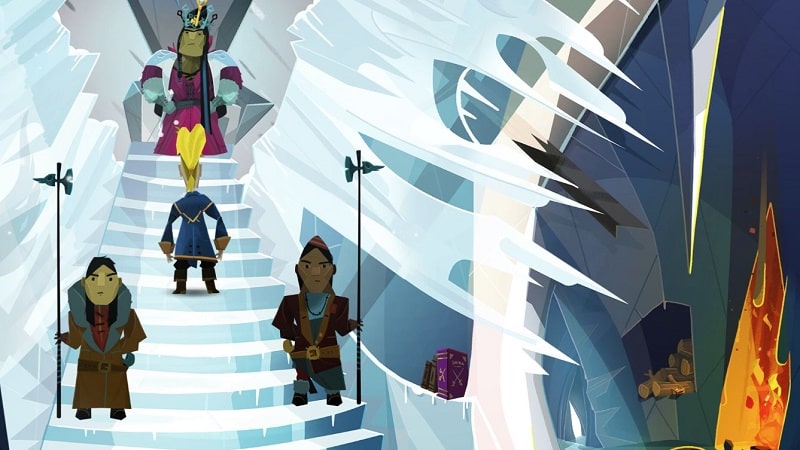 It should also be made clear too that Return to Monkey Island isn't quite as sophisticated as previous games in the series when it comes to the depth of the dialogue trees, complexity of the puzzles and range of interaction points in the environment. Though series purists might well balk at what they perceive as a 'watered down' take on the Monkey Island games, Return to the Monkey Island merely feels like it has trimmed a heap of fat and made itself much more attractive to newcomers as a result – something that the dying series (and point and click adventure genre at large) arguably needs.
Though I still remain surprised that Return to Monkey Island even exists, I can't contest what Ron Gilbert and developer Terrible Toybox have wrought here. By masterfully combining the witty and thoughtful point and click escapades of the series past with a newfound warmth and charming aesthetic, Return to Monkey Island is by and large the series return that fans have long been waiting for and is a roaring success in the process.
Return to Monkey Island is out now on PS4 and PS5.
Review code kindly provided by PR.