Shadowrun Trilogy PS5 review. I'm not sure about you, but as someone who pretty much watches Blade Runner (the Final Cut, natch) nearly every weekend and who lives and breathes all things Cyberpunk, I for one cannot get enough of the genre's sudden resurgence in video games. Though certainly Cyberpunk 2077 fell someway short of its initial promise – even if it has since admirable strides to get back there – other genre entries such as The Ascent, Ghostrunner and more all present a compelling take on the setting.
The latest game, or set of games, to take a run at the setting that was arguably popularised by Ridley Scott's seminal Blade Runner is the Shadowrun Trilogy from developer Harebrained Schemes, a nifty combination of XCOM style turn based strategy and cyberpunk adventure beats that fans of the genre would do well to sample in earnest.
Shadowrun Trilogy PS5 Review
---
Turn Based Battles Meet An Accomplished Cyberpunk Tabletop RPG With A Dash Of Fantasy
Based on the Shadowrun table top RPG of the same name, the three games in the Shadowrun Trilogy – Shadowrun Returns, Shadowrun: Hong Kong and Shadowrun: Dragonfall – boast something of a unique setting in cyberpunk circles. Though the usual neon-stained urban sprawls, augmented humans, computerised society and other such tropes feature broadly, the Shadowrun Trilogy separates itself by including the likes of Dwarves, Orcs, Elves and even Trolls in its cyberpunk setting.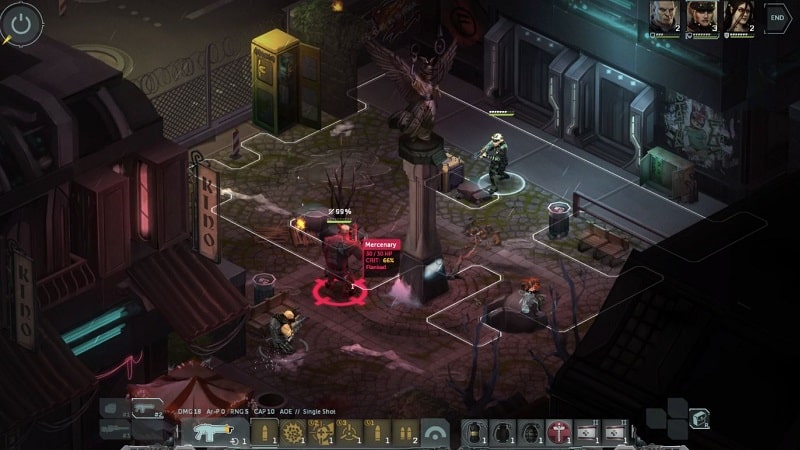 The upshot of this is that the world portrayed in the three Shadowrun games that make up the Shadowrun Trilogy is far more layered than many of its genre counterparts, with the various races having their own cultural intersectionality and geo-political backgrounds that all help to ensure that Shadowrun remains one of the most compelling cyberpunk settings around. Never seen a Dwarf police coroner? You will here. How about a Troll nightclub bouncer with the manners of a saint? Yep, that too.
In practice each of the games included in the Shadowrun Trilogy, which are anthological in nature rather than direct continuations of one another, are essentially isometric RPGs where combat is played out in a turn-based setting while depending on your character's chosen stats and abilities, different progression pathways through the game become available – such as being able to hack computer consoles, charm your way through a conversation and so on and so forth.
Further Reading – Best PS5 Cyberpunk Games Ranked – The Best Cyberpunk Games On PlayStation 5
There's a pleasing degree of character creation in the Shadowrun Trilogy that extends far beyond the cosmetic and can considerably affect your playthrough in each of the games included in the Shadowrun Trilogy. As you might expect, depending on whether you're a Human, Elf, Orc, Dwarf or Troll, you'll begin with additional skill points and specialisations in particular areas too and those racial bonuses are exactly where you think they might be – with Humans generally gaining experience (or Karma, as it's referred to in Shadowrun) at an increased rate, while Elves are more intelligent, Trolls are stronger than others (and dumber by default) and so on and so forth.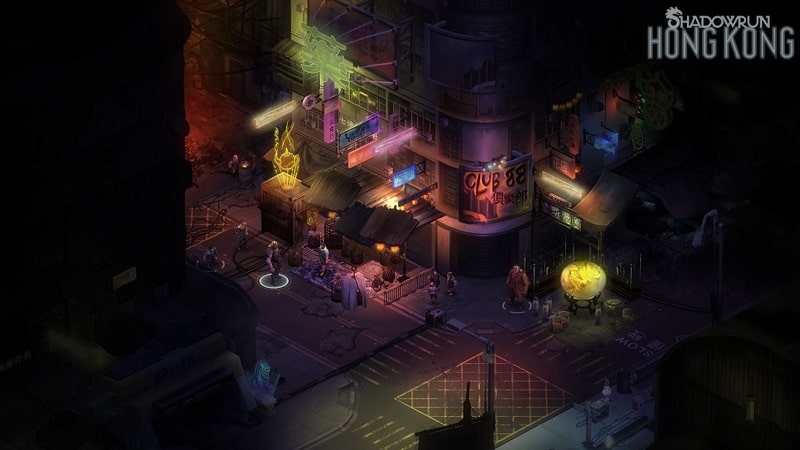 Viewed from an isometric perspective, you'll spend your time in the Shadowrun Trilogy exploring the environment, picking up side quests, engaging in branching dialogue with the many NPCs and using your abilities (see the previous hacking, conversational skills and so on) to progress the overall narrative. While the visuals in the Shadowrun Trilogy are certainly rather humble (more on that in a bit) and there is a distinct lack of voiced dialogue, the writing is sufficiently emotive and descriptive that I didn't necessarily mind scrolling through a whole bunch of text in order to flesh out the world around me. Though by the same token, those who aren't predisposed to reading fairly chunky amounts of text might take umbrage at the long-term, silent storytelling of the Shadowrun Trilogy.
Whenever combat is called for in the Shadowrun Trilogy, the comparisons to the XCOM games prove apt, if perhaps a little generous. Unfolding in a turn-based format, players take control of their character and allies, using a finite number of AP (Action Points) elect to move their characters around the battlefield, attacking their foes, reloading the firearms, using items and more besides.
The turn-based combat that the Shadowrun Trilogy employs is fairly in-depth without being too confusing for newcomers. The UI is clearly detailed, providing players with a wealth of crucial detail about different levels of cover, line of sight and information on potential flanking manoeuvres. It's actually in the combat side of things that the bounty of Shadowrun's unique take on the cyberpunk genre comes to bear. You see, in addition to all the usual firearms, grenades, cyberattacks and so on, you can actually have mages unleash elemental attacks on their foes and shaman that have the ability conjure spirits to fight for them in combat. It's super cool stuff that really shows how the cyberpunk genre can be so much more than just rainy nights, synthwave, stained neon and cyborgs running about the place.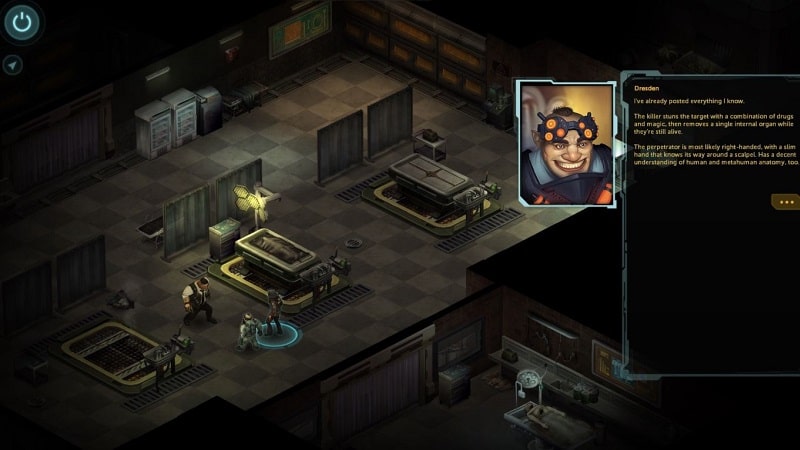 Where the Shadowrun Trilogy perhaps doesn't fare quite so well is in its production value and scope, but there's a reason for that. Originally developed as a trio of Kickstarted PC indie games that were later ported to mobile, it's certainly reasonable to say that these aren't massive, sweeping epics – which is a shame given just how compellingly rich the Shadowrun cyberpunk setting is when compared to its genre peers. Equally too, the visuals clearly have origins from a generation or more ago, with simplistic character models and clean but ultimately largely static backgrounds that occasionally become a little too blurry when viewed up close, despite the 4K resolution upgrade that the PS5 version of the Shadowrun Trilogy provides.
That said, you do a get a whole heap of cyberpunk RPG bang for your buck with the Shadowrun Trilogy. Not only does each of the three games in the collection provide incentives for multiple playthroughs based on their non-linear progression, but the later two games in the pack, Shadowrun: Hong Kong and Shadowrun: Dragonfall are both extended versions of the original games that provide an additional campaign and extra content for would-be adventurers to sink their teeth into.
Though the technical presentation of the three games encompassed in the Shadowrun Trilogy is modest, each of them nonetheless provides an entertainingly told narrative wrapped up in an old-fashioned CRPG shell with involving, but not especially sophisticated turn-based combat. If you're after a whole lot of cyberpunk RPG goodness with a very unique cyberpunk setting, great world building and entertaining writing, then the Shadowrun Trilogy is just the fix that you need.
Shadowrun Trilogy is out now on PS4 and PS5.
Review code kindly provided by PR.