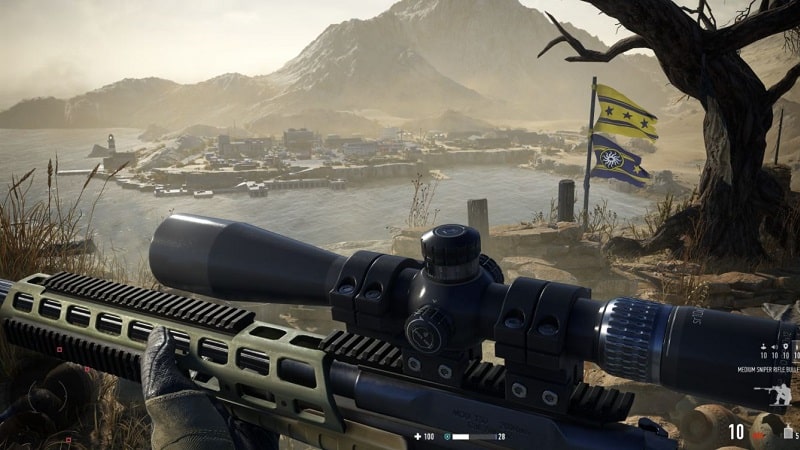 Sniper Ghost Warrior Contracts 2 PS5 review. Owing the distinction of being the PS5's first natively developed (and released) sniping game, it turns out there's a little more to Sniper Ghost Warrior Contracts 2 then first meets the eye. Given that we've already reviewed the game previously on PS4, this review will, like other PS5 upgrade reviews, be largely concerned with what the PS5 version of the game brings to the table which wasn't there before.
With much more polish, improved sniping mechanics, bigger maps, an array of gadgets and a selection of increasingly challenging contracts to take on, it's clear that Sniper Ghost Warrior Contracts 2 is leagues better than the previous games in the series. On PS5 however, a number of additional improvements have been made to polish CI Games sniper effort yet further still.
Sniper Ghost Warrior Contracts 2 PS5 Review
---
A Polished Version Of An Already Much Improved Sniping Effort
Of all the improvements the most notable are those made to the visual side of Sniper Ghost Warrior Contracts 2 – a common area for improvement in most PS5 version of existing PS4 games. Here, players can choose between performance, balanced and resolution modes, with the latter running at 4K resolution at a locked 30 frames per second, while the performance mode enables 2K resolution (or thereabouts) running at 60 frames per second.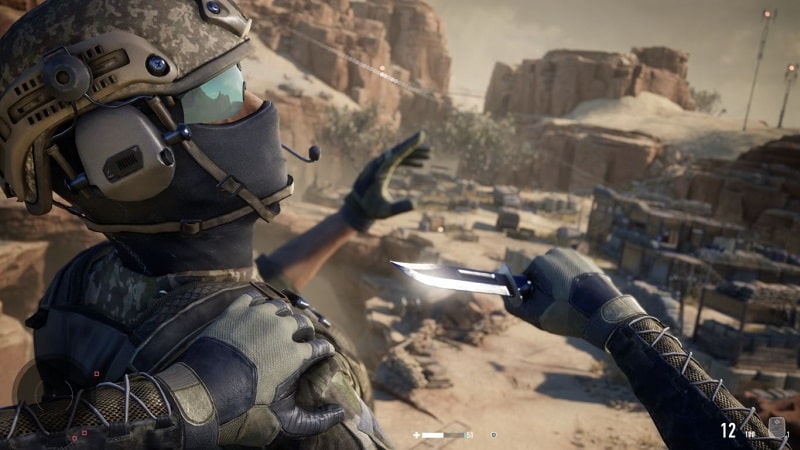 With the PS5 seemingly ushering in the era of 60 frames per second gaming wholesale and the number of 30 frames per second only titles now drying up somewhat, it's not surprising at all that Sniper Ghost Warrior Contracts 2 would offer a higher framerate option. Though the increase in frame rate is certainly welcome, it does come with its own drawbacks such as an inability to maintain a 60 frames per second lock throughout and the rendering of a distinctly softer image as a result.
That said, while it's not perfect, the performance mode is still worthwhile in Sniper Ghost Warrior Contracts 2, simply because the improvement in responsiveness and movement far exceeds the benefit of increased detail that you get in the higher resolution visual preset. All the same, it's still great to have the option to choose between those two profiles and the visual style of Sniper Ghost Warriors Contracts 2 (especially where the insane levels of gore and the ultra-stylish sniper cam kills are concerned) look great no matter which of those two modes you choose.
However, where things get interesting is the balanced mode, not least because it marks the first time that AMD's FSR (FidelityFX Super Resolution) technology has featured in a PS5 game. In Sniper Ghost Warrior Contracts 2's balanced mode, FSR works on a slider that allows players to choose between performance and ultra-high presets with a couple of settings in between, the idea being that if you move the slider towards performance you get a lower resolution and higher framerate, while moving it towards ultra-high produces the opposite set of results.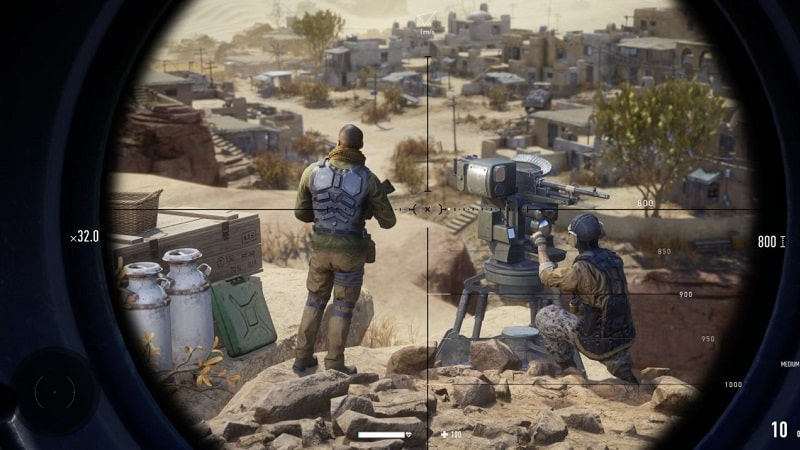 Having this sort of granularity in visual settings is actually a great thing indeed, in that it allows players to discover that sometimes elusive sweet spot of resolution and performance that a more straightforward two mode solution might ignore. Speaking personally, I found that having the balanced visual preset with ultra-high FSR works best as it provided a higher framerate (around 40-50 FPS) in addition to a sharper resolution (which you kinda want in a sniping title where you're trying to pick out detail at extreme ranges), was the best combination and going forward I hope more games embrace this FSR funkery.
As is seemingly par for the course for these sorts of cross generation releases, the PS5 version of Sniper Ghost Warrior Contracts 2 boasts a range of other expected improvements too. The DualSense controller is used in all the ways that you thought it would be, with haptic feedback doing its bit and providing, well, haptic feedback based on the shots you take (and receive) in a way that feels natural and immersive. Likewise, the adaptive triggers do a fine job of emulating the tension of pulling the trigger in a fashion that feels palpably satisfying.
Another expected PS5 boon that is brought to the fore here are the improved loading times. Whether you're loading from a cold boot or hopping into a mission from the game menus, you're able to get into the action much faster than ever before, though it's certainly fair to say that Sniper Ghost Warrior Contracts 2 takes longer to load than other PS5 games which also take advantage of that shiny SSD technology.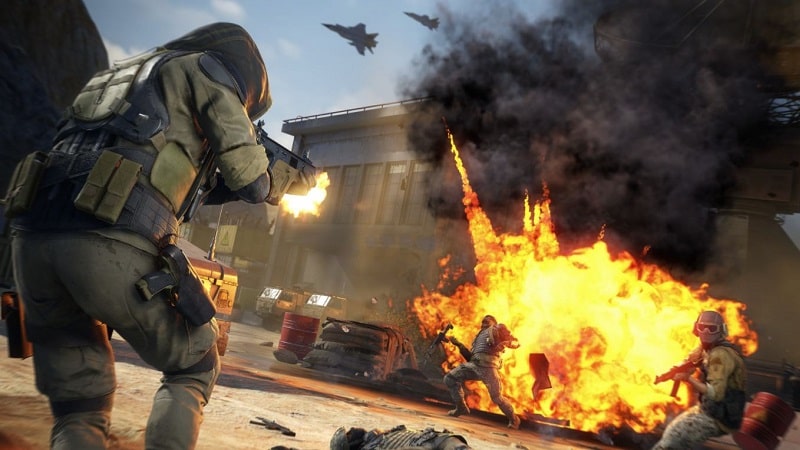 Then there's the fact that the PS5 version of Sniper Ghost Warrior Contracts 2 happens to be the 'Elite Edition' version of the game, too. In practice what this means is that you get the sizable 'Butcher's Banquet' expansion in addition to the previously released crossbow DLC. It's hardly ground-breaking stuff, but the fact that this provides additional hours of play to an already fairly expansive game should give prospective, wannabe snipers reassurance that they're getting bang for their buck.
One of the most pleasant surprises of the year, Sniper Ghost Warrior Contracts 2 finds its mark as a highly enjoyable sniper sim that leaves much of its janky baggage behind in favour of a much more streamlined and enjoyable experience and on PS5, it's an experience that climbs yet higher still on account of the greatly improved visuals and additional content offering.
Sniper Ghost Warrior Contracts 2 is out now on PS4 and PS5.
Review code kindly provided by PR.