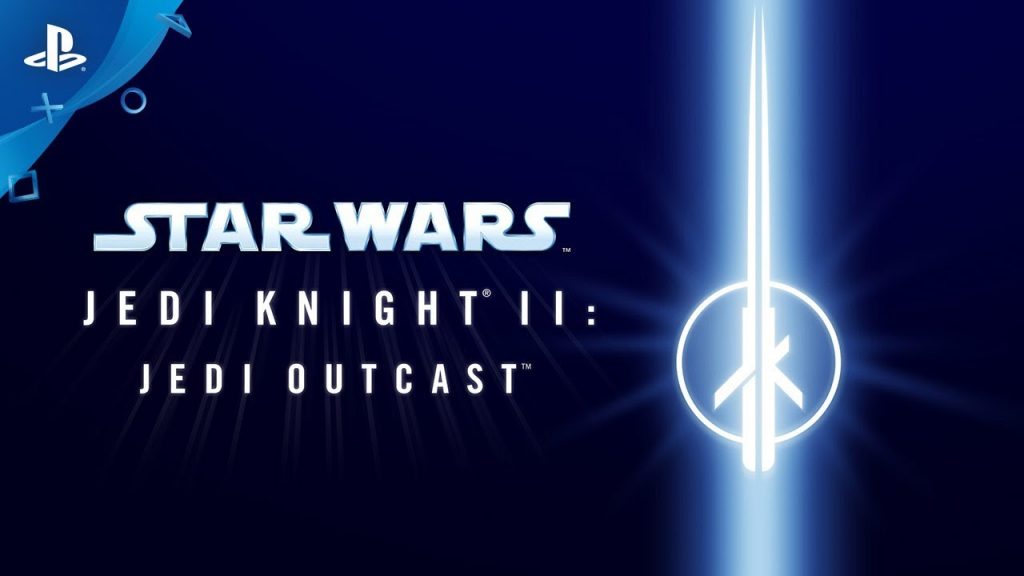 Star Wars Jedi Knight II: Jedi Outcast is one of those ports. Most definitely not a remake (as is borne out by its budget price, admittedly), and pretty much only ticking the minimum number of boxes to fulfill the definition of a remaster, Star Wars Jedi Knight II: Jedi Outcast has literally been crushed and smooshed into a massive great big conversion machine whereupon someone has haphazardly pressed the 'Make PS4 Version Button', and so here we are.
Star Wars Jedi Knight II: Jedi Outcast PS4 Review
Star Wars Jedi Knight II: Jedi Outcast Is An Enjoyable, If Largely Thoughtless PS4 Port
In case you don't remember the PC original (I wouldn't blame you – it came out back in 2002 when the PS2 was still gracefully ascending to the top of the home console pile) Star Wars Jedi Knight II: Jedi Outcast puts players in the force-charged boots of Kyle Katarn, the protagonist from the previous game, Star Wars: Dark Forces: Jedi Knight. In Jedi Outcast, set some eight years after the events of Return of the Jedi, we find that Mr. Katarn has forsaken The Force; a decision he soon regrets as a shadowy Sith sect is on the rise, forcing Kyle to once again embrace The Force in order to defeat these insidious new foes.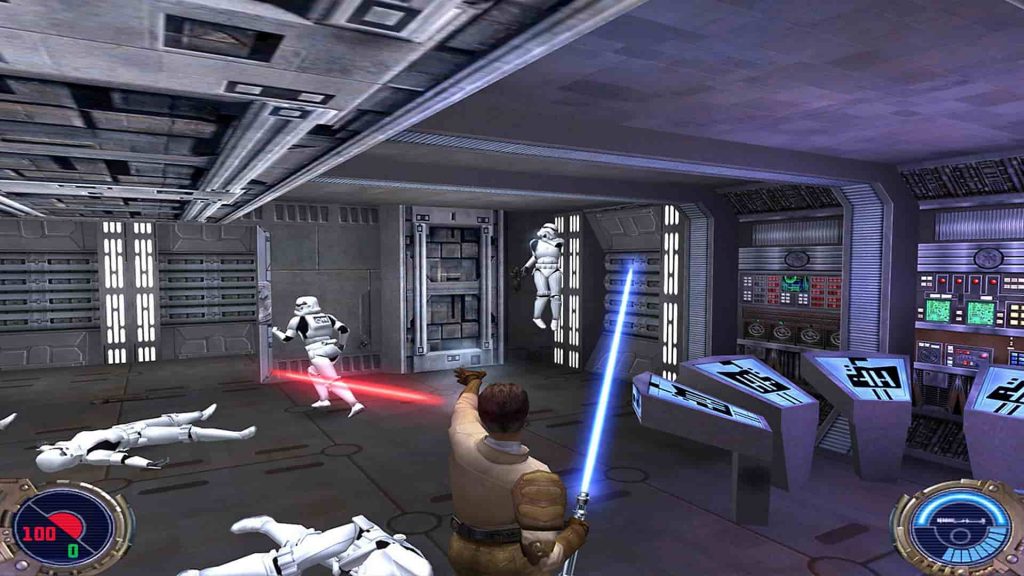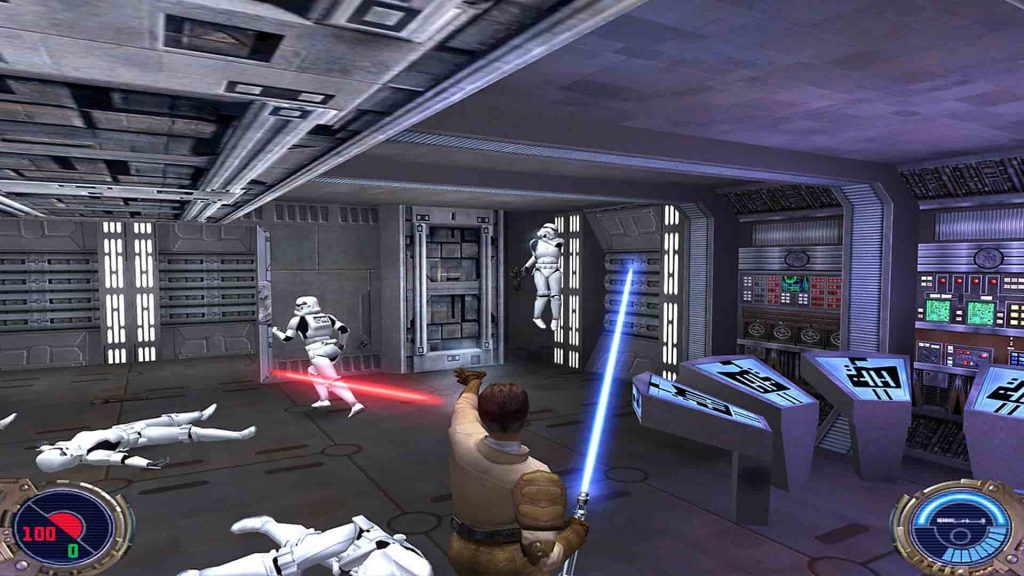 Beginning the game as a mercenary for the New Republic, Katarn finds himself rubbing shoulders with a number of key characters from the Star Wars canon such as Mon Mothma, Lando Calrissian and Luke Skywalker to name just a few as he makes the transition back to the path of the Jedi Knight. And this is, pointedly, one of the things that Jedi Outcast gets right – the game is pure, distilled Star Wars.
From the epic scope of the plot, to the ear-stroking sweep of John William's rousingly iconic score, Jedi Outcast certainly feels like it knows how to tell a decent Star Wars story. So in that respect it has aged well. In other ways, however, the quality of results varies somewhat.
A hybrid first-person and third-person shooter, Jedi Outcast was developed by frequent Call of Duty dance partners Raven Software and also by id Software, from whom the game engine originates. Levels are linear in fashion, often requiring you to blast/hack/power your way through legions of Imperial and Sith foes as you turn on switches to disable shields, use turrets to break down massive doors, escort NPCs around the place and so on.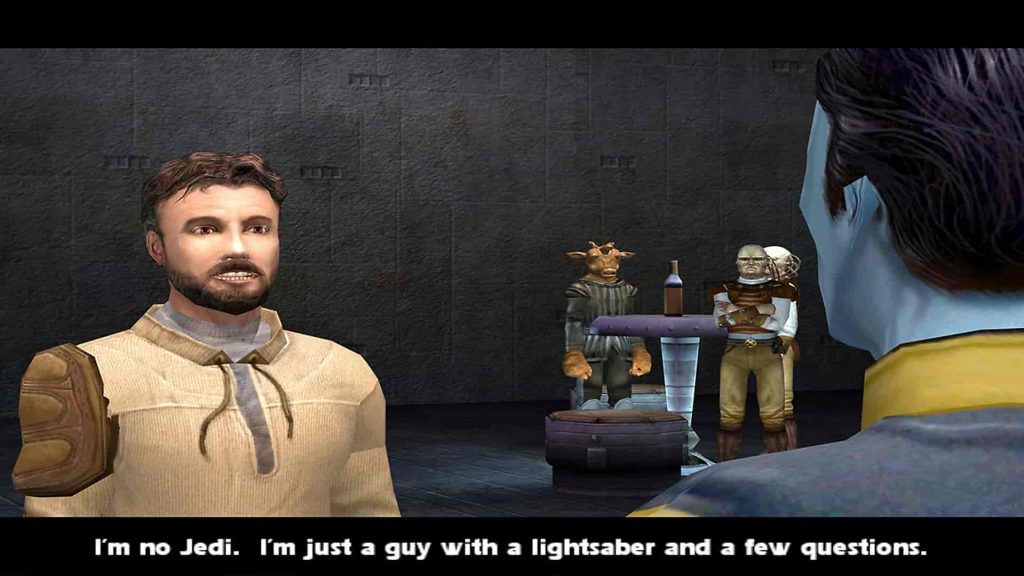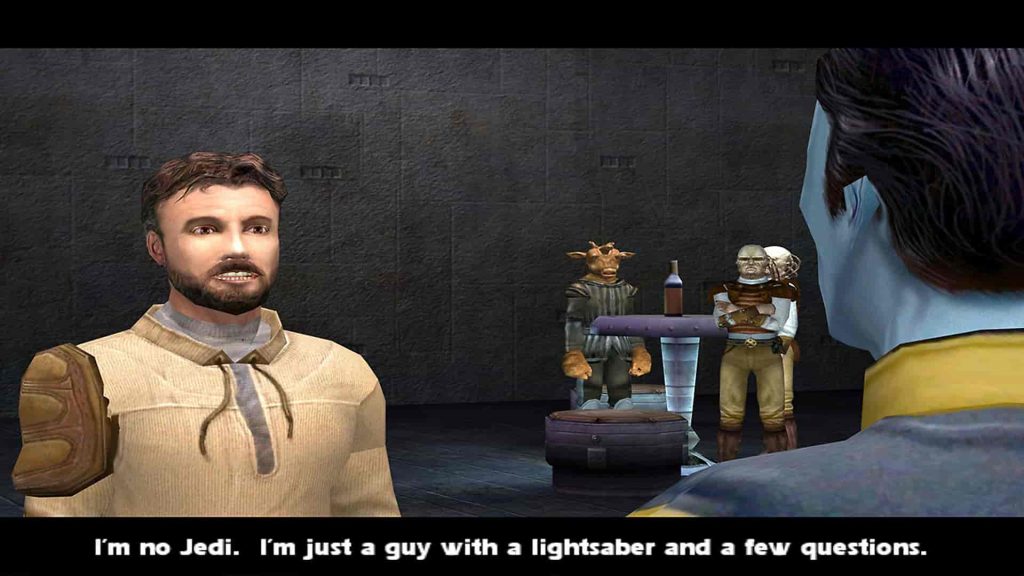 Of course any shooter is and should be judged by, well, the quality of its shooting and it's here that Jedi Outcast falters somewhat. For a start, the enemies are denser than Rancor excrement; either running towards you and dying, or getting stuck on corners and… dying. I know that Stormtroopers have been a running joke when it comes to battle competency for more than four decades, but you really shouldn't see Imperial Officers doing the same tricks.
The silver lining of course, is that the weapons, from Imperial Blasters to the whooshing whirr of a Lightsaber attack, all look, feel and sound absolutely on point when taken in comparison to its cinematic counterpart.
Things naturally pick up once you start earning Force Powers and become a proper Jedi Knight, not least because Kyle Katarn's complicated history as a Dark Side acolyte means that he has access to both Light and Dark Side powers. The problem however, is that these powers such as Force Push, Force Lightning and so on, are doled out in a linear fashion and as such, there is no way for you to customise your own Force loadout, so to speak.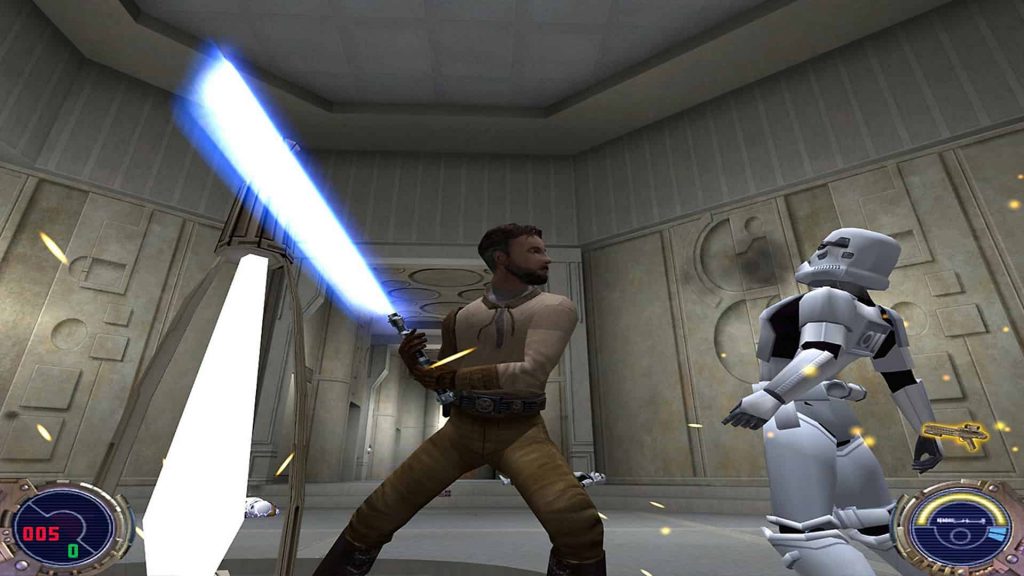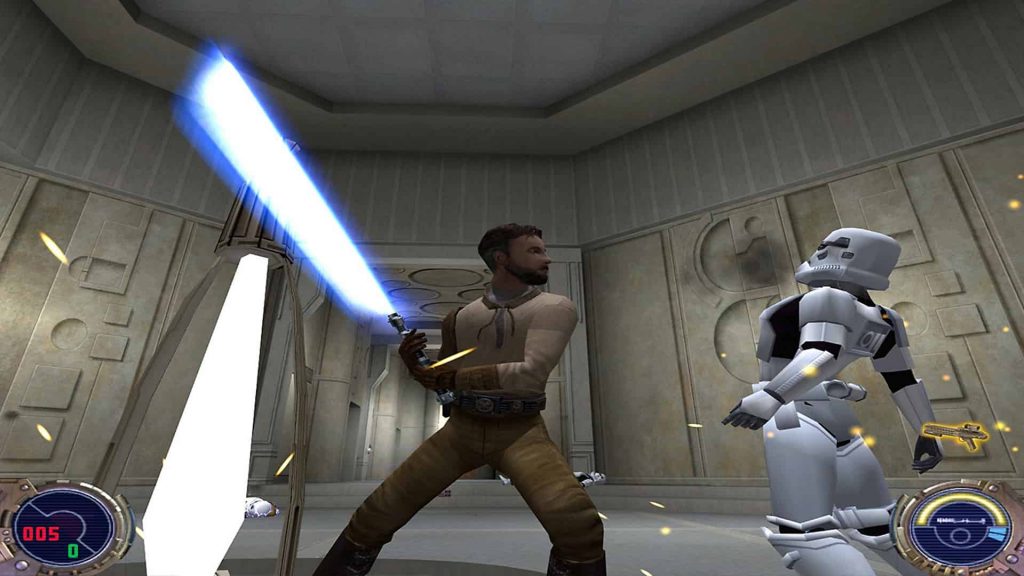 Also, when the Jedi based combat does start kicking off, this is where the hybrid perspective stuff kicks in as Jedi Outcast mandatorily shifts to the third-person perspective once the Lightsabers start swinging, which is somewhat jarring it must be said, though the option also exists to play the whole game in the third-person perspective should you so wish.
Nonetheless, once you get into a scrap with some enemy Sith things become very satisfying as you use all manner of Force Powers and lightsaber skills at your disposal to get the job done, with such encounters evoking the more action-packed and epic fights that the cinematic Star Wars canon has previously played host to.
Jedi Outcast Hasn't Aged Very Well, At All
The real problem that Jedi Outcast has, and it's something that I alluded to at the start, is that the port just isn't very well thought out at all. Regardless, let's start with the good news; Jedi Outcast trucks along at a buttery smooth 60 frames per second and updates the existing visuals to 1080p. It is in essence, the original game as it was on PC, with just the mildest of contemporary visual embellishments.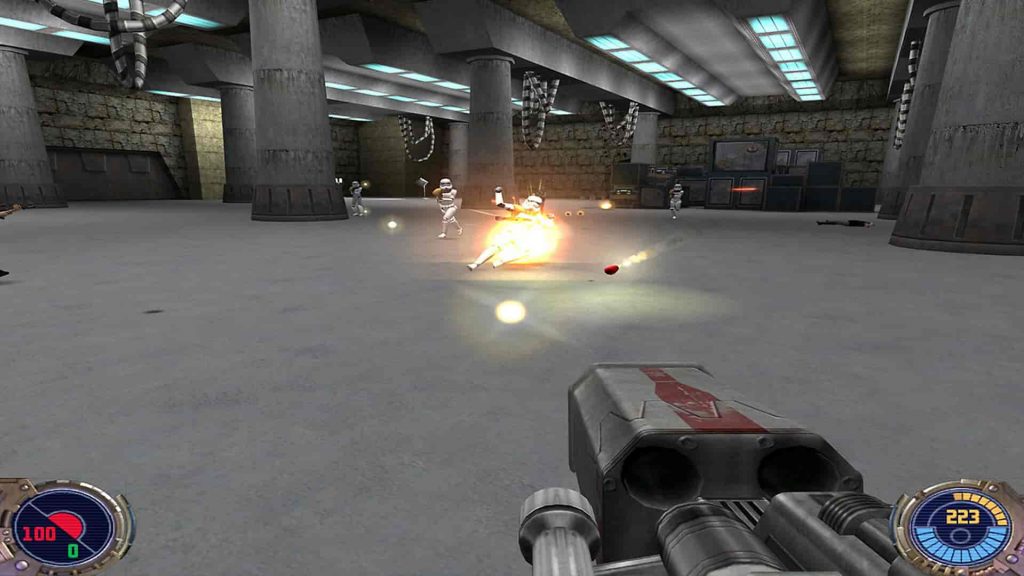 And now for the bad. Right off the bat the presentation is horribly dated – from horribly static menus to levels that just… end, and then go to utilitarian score sheets which boorishly inform you as to your performance, it's clear that no work has been done to touch up this aspect of the Jedi Outcast package. Another issue with the presentation is that the dynamic text which appears in the top left-hand corner of the screen is just too small on HDTVs that are 47 inches on larger – rudely showing off Jedi Outcast's rather archaic PC origins in the process.
When it comes to the controls, things have again taken a turn for the worse in this port with the ability to lean around corners not one that you'll ever want to use, simply because when you do the framerate inexplicably falls through the floor and makes you want to vomit whenever you attempt to do it. And then finally, and perhaps most egregious of all, is the fact that Jedi Outcast on PS4 has had the multiplayer component from the PC version completely stripped away, which is one of the main reasons why folk had such fond memories of the game in the first place.
Jedi Outcast then is still capable of delivering modest morsels of Star Wars infused fun, it's just a shame that while the lack of effort which has been made with the port justifies its budget price, it does not make magically make a 2002 title equally as compelling in 2019. Here's hoping that next years remaster of Star Wars Jedi Knight III: Jedi Academy is better, because the force is not quite so strong with this one.
Star Wars Jedi Knight II: Jedi Outcast is out now on PS4 and Nintendo Switch.
Review code independently obtained by reviewer.