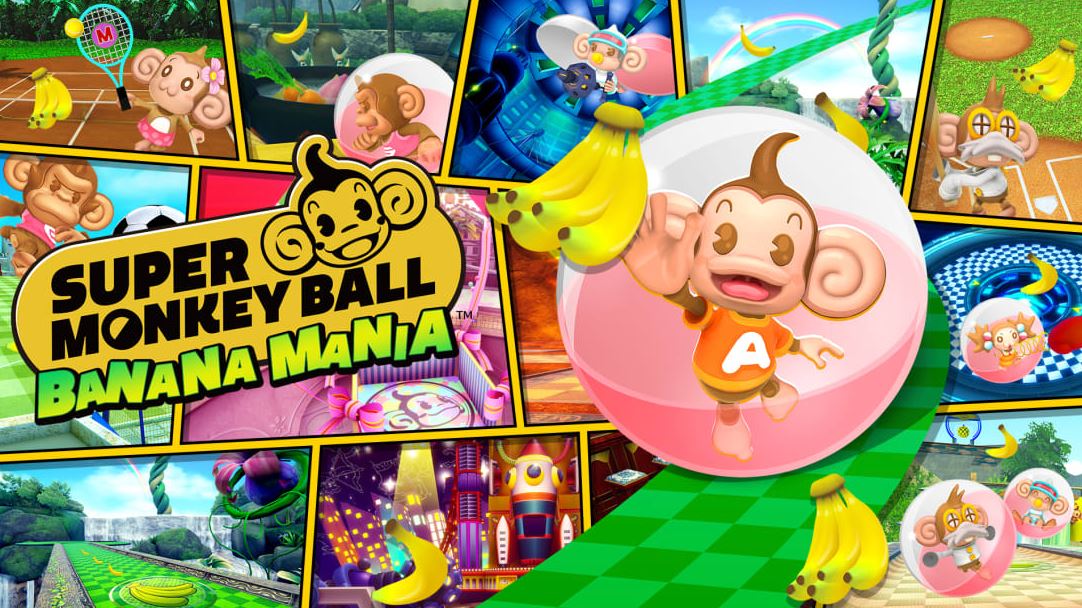 Super Monkey Ball Banana Mania Review (PS5) –. Marble Madness walked so that Super Monkey Ball could roll – that's the quote, isn't it? Mark Cerny jaunts aside, it's safe to say that Sega's seminal arcade platformer-of-sorts turned heads when it first arrived at Nintendo's GameCube launch in 2001, and in many ways it represented a softening of the historically frosty relationship between that of Sega and Nintendo.
Coming as the Dreamcast had all but lost its steam and Sega had realigned as a third-party developer, Super Monkey Ball was spearheaded by Yakuza creator Toshihiro Nagoshi during his stint as 'Head of Amusement Vision', that is, before he developed a penchant for making games that involve a crawfish named Nancy. If you know you know.
Super Monkey Ball Banana Mania PS5 Review
---
Super Monkey Ball Banana Mania Swings Onto PS5 Offering The Series' Best In One Enticing Package
Enthusiasm for Super Monkey Ball's frenetic gameplay and whimsy was rife upon release, and no sooner than a year later a sequel arrived, packing an additional challenge mode and doubling down on the series' burgeoning multiplayer aspect with four times the mini-games and thus burgeon four times the animosity amongst friends.
After, then, lying dormant for a number of years in terms of major home console releases the series re-emerged with the release of Super Monkey Ball: Banana Blitz HD, a curious HD remake of one of the less-than-revered entries which first appeared as a launch game for Nintendo Wii. Fast forward to now, and – perhaps as a make good following Banana Blitz HD's tepid reception – in comes Super Monkey Ball Banana Mania, a robust package that contains the original game, its sequel, and the additional content housed within 2005's Super Monkey Ball Deluxe, all remastered in 4K resolution and at 60 frames per second.
As is par for the course for collections of this nature, Super Monkey Ball Banana Mania packs quite the glut of content, boasting 300 remade stages from Deluxe, (itself drawing the bulk of its material from the first two games) a raft of additional modes, party games, as well as the ability to forgo playing as series staples such as AiAi and MeeMee in favour of other favourites in the Sega archives.
In truth, the proverbial toy chest has been spilled and out's popped the likes of Kazuma Kiryu and Sonic, complete with the titular banana being replaced with rings, and Staminan X for the former. Moreover, other characters, such as Beat from Jet Set Radio are purchasable via the game's Point Shop, alongside a slew of clothing, skins, and other customization options.
But what's an avalanche of content if the core game feels 'off', as was the case for many with Banana Blitz HD, primarily due to the fact that the stages were designed with the Wii Remote in mind presumably, meaning they were more forgiving and by extension underwhelming. With Banana Mania, however, that's not the case, what with its foundation being the classic entries in the series. At its core, Super Monkey Ball is relatively simple: guide a monkey (or a Kiryu) suspended in a ball through increasingly devious stages by tilting the world, all while collecting bananas and completing challenges along the way inside a 60-second time limit. What's tricky is how the stages iterate and gain an air of complexity that demands you take momentum, anticipation and speed into account.
Dress Your Monkey How You Like
Each level tasks you with four 'missions' that earn you in-game currency to spend in the Point Shop. It's rarely a case of 'collect all bananas', (that's reserved for the Golden Banana mode purchased from said shop) but rather 'finish the stage in a certain amount of time', 'collect a certain amount of bananas', 'finish the stage without stopping', etc. These objectives are a good focal point to aim for, as your innate thought is to charge towards all the bananas before clattering into the completion gate with a second to go. This approach becomes untenable after a couple of stages such is their set-up, so focusing on the goals is always a better course to chart.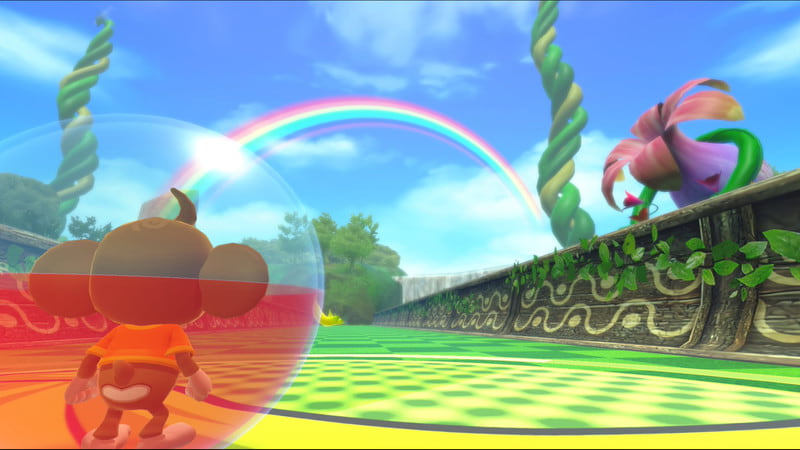 For the most part, the game's stages are well designed, and series veterans will of course be immediately familiar with them. For newcomers, the first number of stages teach you the tricks but the gentle uptick in difficulty is not linear and in later worlds some levels can prove tricky, while the stage to immediately follow is a doddle. Truth be told, that's not exactly a bad thing as there would be nothing worse than coming up against a wall only to then find the proceeding stages equally as difficult.
The 10-stage worlds in the main story mode comprise of the likes of an active volcano, the inside of a whale, and a pot of boiling water – typically hospitable places for AiAi and friends. With that comes a new soundtrack and announcer which both do serviceable jobs, though the songs can become a little grating as they each play out for the entirety of the world.
There is an inherent charm to the freneticism of the older music as it plays into the series' arcade roots perfectly, and as such purists may decry the changes in that department, doubly so perhaps because the original soundtrack is available as separate downloadable content.
Soundtrack And Announcer Changes May Disappoint
There are some gameplay frustrations, however, especially in stages that have you rely on objects to hit you in order to gather the necessary speed to reach the end goal. Typically, even with timing considered, the speed that you gain from being hit seems inordinate, and you're then trying to fight the tilt mechanic to land where you need to, all while the camera's wonkiness is being exasperated by the speed. With that, some of the levels do feel a little more luck-based than they should, but when they click it's still something special. Less of a bugbear but still worth mentioning are stages that involve multiple moving parts that you have to guide the ball onto, again momentum here seems a touch too forceful for the speed of said platforms.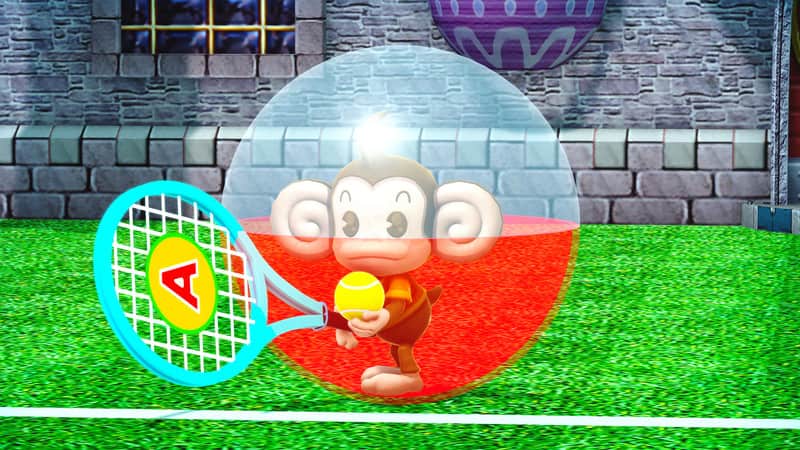 Aside from the main story, Challenge mode – of which both the original Super Monkey Ball and its sequel are represented via separate entries – is the perfect distillation of what makes the series great; no superlatives, just a focus on tight, quick levels, speed, and competition via the online rankings. Further to that, modes such as Dark Banana, whereby you can't pick up any of the tasty yellow fruit throughout a stage, as well as Reverse mode which switches the start and end goals, change things up sufficiently and add to what's on offer.
King Of The Swingers
In terms of accessibility, Banana Mania employs a new 'helper function' which can be accessed within the pause menu of a stage. Activating it will double the time limit, enable a slow-motion function that can be held down with R1 if need be, as well as map out an optimal path to completion. In addition, if someone is finding a stage particularly tricky you can opt to skip it entirely and move on to the next, meaning you won't be gated from later content if you're having trouble.
Further to that, a jump button can be purchased via the Point Shop which will make earlier levels easier and undoubtedly open new avenues for potential speedrunners. On the DualSense front, however, things are decidedly muted with little attention paid to the haptic feedback afforded to Sony's newest controller. It's a shame, really, as the idea of navigating a precarious edge with the haptics increasing as you near the boundary would be welcome.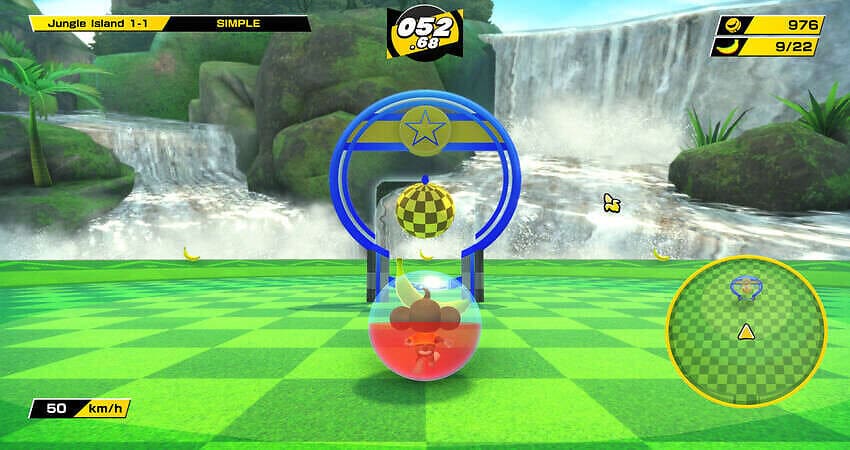 Banana Mania's set of party games also prove a welcome distraction to the single-player offerings at hand, and they very much play like distilled versions of the sports they're trying to replicate, such as Monkey Tennis, Golf, and Shot, which takes its cues from the likes of Namco's Point Blank. With twelve in total, their pick-up-and-play nature prove the perfect foil for couch co-op bust-ups and they're basic enough that most people shouldn't have too much trouble diving right in. These games are additive more than anything, though, and your mileage on them will vary depending on who you have with you at any given time. Though there is a bit of fun to be had in their own right they are very much designed around more than one player so keep that in mind.
Though nostalgia may tie you to earlier entries, there's little argument that this isn't the definitive Super Monkey Ball experience thus far; a superlative package of adorable, tricky platforming action that is only limited by the odd gameplay hiccup, soundtrack preference and your proclivity for Sega characters in spherical encasings suspended on platforms in bizarre surroundings. With its treasure trove of content and practically unlimited potential for score-chasing and indeed score-settling, Super Monkey Ball Banana Mania reigns supreme in the arcade platforming space and will likely continue to for some time yet.
Super Monkey Ball Banana Mania releasing on PS4 and PS5 on October 5.
Review code kindly provided by PR.