Teenage Mutant Ninja Turtles: The Cowabunga Collection PS5 Review – Bear with me for just a moment: I was eight, and my small town still had its public arcade. I'd ask my grandma for some quarters to go play while she sat in the local grocery store diner. After she told me I was wasting her money, I ran to the arcade in hopes no one was on the Teenage Mutants Ninja Turtles IV: Turtles in Time kiosk.
I had a couple go-to games in the arcade, but Turtles in Time was number one. My mom couldn't swing a Super Nintendo, so my only opportunities to play Turtles in Time came when I visited the arcade or stayed over at my one friend's house.
This leads us to the Teenage Mutant Ninja Turtles: The Cowabunga Collection. While nostalgia carried me to start the review, I found a competent collection that handles a series of beloved retro games quite well in terms of a console experience.
Teenage Mutant Ninja Turtles : The Cowabunga Collection PS5 Review – A Worthy Bundling of The Green Team's Best Games
---
A Classic Lineup Of Nostalgia-Fuelled TMNT Action
All in all, this collection houses thirteen Turtles games:
Teenage Mutant Ninja Turtles (Arcade)

Teenage Mutant Ninja Turtles (NES)

Teenage Mutant Ninja Turtles: Turtles in Time (Arcade)

Teenage Mutant Ninja Turtles IV: Turtles In Time (SNES)

Teenage Mutant Ninja Turtles: Tournament Fighters (NES)

Teenage Mutant Ninja Turtles: Tournament Fighters (SNES)

Teenage Mutant Ninja Turtles: Tournament Fighters (Sega Genesis)

Teenage Mutant Ninja Turtles II: The Arcade Game (NES)

Teenage Mutant Ninja Turtles III: The Manhattan Project (NES)

Teenage Mutant Ninja Turtles: The Hyperstone Heist (Sega Genesis)

Teenage Mutant Ninja Turtles: Fall of The Foot Clan (Game Boy)

Teenage Mutant Ninja Turtles II: Back From The Sewers (Game Boy)

Teenage Mutant Ninja Turtles III: Radical Rescue (Game Boy)
Several of these games look like duplicates, but each version originally released on a different piece of hardware. In principle, they're close to the same, but they do feature several visual differences.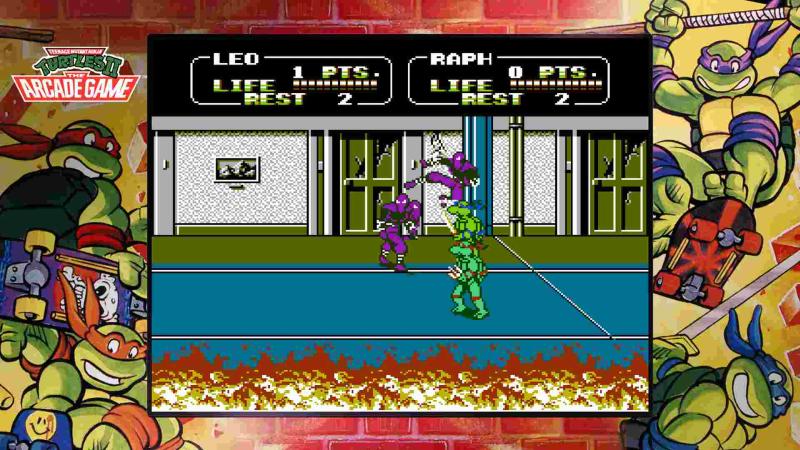 Naturally, I started with the arcade version of Turtles in Time. The SNES edition played well, and I enjoyed my time with it, but for me, it can't overtake the nostalgia of the arcade version.
That's the benefit of having all these different versions in one place: It allows all the fans to go back and either experience everything fresh to play the specific game they so fondly loved. It can be argued that it's just a cash grab padded with similar game titles.
At the same time, many will undoubtedly see this collection as a time capsule to the 80s and 90s when the Turtles were the most popular.
Taking Cues From The Emulation Scene
Thankfully, this collection offers far more enhancements and features than the original games did. I present these in no specific order of importance because each person sees these features differently.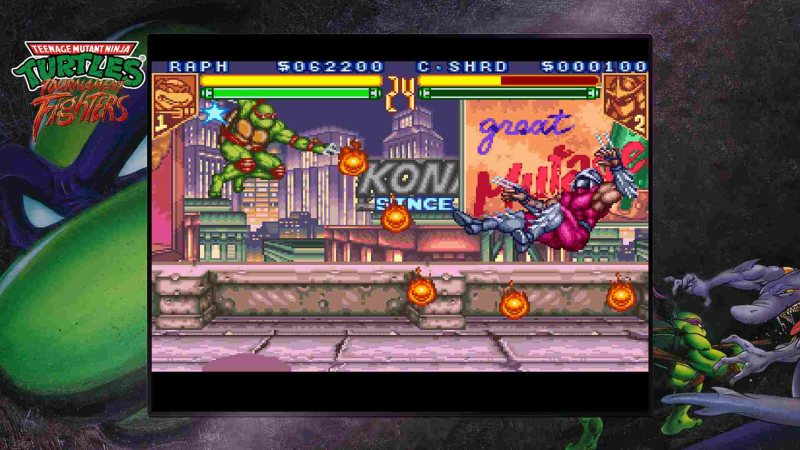 The first offering comes as visual filters. These range from mimicking the old CRT screens to smoothing out old graphical jitters. You can even change the game region from US to Japan if you fancy it.
After changing the visuals over to CRT, I couldn't help but be further pulled back in time to when I first played Turtles in Time (always gotta go back to that, don't I?).
Save states come along with this collection, and each individual game allows you to save wherever you are. These games aren't long by any means, but not having to start over every time you come back, especially when you don't have a lot of time to play, makes progression much more organic.
The old way of starting from the beginning every time has its merits, but modernizing that formula helps facilitate these old games in an up-to-date way without drastically changing their fundamentals.
Elsewhere, the team have added the option to remove slowdown present in the original titles during exchanges that previously stressed older hardware. It takes away from that authentic retro feel, but it keeps the experience fluid and easier to navigate. I turned this on right away just because hardware slowdown always distracted me too much to maintain proper timing and concentration.
The one added feature I love the most is being able to rewind gameplay. As you go along, the game keeps a running loop of nine seconds in the background. When you make a mistake or miss something, just hold L1 and the action takes you back up to nine seconds.
Considering the other types of emulation enhancements out there, this collection could have included several other common features. One significant one is increased simulated resolution. There are also game speed control and button layout customization that could have helped acclimate old controller buttons to the modern hardware.
Old Mechanics Issues Lessened By Modernization
Without question, these are old games. This means that they come with more than their fair share of cumbersome issues with mechanics, hit boxes, and control responsiveness. Removing the janky slowdown comes with this collection, but it doesn't remedy some of the hit box oddities.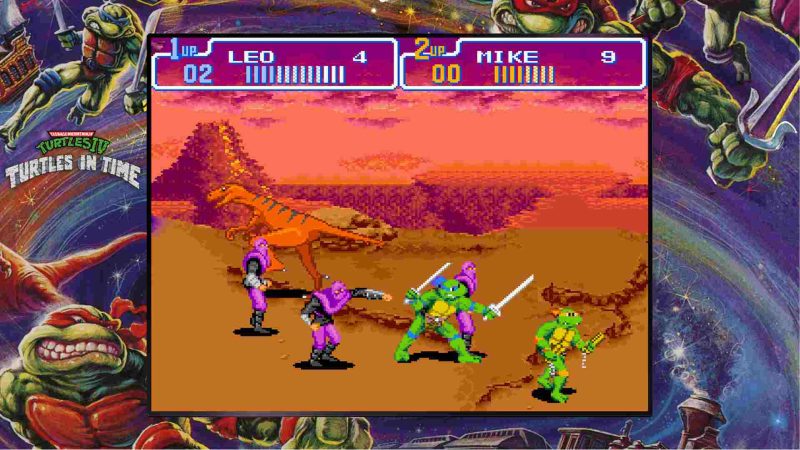 Sometimes, across most of the games, I would hit a target from farther away one time and then miss that target while closer. I believe some of this comes from the blinking character models not properly indicating the invincibility frames.
Either way, the enhancements included with this collection did not remedy the fundamental gameplay. For good or bad, these titles remain entirely themselves but accessible in a modern format.
The rewind helps lessen the blows of many of the original games' issues, but rewinding through them soon becomes its own skill to master. For instance, if you stop the rewind in the middle of a jump, then your turtle will fall straight down and not continue the jump trajectory. This often left me either falling in a pit or taking a hit from something that didn't hit me before.
This just results in a further rewind, which still helps, but this feature shows more of the limitations that came with the base games. Further changes to the games could have cleaned them up on a fundamental level, but that, in my mind, tarnishes the original content. If they plan to do something more with these games, I hope they dedicate time to make bona fide remakes.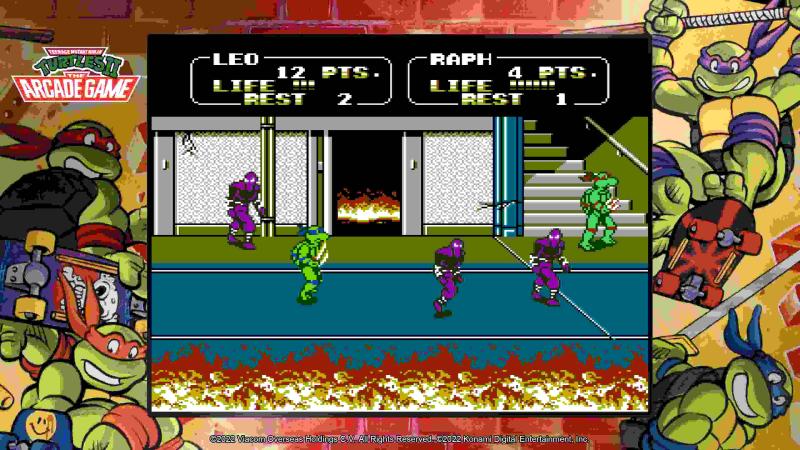 Fantastic Collection In A Half Shell
No matter how you slice it, the enhancements on the Teenage Mutant Ninja Turtles: The Cowabunga Collection bring to the present a series of beloved games from a time when TMNT was at its most popular. These enhancements provide visual customization and some modest control over your game similar to what the emulation scene puts on offer.
The games still have their inherent problems from bygone development years, and the rewind option can make those problems feel worse at times. Even with these problems, this collection does a fantastic job of compiling great games from a beloved franchise into one package.
The collection as a whole may not be worth the $40 cost for everyone, but there is more than likely at least a couple games in this package for everyone.
Teenage Mutant Ninja Turtles : The Cowabunga Collection releases on PS5, PS4, Xbox, Switch, and PC August 30, 2022.
Review code kindly provided by publisher.