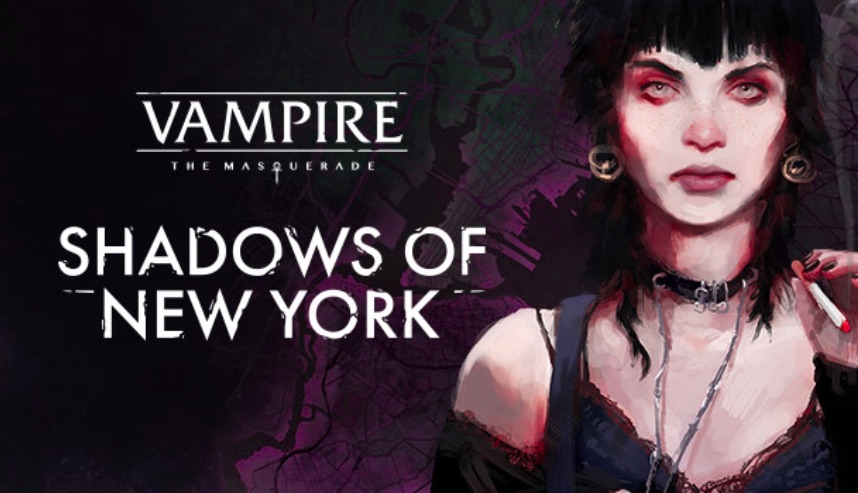 Vampire: The Masquerade – Shadows Of New York Review (PS4) – Both a standalone expansion and companion piece to the wholly entertaining visual novel Vampire: The Masquerade – Coteries of New York which released earlier in the year, Shadows of New York builds upon the solid foundation that developer Draw Distance fashioned with its earlier offering in ways that are both wholly surprising and satisfying.
Vampire: The Masquerade – Shadows Of New York PS4 Review
---
An Extraordinarily Well-Written And Ruthlessly Compelling Visual Novel Set In The Vampire: The Masquerade Universe
Whereas Coteries of New York acted as a duly effective introduction to the Vampire: The Masquerade 5th Edition ruleset that governs the tabletop source material, Shadows of New York is a much more narrowly focused affair. Instead of allowing players to generate a character from three different vampire tribes, Shadows of New York places its narrative emphasis on a single, pre-defined character.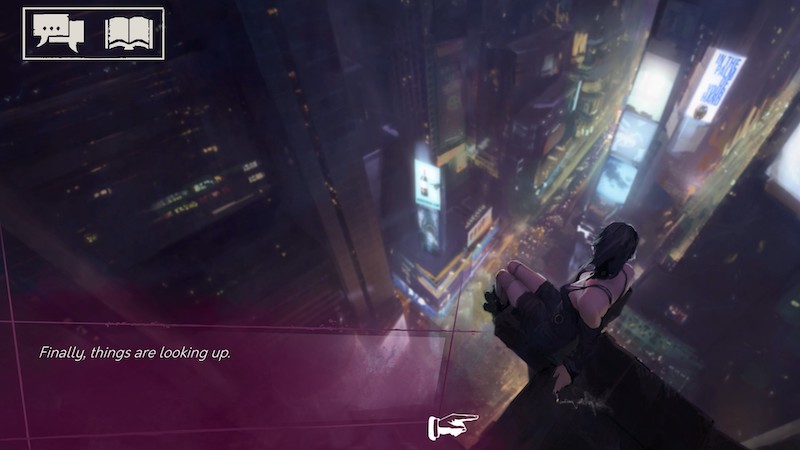 As Julia, a disaffected journalist who finds her world turned violently upside down as she the enters the embrace of the Lasombra vampire clan, players are given a much deeper backstory and by proxy, a more sophisticated and fleshed out persona to get behind. A chain-smoking malcontent who spends far too many hours people watching in her local burger joint, Julia is an outcast in a city overflowing with outcasts and that's very much part of her identity that she struggles with throughout the story.
More than that, Julia acts as a lens for the player to experience her transition from human to vampire, absorbing everything from the new characters that she meets, to the traditions, cultures and politics that govern Vampire society. Because of this, Shadows of New York arguably does a better job of initiating newcomers into the Vampire; The Masquerade setting than Coteries of New York did – thanks in no small part to just how well written a protagonist Julia turns out to be.
Refreshingly though, whereas each of the three characters that you could create were fairly blunt caricatures, Julia's much more deeply realised persona results in an arguably better script which results in her having some superbly dry and acerbic encounters with characters both old and new. Indeed, the quality of the writing is simply stellar, with beautifully descriptive passages giving way to insightful monologues, witty conversations and smirk-worthy pop culture references that catch you utterly unawares.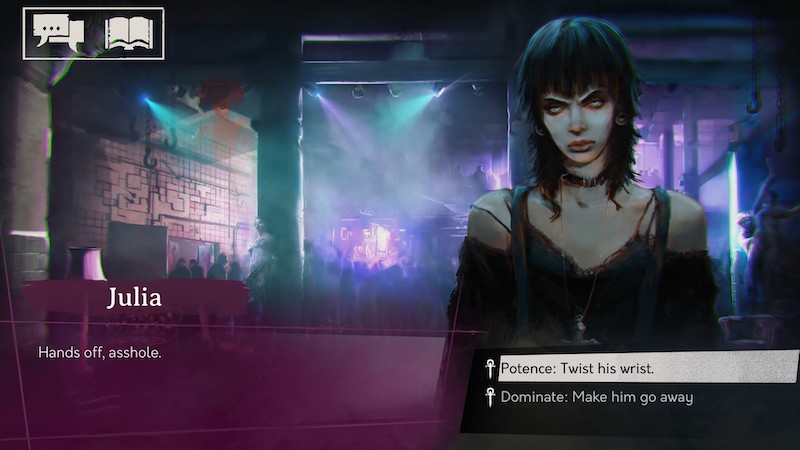 I mean honestly, I never thought I'd get an insightful critique of the 2013 UFC clash between Anderson Silva and Chris Weidman in a Vampire: The Masquerade game – yet here we are.
Of course this being a title set in the Vampire: The Masquerade universe, there's a whole help of extracurricular stuff to deal with that sits atop its story. From smaller, more intimate side stories to the overarching, all-encompassing game of political chess played by vampire elders at the highest levels, Shadows of New York does a great job of making all of this stuff feel approachable and digestible too, thanks in no small part to super handy digest that helps you to recall previous conversations and break down key terms.
Speaking of which, Shadows of New York is mechanically identical to its predecessor, Coteries of New York – a fact that makes a whole lot of sense given that at its design bedrock, Shadows of New York is an expansion to Coteries of New York before it, rather than a full blown sequel with all new mechanics. As a result of its conservative design then, Shadows of New York represents an eminently compelling proposition for both Vampire: The Masquerade stalwarts and even newcomers alike.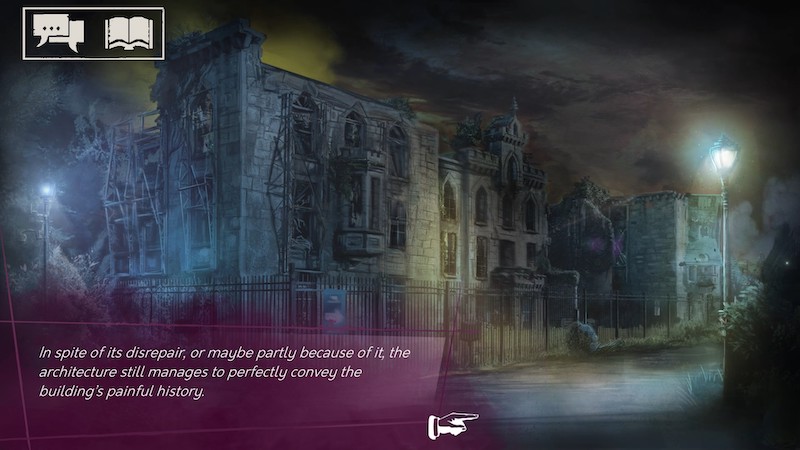 In fact, the tonal differences between Shadows of New York and Coteries of New York are such that a newcomer could play the two games in reverse order. In large part, this is because developer Draw Distance has very carefully included characters and events from Coteries of New York into Shadows of New York in a way that will both reward players of former, but not in such an overbearing fashion that it would alienate folks who have only played the latter.
By far though, the biggest attraction of Vampire: The Masquerade – Shadows of New York is simply the amount of choice that it affords the player to shape the narrative at almost every turn. Like Coteries of New York before it, Shadows of New York concerns players with the titular Masquerade – the notion that vampires must be inconspicuous at all times so as to not alert humankind to their existence.
In practice, this means striking a balance between using your vampire powers to influence those weaker than you to achieve an objective, while occasionally having to feed as discreetly as possible to ensure that the 'beast' is kept at bay and Julia doesn't turn into a ravenous, feral entity. While maintaining this balance provides more than enough for players to contend with, the aforementioned non-linear narrative also means that Shadows of New York offers far more incentive for repeat play than its five hour, first time completion duration would suggest.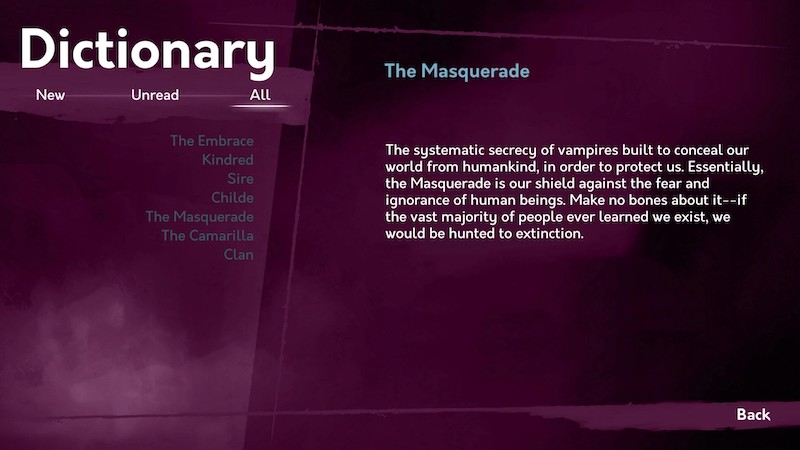 While Shadows of New York does copy the mechanics from its predecessor wholesale, so too does it also share its penchant for arresting audiovisual presentation too. With a nuanced, dread-filled soundtrack that perfectly encapsulates Julia's nihilistic existence, to the gorgeously drawn and rendered dynamic backgrounds which evocatively conjure up a romantic, night steeped image of the Big Apple, Vampire: The Masquerade – Shadows of New York is certainly one of the best looking visual novels you can get right now.
The only drawback to Shadows of New York often stunning and exquisitely drawn visuals is that some of the backgrounds are pulled straight from Coteries of New York and can seem a little too familiar as a result.
One of the best visual novels to come along in a good while, Vampire: The Masquerade – Shadows of New York not only surpasses its predecessor, but does so by anchoring a much more fleshed out central protagonist with an excellently written story that is ripe for player direction. With its arresting audiovisual presentation, simple mechanics and irresistible narrative, Vampire: The Masquerade – Shadows of New York isn't just a wholly formidable introduction to its source material namesake, but also a stellar visual novel affair that both veterans and newcomers alike can sink their fangs into.
Review code kindly provided by publisher.
Vampire: The Masquerade – Shadows of New York is out now on PS4.