DUST 514 Open Beta Overview
Posted March 5th, 2013 at 15:39 EDT by Alex Locher
(continued from previous page) ...up and players will be able to sell AUR items on the market for ISK, so those who can't invest into the game should still be able to get these items.

Before battle you start off in your mercenary quarters. This is basically just a visual representation of your Neocom which is the menu that deals with everything you do outside of combat. It allows you to access your skills, the marketplace and dropsuit and vehicle fittings as well as check your current inventory of gear, check your corporation's status and send and receive e-mails. CCP is working on a Vita app that will grant you access to Neocom on the go so that you can do all your preparation and be ready for battle when you get home. No word on a release date yet but stay tuned to PSU for news on this.

At the moment there are two game modes available, Ambush and Skirmish, which are team death-match and point capture respectively. The currently available maps vary in size and design with some offering cool spots for close quarters combat and others a hunting ground for snipers where more cautious play is required and the use of the free buggy is recommended. Graphically the gameplay has made leaps and bounds since the E3 and Precursor builds but still isn't up to scratch with other shooters. I do really like some of the environmental effects like the fog in some levels as well as the lighting. The graphics will improve though, DUST is a beta in the truest sense of the word and is still very much in its infancy. CCP is committed to the continual improvement of the game but is focussing on the core gameplay mechanics involved in amalgamating to games on two platforms into one IP. There will be an update that will go live around the time of the EVE FANFEST event in Iceland at the end of April that will bring significant graphical and gameplay updates to the mix.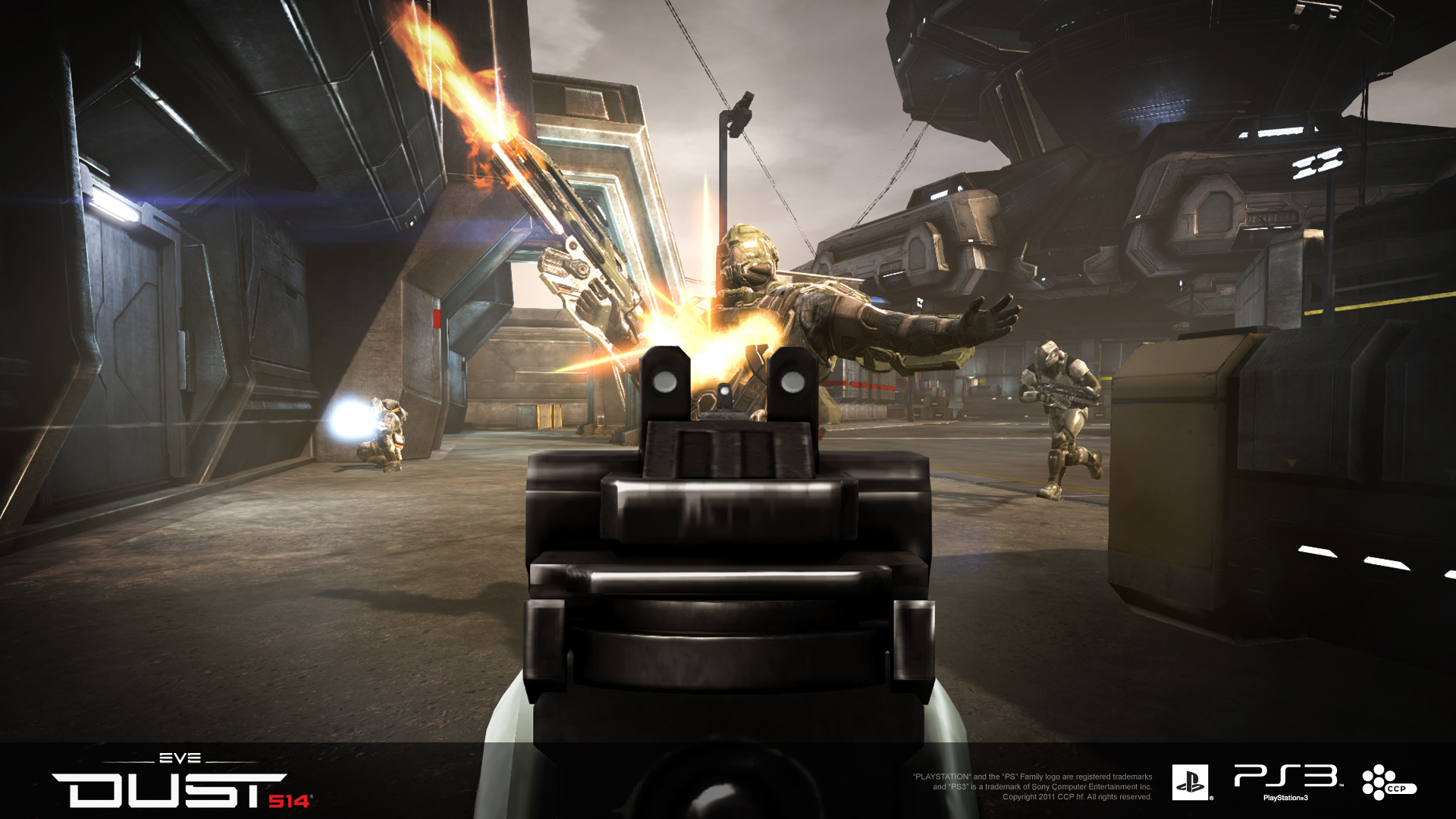 A logibro falls in battle...

I've given you a little glimpse as to what the game is about but I urge you to try it out for yourselves. The open beta is available now to download from the PlayStation Store. Before you suit up, you may want to have a look at our article on basic skill training, it should help ease you into the world of DUST 514's deep gameplay experience. Also, if you would like to join PSU's official corporation, click on the banner below for details. We are creating a friendly and helpful community here at PSU and will take you in and help you on your way should you have questions or need assistance.


Comments
6:17am EDT - March 16th, 2013

See, ive tried this thing twice. I play and love Eve also so the depth character stuff and extras do not put me off at all. In fact that appeals to me if anything. What does put me off is the cluncky controls and the, what I would call dated visuals which in game look nothing like some of the tarted up pictures previousely put out there. The visual could be forgiven if the controls and gameplay were good but they simply are not. Its been a big letdown for me which is a shame as im normally a massive fan of CCP and what they do.

5:40pm EDT - March 18th, 2013

Dust is worth a try, and signing up via the link below will net you some free in-game goodies such as a permanent assault rifle

https://dust514.com/recruit/wRLsEs/
This will permanently ban this user and delete all associated comments. This action is irreversible, are you SURE you want to do this?!