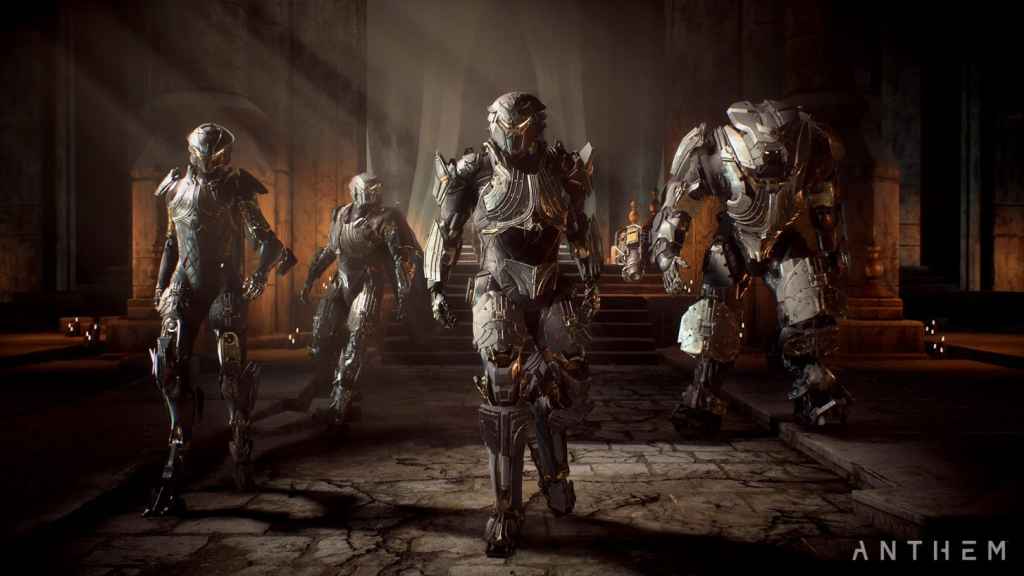 Anthem, BioWare's shared-world shooter, will have a social hub after all, lead producer Mike Gamble has confirmed on Twitter.
The decision to implement this new social space, named Launch Bay, comes as a direct result of player feedback, according to Gamble. With many having bemoaned the lack of a designated communal hub area in the recent past.
Anthem Social Hub – First Details
Unfortunately, the Launch Bay won't be available in this weekend's Anthem VIP Demo (more on that later). However, Gamble has given us some indication as to what we'll be doing in the newly announced social hub when the game itself releases next month.
First and foremost, the Launch Bay provides groups of up to 16 players with a quiet social space, free from the deadly mega fauna and sundry other threats to a Javelin pilot's life, in which to shoot the breeze and generally show off their latest cosmetic purchases in between missions.
It's entirely separate from both the open-world portions of the game and the strictly single player Fort Tarsis, too. Although there will be some cross-over with the latter in as much as players will still be able to stock up on supplies, acquire new contracts, and customise their Javelins.
Gamble has promised to share additional details in the near future, so watch this space.
After a mission, you can head back to Tarsis and catch up with some of the amazing characters we've created for you…OR…head back to the brand new Launch Bay, hang out with your friends, use the forge, reload and grab a new contract. Yeah, we listened to you… details soon! pic.twitter.com/m5sp96IpDh

— Michael Gamble (@GambleMike) January 23, 2019
Anthem VIP Demo Kicks-Off Tomorrow
Elsewhere, the first of Anthem's two upcoming demos kicks-off tomorrow.
Running from the 25-28th January, the Anthem VIP Demo is available exclusively to EA/Origin Access members and those that have already pre-ordered the game on their platform of choice.
Incidentally, if you belong in either of those two categories, you might want to check out our comprehensive FAQ before you get started.
A second demo – this one available to everyone on PS4 – will follow a few days later on the 1st February. Providing fans who are still on the fence about BioWare's latest IP with the perfect opportunity to get in some hands-on time with the game before it releases on the 22nd February.