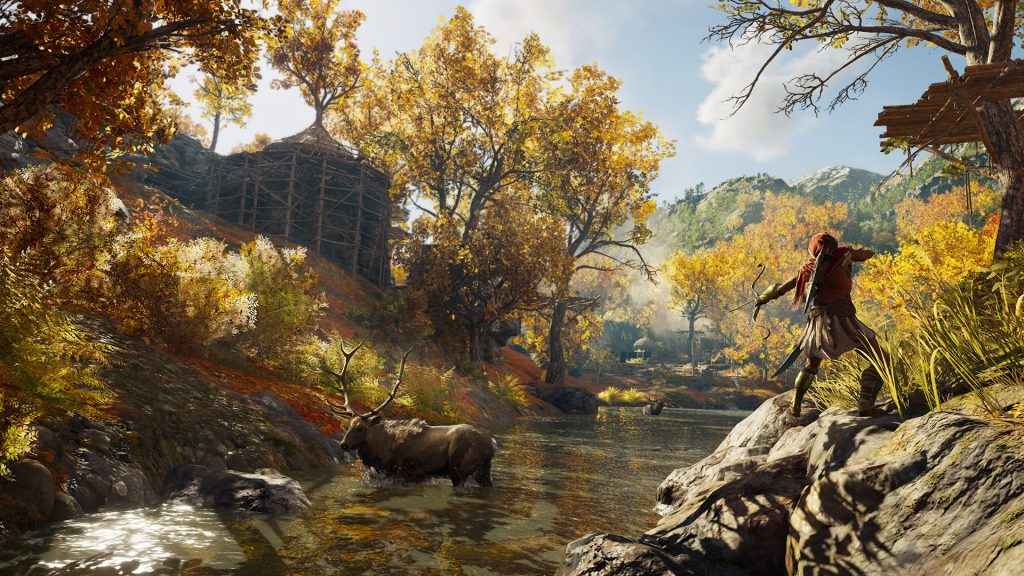 Just over a month after the first of Assassin's Creed Odyssey's seven free DLC expansions released to players on PS4, Xbox One, and PC, Ubisoft has confirmed that the Lost Tales of Greece Episode 3, The Image of Faith, will release later this month.
This follows on from Episode 2, Divine Intervention, which itself released only a couple of weeks ago.
Lost Tales of Greece Episode 3 – The Image of Faith
Changing tack somewhat from the previous two episodes, The Image of Faith is set within a rather curious village in which Kassandra/Alexios is revered as a God.
"Will you feed their devotion? Or demystify yourself in front of their eyes?" Asks Ubisoft. Fortunately, Classical Greek sculptor Polykleitos is on hand to help solve this unusual conundrum.
The first part of the new questline, The Measure of a Man, can be found in Elis and is accessible anytime after chapter five of the main campaign. Although Ubisoft recommends waiting until you've reached level 35 before attempting it.
Hunted Now Available on All Platforms
The first of Assassin's Creed Odyssey's premium DLC expansions, meanwhile, is also now available on all platforms.
Part of the Legacy of the First Blade trilogy and titled Hunted, episode one revolves around a legendary Persian warrior named Darius who, contrary to what history tells us, was the man who brought down the mighty King Xerxes using the order's iconic Hidden Blade.
During their quest, Kassandra/Alexios will discover "revelations about the Assassin's Creed universe" and acquire "never before seen abilities and legendary equipment to battle against unrelenting Persian enemies on both land and sea, as you continue your Odyssey and become a true hero."
To access Legacy of the Lost Blade episode one, players must have already completed the Naxos questline in chapter seven and reached level 28 with their chosen character.
Finally, on the subject of Legacy of the First Blade, episode's two and three are scheduled to release early next year, ahead of a separate trilogy of DLC expansions known as The Fate of Atlantis.
Photo Mode Improvements and More
Although the Lost Tales of Greece Episode 3 and Hunted are undoubtedly the standouts, there's more than just story content arriving in December.
As part of the most recent update, Ubisoft has made a handful of improvements to photo mode, including the addition of both Fog and Bloom features. Allowing players to tweak their compositions in more ways than ever before, the arrival of these new tools coincide with the start of the first ever Assassin's Creed Odyssey photo competition on the 10th December.
Additionally, there are a bunch of new Ubisoft Club rewards arriving this month, along with a new Celestial Pack gear set and various Weekly Contracts.
Check out the Assassin's Creed Odyssey website for full details.