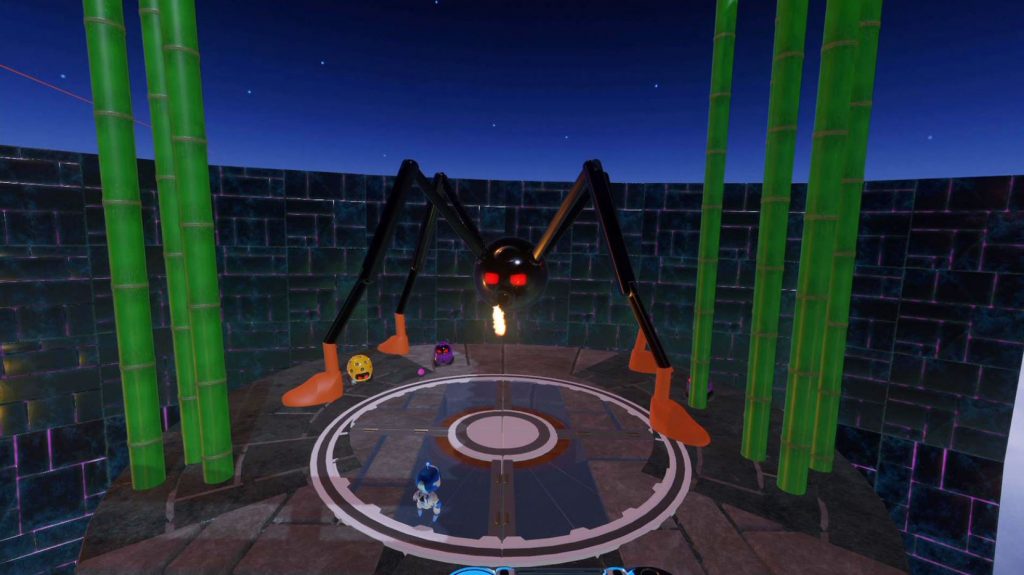 After the incredible success of Astro-Bot Rescue Mission on PSVR last year, Japan Studio has offered up some nuggets of development information, including cut bosses and areas that didn't make it into the full release.
All this was revealed in a new post on the PlayStation Blog. Firstly, Nicolas Doucet, Creative Director at the studio, showed off the cut Mecha Spider boss. The goal was to have you use the Shuriken to cut the legs of the spider; however, Japan Studio found it difficult to get the spider to move with only one or two legs. On top of that, they couldn't create the right amount of space for you to use the Shuriken effectively. The Mecha Spider Boss is in the image above (The graphics and art are not final).
Japa Studio also had to cut out a part of the lengthy Canyon Stage and redesign it with molten rocks and flowing lava, fitting it into a completely different stage.
Originally, Astro Bot was supposed to dance and sing when he was idle and standing still. However, after some testing Japan Studio found that the tempo of the music in the game is so varied that they would have had to create multiple sets of animations. As this wasn't a key part of the game and more of a visual feature, the team decided to cut it from the final release.
Finally, Astro Bot was set to feature a multiplayer mode, where three other players could play on the TV, with a fourth in the VR headset. However, the levels built for this multiplayer weren't too fun solo, feeling empty. Japan Studio found they were sacrificing the VR experience for a TV experience. So, 9 months into the 18-month development of the game, they cut the multiplayer mode.
The full blog post can be viewed on the PlayStation Blog.
Astro Bot Rescue Mission is available now on PSVR.
Which feature would you have liked to see in the game?
Source – [PlayStation Blog]