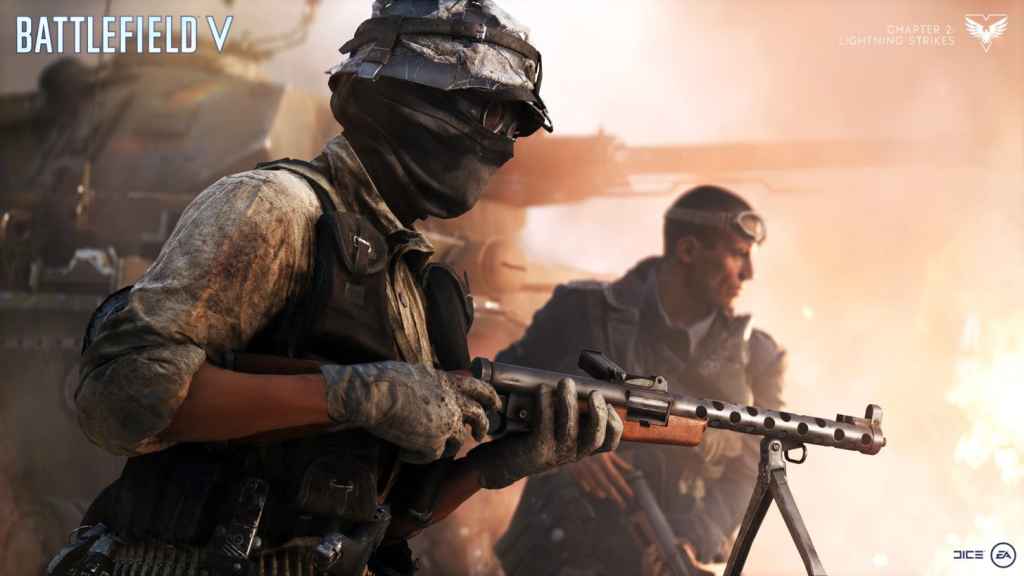 Some new details on upcoming Battlefield V DLC have been unveiled at EA Play during E3 2019. As expected, a bunch of updates are coming to the multiplayer component of the game, including a brand new theatre of war and fresh maps.
Battlefield V DLC Details Revealed
First up is a brand new map, Marita, which takes place during the Battle of Greece. This is an infantry-focussed map where you'll deploy on a mountain slope reach or a nearby town, the latter of which is controlled by the Allies. However, Axis forces are approaching the settlement, and you'll need to defend the road if you want a chance of keeping the town.
Marita will be dropping in July as part of Battlefield V Chapter 4: Defying the Odds.
DICE also detailed the release of Al Sundan, which is deploying on June 27 as the first map for Defying the Odds. This map has been adapted from the single-player effort Under No Flag, and affords plenty of opportunity to get stuck into some vehicle combat, as well as securing mounted guns and aircraft. In fact, the nearby airfield is a key strategic point that you'll want to capture during the battle.
If vehicles aren't your cup of tea, you can simply take part in the tight infantry combat throughout the numerous interiors that punctuate the desert landscape.
Operation Underground meanwhile is arriving in October, between chapter 4 and 5 of Battlefield V. This takes place in the metro system, where you'll be mixing it up in between with subway cars in a map that promises to accommodate numerous playstyles.
In addition, DICE is also bumping up the level cap significantly. Starting August, the cap will be raised from 50 to 500. Private Games are also coming to Battlefield V, as per fan request, and it'll launch in September.
Battlefield V originally released in November. Earlier this week Chapter 4 of the game was revealed, unveiling new maps coming to the game. Firestorm, the Battle-Royale component of the game, will also be receiving some new content.
EA Play is home to a number of new announcements and reveals, including new looks at Star Wars Jedi: Fallen Order, EA Sports FIFA, and Apex Legends. You can watch all of the livestreams, as well as every conference at E3 2019 on our E3 2019 Livestream page.
Struggling to keep up on the news at E3? Check out our full E3 Announcements and News list, containing every reveal during the week-long show across all the conferences. You can also check out a variety of rumours that are surrounding the show. If you would prefer to see the reveals as they happen, you can take use our E3 2019 live feed, which will update with the new announcements as they happen.
Battlefield V is available now on PS4.