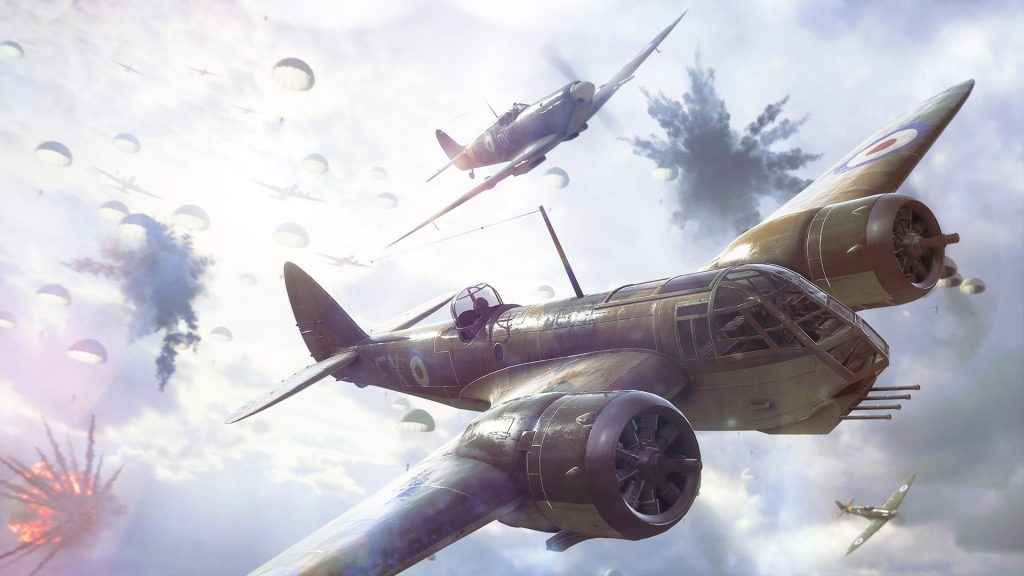 The full complement of Battlefield V multiplayer launch maps has been detailed in a brand-new trailer uploaded to the game's YouTube channel earlier today.
There are eight in total: Aerodrome, Arras, Devastation, Fjell 652, Hamada, Narvik, Rotterdam, and Twisted Steel. With a ninth, Panzerstorm, arriving shortly after launch. Each of which is designed to take players through "the unexplored settings of World War II".
Battlefield V Multiplayer Launch Maps – 1-4
While we'll have to wait until the game launches on the 20th November to get a proper look at this eclectic collection of arenas, today's trailer did offer a few key details.
Aerodrome, is set in "a ruined Axis airfield in the aftermath of a recent Allied bombardment". The map's central hanger acting as something of a crucible; the place where the round's infantry and vehicles come together in explosive, hectic combat.
Arras, on the other hand, is a bit more picturesque, boasting beautiful meadows in the heart of the French countryside and an idyllic small town. The latter of which forming the map's central hub.
A "tight, infantry-focused map", Devastation is one of two set in The Netherlands. Unlike Rotterdam's recognisable streets and canals, however, Devastation takes place amidst the ruins of the self-same city after a recent attack.
Fjell 652 is one of the more unusual maps on the launch list, taking place in the mountains above the Arctic circle in the extreme north of Europe. With Tanks and Planes aplenty, as well as dramatic weather events, Fjell 652 offers a combat dynamic that's "completely new to Battlefield".
Battlefield V Multiplayer Launch Maps – 5-8
Set in North Africa, Hamada will be the largest of the eight maps available at launch. It's also inspired by some of the biggest tank battles in human history.
Norvik was one of two maps to appear in September's open beta. Based on the invasion of Norvik in 1940, it features vastly different terrain from those set in North Africa.
The seventh, Rotterdam, was also featured in the recent open beta. Offering full-scale urban warfare, it can be a little intimidating and claustrophobic if you don't know where to position yourself.
Twisted Steel, the last of the Battlefield V multiplayer launch maps, is set within a flooded marshland, dominated by a monumental, partly destroyed steel bridge (hence the name). Interestingly, the bridge itself is the largest single structure ever featured in a Battlefield game.
Finally, Panzerstorm (added post-launch) is inspired by the first major tank battle of the Second World War. Not much more was said about it, other than that it's set in Belgium and player's will have to pick their moments when engaging enemy vehicles.
Battlefield V Release Date
Battlefield V releases on the 20th November on PS4, Xbox One, and PC.
However, as revealed by EA in a recent post outlining its rather substantial post-launch support schedule, the game's battle royale component, Firestorm, won't be launching until Spring 2019.
Quite a wait, if you're not particularly interested in traditional multiplayer or War Stories.