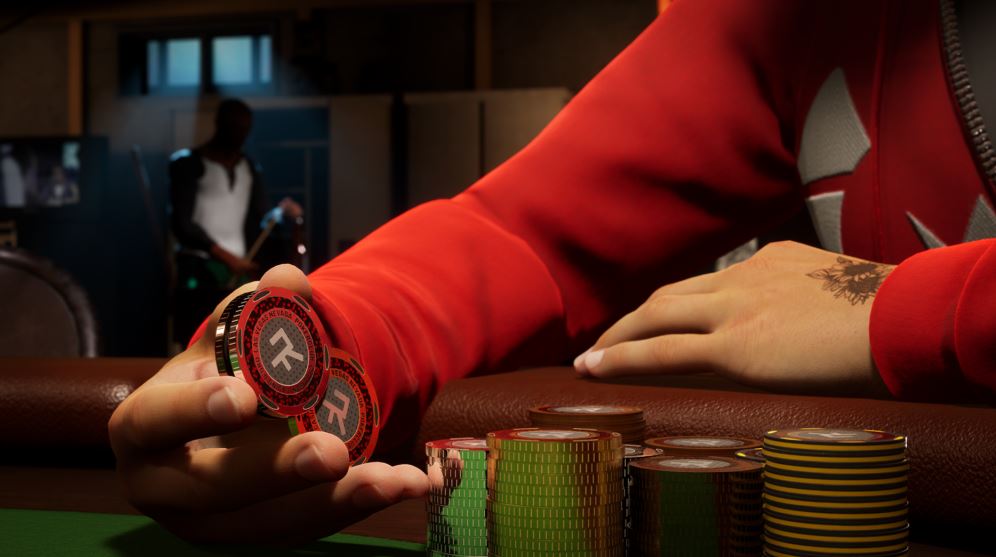 One of the most popular casino games is poker and PS5 is about to get a fantastic version of the card game thanks to the experienced team at Ripstone Games.
Launching in 2020, Poker Club is coming to PlayStation 5 and Xbox Series X, as well as PS4, Xbox One, Switch and PC. Let's see whether one of the best casino card games can be a real contender among Sony's next-generation line-up of launch titles.
Best Poker Games on PS5
With an unconfirmed release date in 2020, Poker Club promises a premium social simulation of the gambling card game and an immersive experience. This brand new I.P. is built on Unreal Engine 4 and includes:
4K Visuals
60 frames-per-second
The first trailer for Poker Club for PS5 reveals that "the stakes are high; it's about holding your nerve. Thinking ahead and making your move," and knowing when to raise your game.
As revealed on the official Poker Club Game website, the game focuses on Texas Hold'Em with 10 different tournament modes to choose from as you rise from Rookie to Pro and progress through various ranks in the PCC Poker Tour.
Multiplayer Poker
There's a huge emphasis on teaming up with friends, with the ability to earn joint rewards, reach certain goals and progress with players and friends from around the globe as part of your club.
Poker Club will also feature cross-play and 200-player tournaments, alongside a fully-fledged Career Mode. If you're new to poker, you don't need to worry as a tutorial will explain the poker basics to new players and how the different modes will work.
It's going to be interesting to see what features the developer puts in game for these huge tournaments. You can imagine that it might get frustrating when a player takes too long deciding on his hand, and players drop out of tournaments, not to mention how these PS5 poker tournaments will be structured. Hopefully, we'll hear more details soon!
Also, many console poker players are wondering whether this next-generation card game will feature micro-transactions, something that hasn't been confirmed or denied at this point. We'd presume with all the recent controversy over gambling in videogames that this won't be the case.
Creating a Poker Club on PS5
Customisation will also be a feature, with players able to create their own club and earn gear for their character. These will just be cosmetic items, of course, but it should enable players to add some personality to their game.
PS5 Poker Club Game Modes
Gameplay involves joining a poker club and trying to make a name for yourself. From back room and private poker games to big money main events. Some of the game modes include:
Turbos
Super Turbos
Shoot outs
Freeze outs
Let's take a look at what each of these modes entails.
Turbos
A multi-table tournament where antes and blind rise quickly, encouraging fast play. Blind levels usually change every 4-6 minutes. The pace will be quick, which will be ideal for players who aren't interesting in longer style tournaments.
Super Turbos
This is an even faster version of a Turbo game, with blind levels usually lasting for no longer than three minutes.
Shoot-Outs
Usually poker tournaments featuring a large amount of players would merge a table once players get knocked out to create a balance. However, in a shoot-out, players stay on that table until there is just one player left. The final table would then feature all the players from the winning tables.
Freeze Outs
A very common and popular poker tournament, there are no buy-ins available during a Freeze Out. Once you lose your chips, it's over, just like the World Series of Poker.
PS4 vs PS5 version
Poker Club on PS5 will have a significant advantage over the PS4. As well as utilizing the haptic feedback of the DualSense controller, load times will be shortly. Speaking in an interview with IGN, director Phil Gaskell, explains:
"We've been working on the proprietary tech in the systems to reduce load times in the PlayStation 5 and Xbox Series X versions of Poker Club. Loading is now practically non-existent, it makes the whole experience feel seamless, you won't ever want to go back!"
They'll also be a free PS5 upgrade from Poker Club on PS4!
Is Poker Club worth a bet?
Judging by the slick visuals, amount of game modes and the social aspect, Poker Club will be essential if you're already a fan of the casino game. We'd also suspect that Poker Club will be the best PS5 poker game for some time, as we can imagine that most versions of the card game will be bolted on inside an existing game, such as in Grand Theft Auto Online and its popular casino.