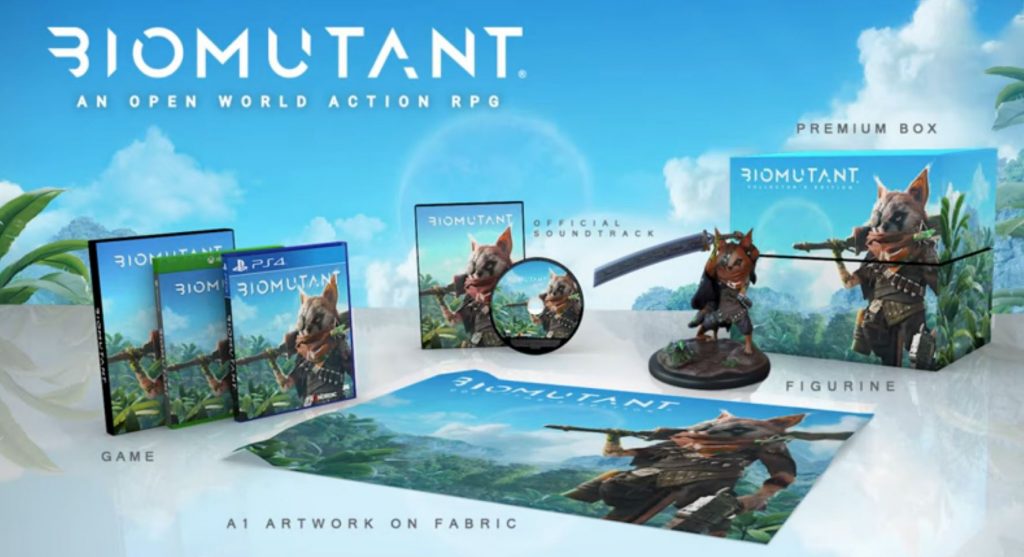 Biomutant, the long in development RPG has been quiet for a few months now, but it looks like some news is coming soon, as THQ Nordic have just announced a Biomutant Collector's and Atomic Edition.
Biomutant Collector's and Atomic Edition – What Is In Them?
The cheaper of the two is the Biomutant Collector's Edition which retails for €119.99/$119.99/£109.99. This edition includes the game, a 20cm figurine, a piece of artwork for the game printed on A1 fabric, and the official Biomutant Soundtrack. This all comes in a unique premium box.
You can check out the trailer for the Collector's Edition below:
The more expensive edition is the Atomic Edition. This edition retails at €399.99/$399.99/£349.99. It includes the game, a High Detail Diarama standing at 60cm/23″ long, 25cm/10″ width, 30cm/12″ height, a piece of artwork on A1 fabric, the official Biomutant Soundtrack, an 'Oversized' Mousepad 80cm/31″ x 35cm/14″, an exclusive Steelbook case, and a L/XL T-Shirt. All of this comes encased in an exclusive Premium Box.
The trailer for this edition can be found below:
Unfortunately, these trailers don't give us any hint of a release date for the Open World, Action RPG. However, Gamescom 2019 could be where that date is announced, though. Gamescom Opening Night Live is set to feature announcements from THQ Nordic. We also know that Biomutant is a part of THQ Nordic's Gamescom lineup.
The last date confirmation we had for the game was that it had been pushed back to 2019. That was announced almost a year ago and the game also skipped E3, with it nowhere to be found among THQ Nordic's lineup and announcements.
Either way, we will find out next week if this game is finally going to release or if it stuck in a bio-mutated form of development hell.
Biomutant is scheduled to be released for PS4, Xbox One, and PC.