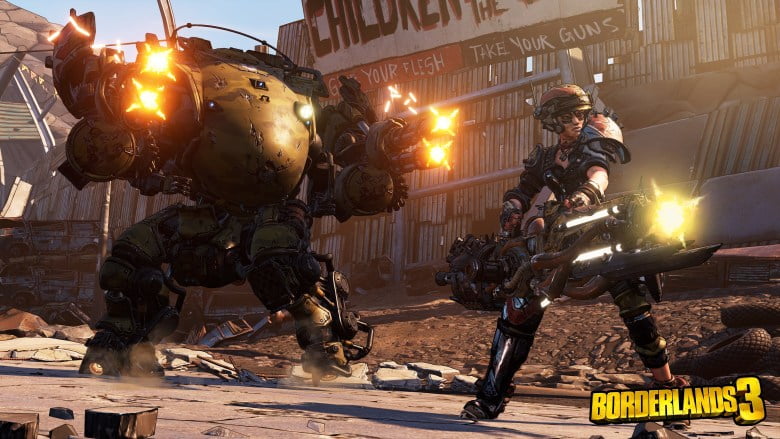 Gearbox Software's Paul Sage has touched base on the Borderlands 3 game length, confirming the loot-flavoured shooter will clock in at around 35 hours. This is without taking into consideration many of the game's side quests that will be available to the play, however, so expect that figure to jump significantly.
Borderlands 3 Game Length Detailed
Speaking during an interview with GamesBeat at E3 2019, Sage, who serves as creative director on the upcoming sequel, commented:
"I'd still say we were very ambitious. My tech team would say we were really ambitious sometimes. [laughs] There's so much to the game. We go to these different worlds. The length of the game being 35 hours, if you just go through the main story — that's not including doing too many side missions. I think there was a lot of ambition right at the beginning."
"Getting the multiplayer systems in — if you went through the booth, you saw us talk about some things where we have the guns populated from vending machines. They're just small things to a player, but again, they're introducing and reinforcing bigger things. All of these things that feel small take a lot of time and a lot of energy to get done and get done well. I'd say cutting it off, where you cut it off — I think you cut it off when you say, "Okay, we have to ship. We know we have to ship." Probably somewhere about a year before. I hate to set a timetable, but it's like that. We have what we need in the game, now let's finish making it."
Borderlands 3 is pencilled in for a September 13 release on PlayStation 4, PC, and Xbox One. Once again, the campaign is fully playable solo or with up to four players, and there's a few new moves available this time around, such as the crouch-slide, which doffs its cap to the likes of Titanfall and Apex Legends.
The original Borderlands was recently remastered for current-generation consoles, while Borderlands 2 and Borderlands: The Pre-Sequel are available as part of The Handsome Collection.
Source: VentureBeat