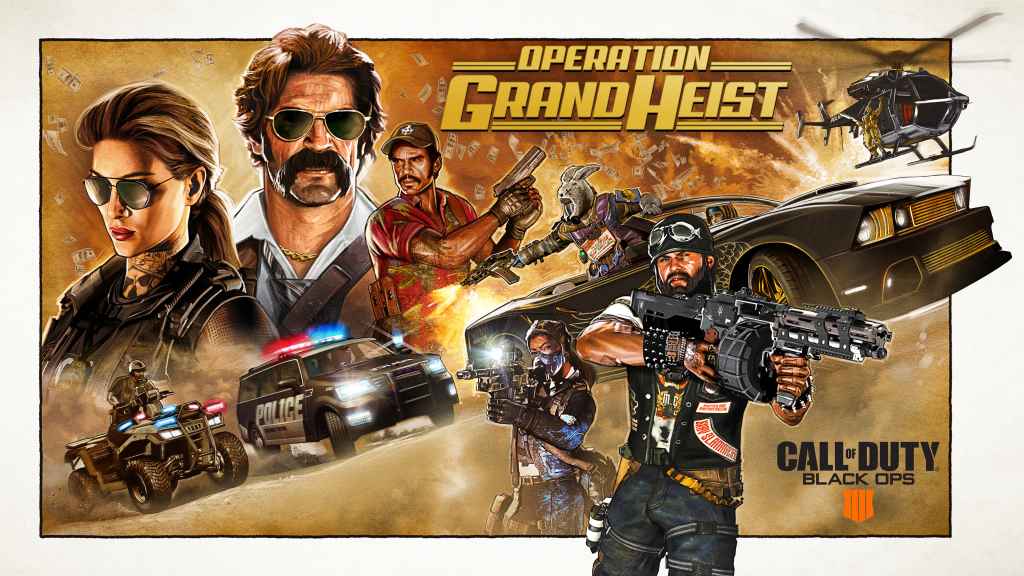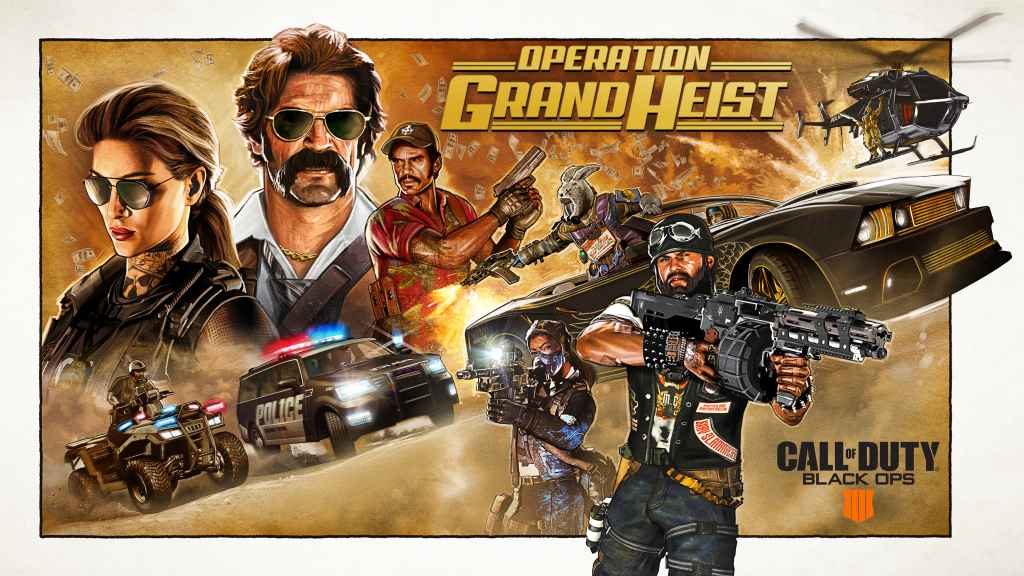 Treyarch has announced that Call of Duty: Black Ops 4 Operation Grand Heist will arrive today the 19th February on PS4.
A brand-new season of content, events, and updates, Operation Grand Heist is set to bring a slew of changes to each of the game's three core modes over the course of the next two months. Starting with Multiplayer.
Call of Duty: Black Ops 4 Operation Grand Heist – Multiplayer
Arriving today, in actual fact, Multiplayer receives a brand-new Specialist in the form of Outrider.
Equipped with a pilotable drone known as The Hawk and a deadly bow (the Sparrow), Outrider is very much built with reconnaissance in mind. Those interested in taking her for a spin can do so, in both Multiplayer and Blackout, as soon as they have completed Tier 1 of the new Operation in the Black Market.
One of several new modes Treyarch intends to introduce over the coming weeks, One in the Chamber also arrives as part of Operation Grand Heist. Although it's probably not suitable for people like me who take the pray and spray approach to competitive multiplayer.
In this classic game mode, players are given three lives and a pistol with one bullet. Land a perfect shot or melee your opponent to gain another bullet and 100 points. Be mindful of the regularly sweeping UAV, and fight to earn the most points to claim victory.
Lastly for Multiplayer, alongside a number of new weapons, Operation Grand Heist provides the staging ground for Black Ops 4's long-awaited World League Hub – the first event of which is set to commence in just a couple of days' time on the 21st February.
Call of Duty: Black Ops 4 Operation Grand Heist – Blackout
Headlining the Blackout portion of Operation Grand Heist is Ghost Town: a new western-themed destination located, rather unsurprisingly, in the arid south-eastern corner of the map.
Ghost Town features two new locations, Outlaw and Buried, each of which is inspired by popular maps from the past.
Hot Pursuit, meanwhile, the first in a series of brand-new game modes, kicks-off this Friday. Described as Blackout's latest respawn mode, Hot Pursuit features three brand-new vehicles (the SUV, Muscle Car, and PBR), each of which possesses their own unique advantages and characteristics to help players cause all kinds of automotive destruction.
In addition to Hot Pursuit and Ghost Town, an overhauled Blackout Prestige System debuts alongside Operation Grand Heist, complete with new Prestige Icons, Calling Cards, and Victory Coins. Hardcore mode should be releasing in the not too distant future, too.
Call of Duty: Black Ops 4 Operation Grand Heist – Zombies
Leading the way for Zombies is a new Gauntlet titled Death-Con Five.
Set within the Pentagon and featuring Ultimis versions of Richtofen, Dempsey, Takeo, and Nikolai, Death-Con Five offers another round of 30 unique challenges for players to attempt with their either their friends or randoms via matchmaking.
Death-Con Five will be followed by the Hellcatraz Gauntlet later this spring.
Elsewhere, Zombies receives its first new perk today: The Ethereal Razor: As well as various updates to Zombies' Daily Callings.
Going forward, players will earn an additional Tier Skip for completing Daily Callings in the Zombies Barracks, giving Zombies players up to two Tier Skips per day.

This update makes new loot weapons attainable throughout the Operation by playing Zombies, and we're working on more long-term improvements for even better rewards in the future.

Black Market Changes and Black Ops Pass Content
Finally, Operation Grand Heist brings a whole raft of changes to the Black Market.
First and foremost, Blackjack returns to the fray bearing a treasure trove of contraband gear along with three new ways to shop for items: My Deals, Inventory, and Cases.
Other Black Market highlights include new:
Blackout characters
Signature weapons
Reactive camo
Outfits
Blackout Jump Packs
And Blackjack Reserves
Black Ops Pass holders will also gain access to two "intense" Multiplayer maps (Lockup and Casino), as well as a new Blackout character from the Dead Ops Arcade: The Cosmic Silverback.
And that's about it, really.
A comprehensive overview of everything Treyarch has planned for Operation Grand Heist over the coming weeks, complete with a rather handy content roadmap, can be found on the developer's official website.