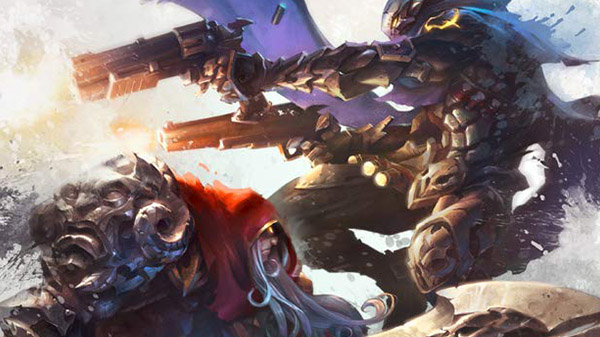 Blimey, someone needs to plug that leak! Amazon has posted up a listing for Darksiders: Genesis ahead of its expected reveal at the E3 2019 Coliseum next week, confirming what many have already suspected: it's a prequel game set before the events of the original apocalyptic hack-'n-lash title. IGN swiftly confirmed that the leak is indeed the real deal via a teaser trailer, with the game also heading to Google Stadia, too.
Darksiders: Genesis Details Revealed
Darksiders: Genesis is being developed by Airship Syndicate, the creators behind Battle Chasers: Nightwar. Set before the original Darksiders, this latest entry introduces the horseman Strife, who many players have been anticipating for some time now. The action focuses on War and Strife, who have a new assignment: hunt down the demon masters that Lucifer is planning on granting immense powerful to throughout Hell.
"War and Strife have been given a new assignment—Lucifer, the enigmatic and deceptive demon king, has been plotting to upset the Balance by granting power to master demons throughout Hell. War and Strife must hunt down these masters, gather information, and ultimately fight their way through a tangled, demonic conspiracy that threatens to forever upset the Balance and unravel all of creation.
"Darksiders: Genesis is an action/adventure that tears its way through hordes of demons, angels, and everything in-between on its way to Hell and back with guns blazing and swords swinging. Genesis gives players their first look at the world of Darksiders before the events of the original game, as well as introduces the horseman Strife."
The Darksiders: Genesis release date hasn't been confirmed yet, but we'll probably hear something about a launch window at E3 next week. It's interesting to see a new Darksiders game so soon after Darksiders 3, although you could argue that this is actually a spin-off than an actual sequel.
Read our Darksiders 3 review here and stay tuned to PSU for more news on Darksiders: Genesis as we get them.
Source: Gematsu