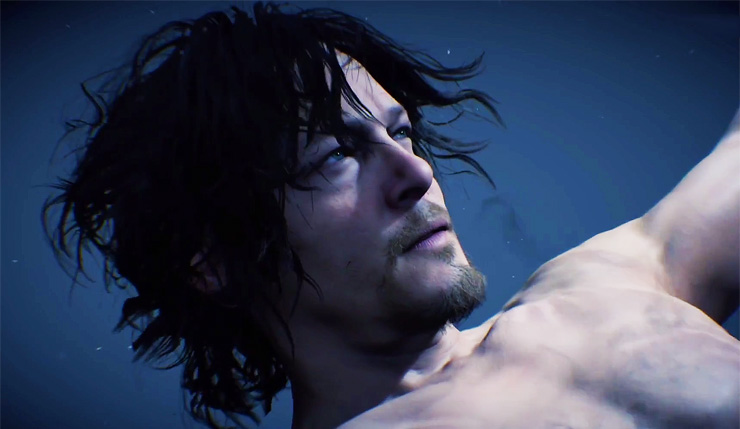 Sony is poised to unveil the Death Stranding pre-orders today, according to a image on the PlayStation Store. Spotted by Twitter user Wario 64, the page lets the cat out of the bag on various pre-order bonuses for Kojima Productions' upcoming action game, including a dynamic theme and PSN avatar.
Death Stranding Pre-Order Bonuses Include In-Game Items
The Death Stranding pre-order page also reveals that players will receive a bunch of in-game items, including gold sunglasses, armour plate, hat and speed selection for Norman Reedus' character, Sam. Sony hasn't officially confirmed any of these details, but it looks legit enough, and we know that something is happening with Death Stranding this week. A new trailer, perhaps? Or even better, a release date? Fingers crossed.
Death Stranding is currently in development for the PlayStation 4, although Sony has hinted that the game may also arrive on the PS5. This wouldn't be too surprising; it's one of the last crop of major PS4-exclusives, and therefore is a prime candidate for getting the PS5 treatment, possibly in time for launch.
In addition to starring Norman Reedus, Death Stranding will also feature major roles for Mads Mikkelson, Troy Baker, and Lindsay Wagner. The game is the Hideo Kojima's first project since leaving Konami back in 2015, following completion of Metal Gear Solid V: The Phantom Pain. It's also Kojima-san's second collaboration with Reedus after the cancelled Silent Hill reboot.
Death Stranding has been described as an action game, and will feature both an open-world and online elements. The game's story is being kept closely under wraps right now, although the title itself refers to the cetacean stranding phenomenon.
Sony's official blurb on Death Stranding is as follows:
"Sam Bridges must brave a world transformed by the Death Stranding. Carrying the remnants of our future in his hands, he embarks on a journey to reunite the shattered world."
Source: Twitter