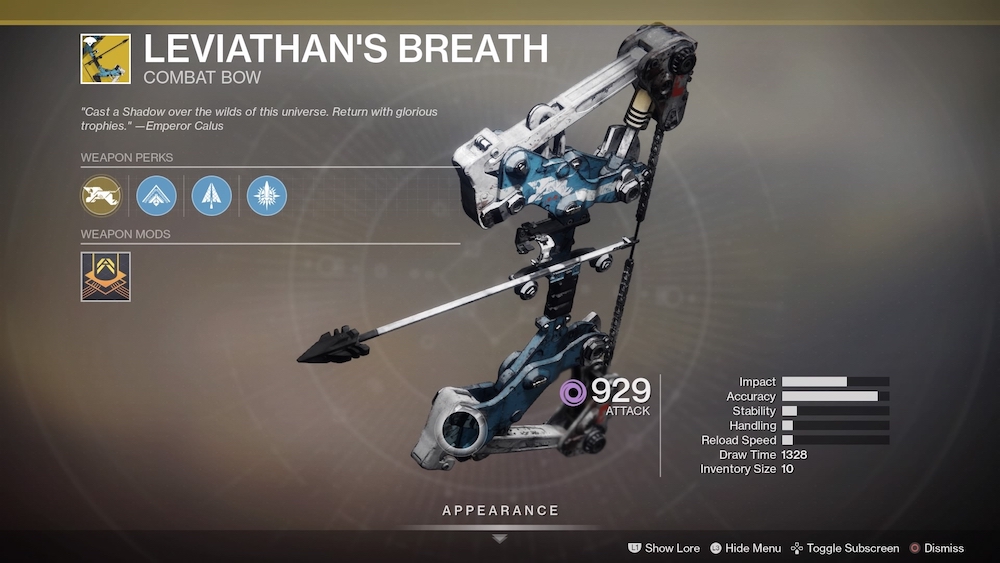 *Only available for the owners of the Annual Pass.*
Leviathan's Breath is pretty easy to acquire, at least compared to most other Exotic Quests in Destiny 2. Most of the quest will take place in the Tower and have you seeing parts of your main HUB that you have never seen before. For players who have had the luxury of running through the Outbreak Perfected quest, think maybe slightly triggering. However, this quest is a piece of cake compared to Outbreak. Let's get our bow.
---
Step 1:
Talk to the Gun Smith
Make your way to the Tower and talk to Banshee-44.
Step 2
Find Banshee's hidden room
If you have ever discovered Anna Bray's room in the Tower, you will want to make your way back. Down in the Hanger, above Dead Orbit (RIP Faction Rally), there will be walkways into a back room. This backroom is now expanded upon and can take you all the way up to the kiosk heading down to the hanger.
As you make your way up, you will have a few challenging puzzle jumps. Nevertheless, the path is pretty straightforward. Once in the final room, you will need to interact with the locked change, holding your prize bow. However, the change is locked and you will now need to forge the key.
Step 3
Intro to Safe Crakers 101
Play Gambit or Strikes to decode the key.
Gambit Prime and Nightfalls count for more.
Step 4
Use a Bow to kill Cabal and Vex
Step 5
Return, again, to the Arms Dealer
For players who acquired Rat King, you will know that The Arms Dealer strike can be a pain. Leviathan's Breath is no different. This mission has been upscaled to Power 950 and attempted solo will be very difficult. Nevertheless, with a trusted Fireteam, and about an hour to set aside, you can complete this step.
Step 6
Return to Banshee-44 for your reward and make your way back into his hideout.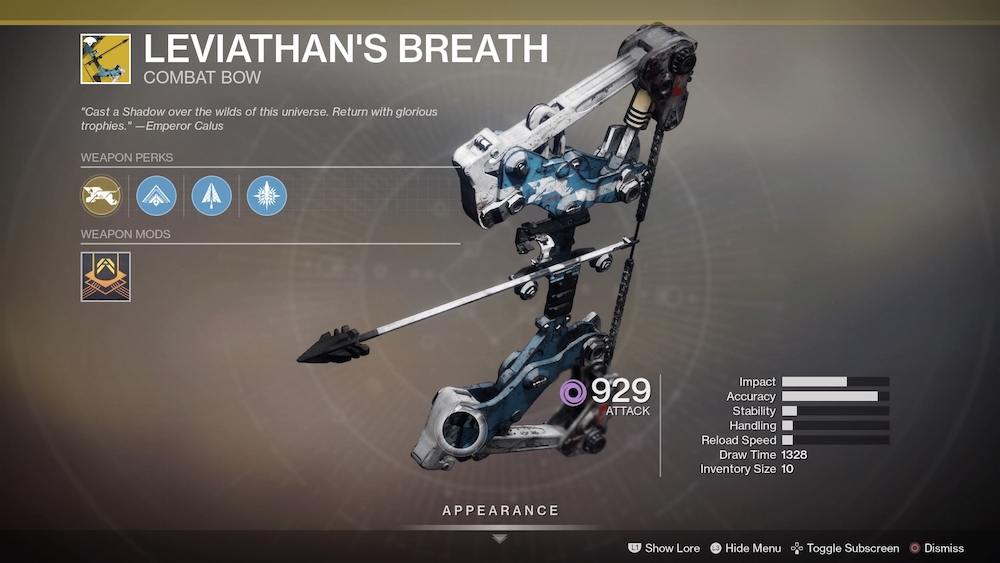 ---
Leviathan's Breath is a Heavy Bow that, in the right hands, can be devastating. In Crucible, it is a one-shot kill, and for Hunters that run Oathkeepers, it is even more lethal. Leviathan's Breath is simple enough to get, so even for players that have little interest in a Heavy Bow I would recommend still picking up. You never know, this may change your mind.
---
Below is a list of a few more Exotic Quest Guides, and as always. Keep your eyes up to PSU, Guardians.
How to get: