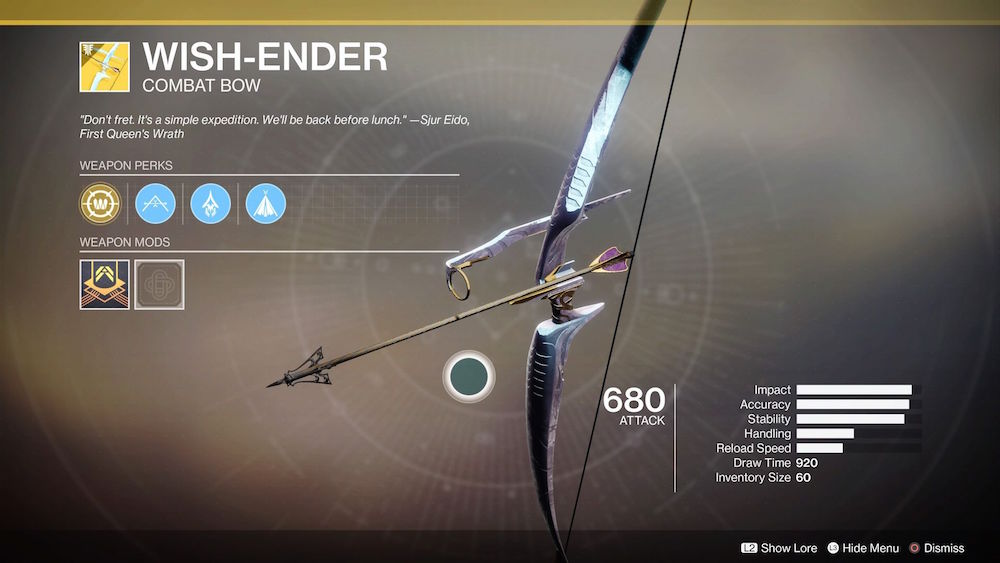 Wish-Ender is an amazing weapon. From the moment you get it, you will understand why so many players torched themselves to acquire it. The Shattered Throne isn't nearly as hard with the current max Power level, although it's still a grind. Good luck, Guardian.
---
**The Shattered Throne dungeon is only available in The Dreaming City on the highest Taken Corruption week. These occur every three weeks. Once the correct week is here, then this mission can be acquired and completed.
Step 1
Complete Shattered Throne on high corruption week.
Step 2
Complete hidden mission
This mission will prompt upon completing the original Shattered Throne. It will become a marker on The Dreaming City map.
Step 3
Complete an alternate version of Shattered Throne.
This sounds easier than it is. The dungeon itself is the same as normal. However, there are three bosses you will need to defeat in order to charge the Awoken Talisman. Here are the steps.
Collect and deposit orb on top of the cathedral in the first room. There will be your first boss, guarding the orb.
Collect and deposit orb along the beams. More ogres will spawn in than normal. The orb will spawn in the right side of the room from the entrance and will need to be deposited in a statue across from the entrance. All the correct statues will be missing in their hands.
Collect and deposit orb from the ascending Thrall hall. When you first enter the accented hall, head right into a small room where you'll find the orb. When you get to the end of the hall, you will see the empty statue, where you deposit the orb.
After exiting the ascending room, run across the broken bridge into the now open room to defeat your second boss.
When in the ogre room (you know what room I'm talking about) there will be an orb across from where you spawn in and will need to be deposited in the left side of the room from the beginning. This will spawn a standard yellow-barred ogre. You can try to defeat both of these ogres in one go. You could eventually kill the smaller ogre that was added after depositing the orb, let yourself die, and then complete the room like normal. Regardless of how you proceed, this will lead to step 4.
Step 4
Collect the bow
After defeating the ogres, you will exit into a room with a giant statue holding the Wish-Ender bow. She's always been there, but now you can present the talisman to get your reward.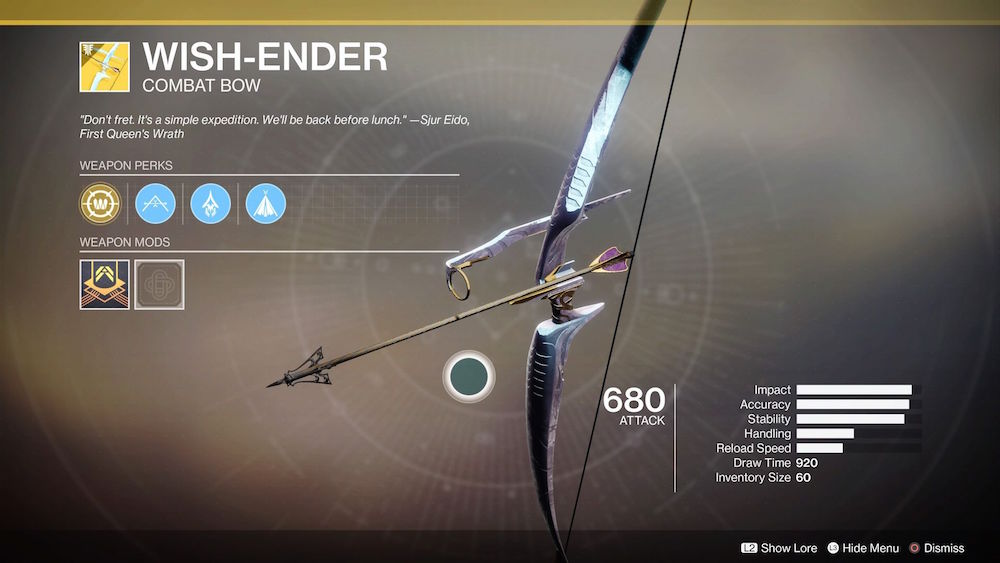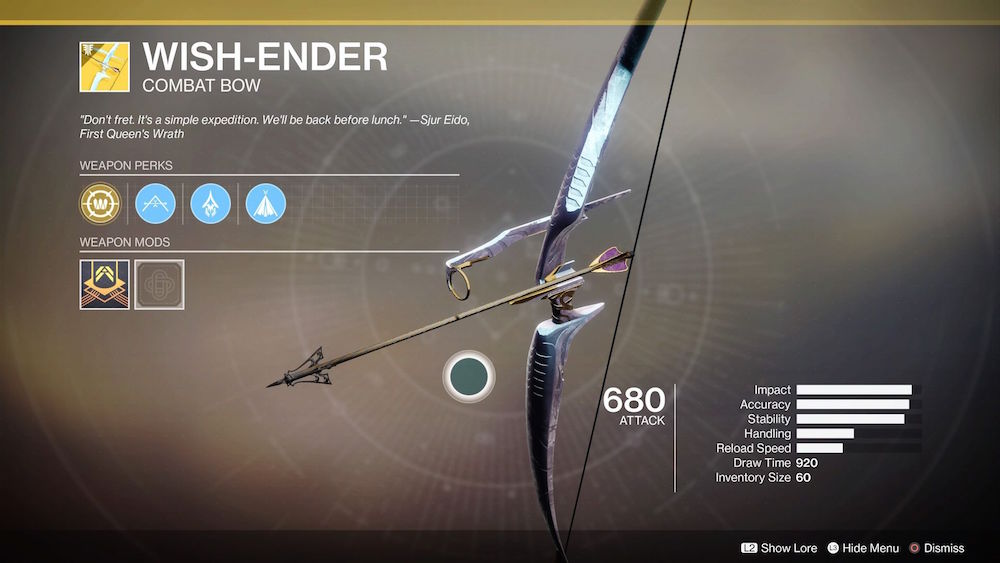 ---
Wish-Ender may be the big bow on the streets now, but soon the trio of Exotic bows will have new company in Shadowkeep. Below are some guides to the other Exotics. When new ones are added to Destiny 2, we will keep the list up to date. Keep your eyes up to PSU, Guardian.
How to Get: