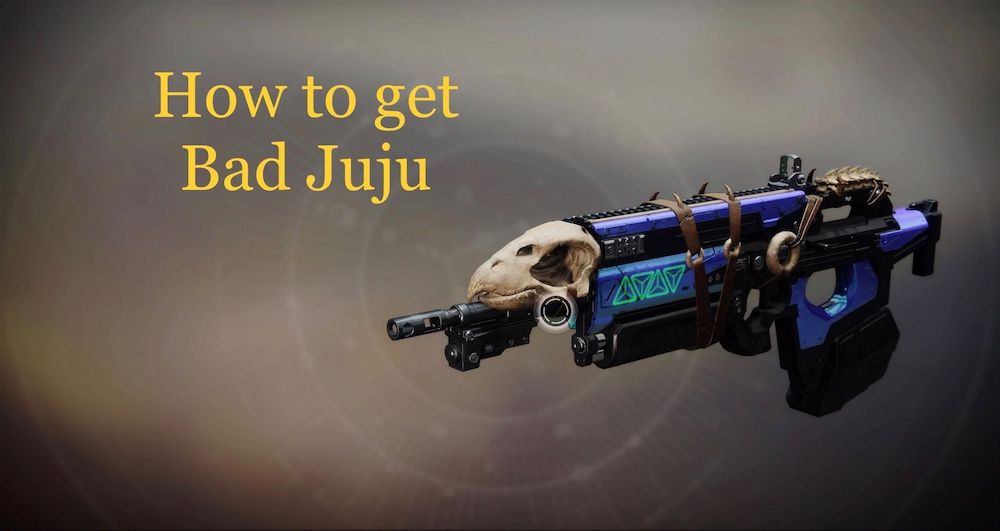 Destiny 2's Bad Juju is not to be confused with Tak and the Power of Juju. Destiny 2 has brought back Bad Juju from the original Destiny. In a sea of Exotic Hand Cannons, this Pulse Rifle is a welcome change. The Bad Juju is a Rifle that, if used correctly, never needs to be reloaded and will recharge your Super. This Weapon of Sorrow can be devastating in both PVE and Crucible. Here is how to get Bad Juju.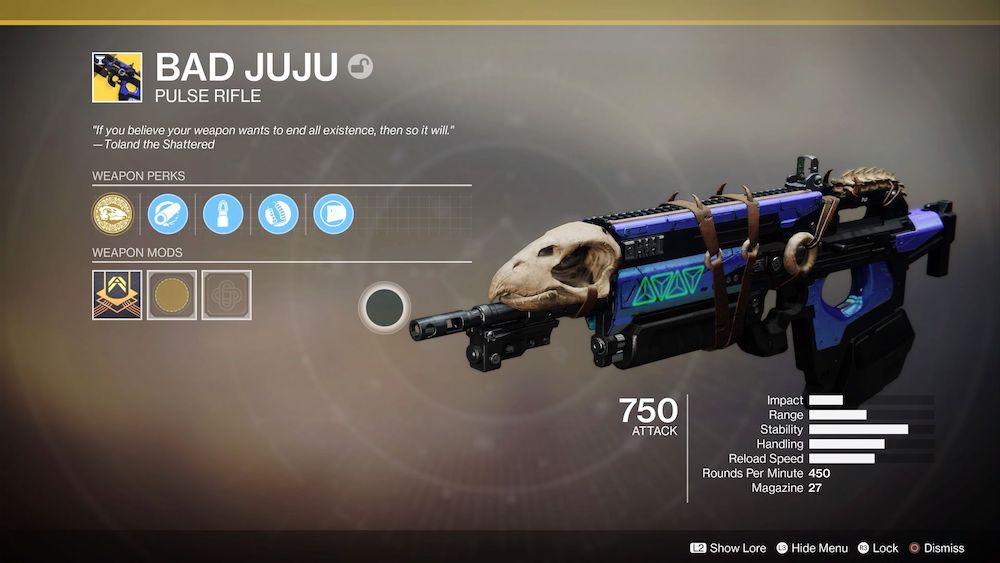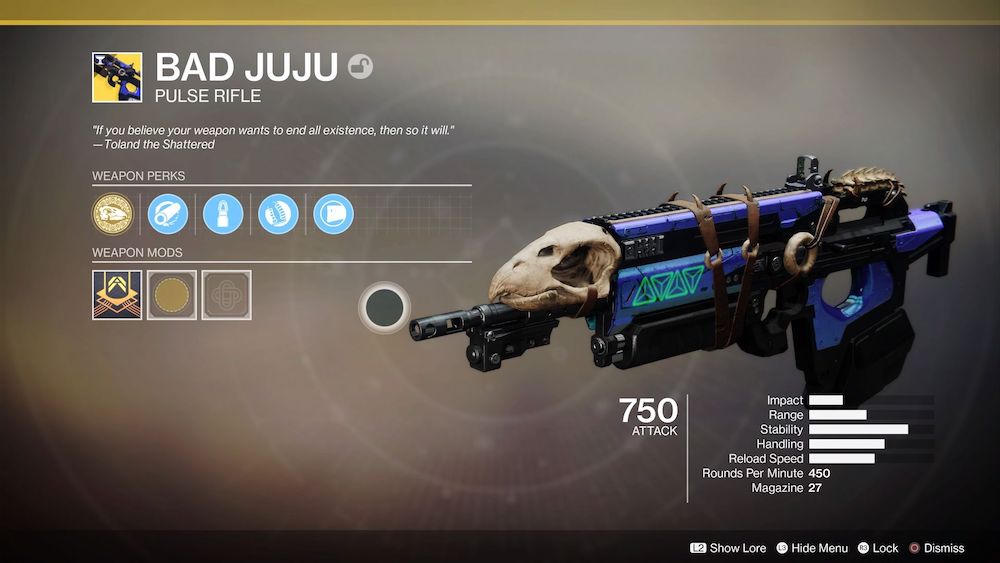 ---
Step 1
Visit Warner, the sweeper bot, at the gold ship on Nessus. Next to it is a chest to start off this quest.
Step 2
Go to the Tribute Hall on the Leviathan.
This is now a tab added with Update 2.5.1.1 and is located right next to The Menagerie.
Step 3
Complete a bounty from the Visage of Calus.
This giant statue in the middle of the room is called the Visage of Calus. Here you will pick up four daily bounties. The next step in the quest is to complete one of these bounties.
Step 4
Speak to Visage of Calus.
The next few steps take place back to back and are all in the Tribute Hall. Calus will direct you to place the newly obtained Tributes in the hall to put them on display. You will need to acquire or buy eighteen Tributes to advance to the final part of the quest. The Visage of Calus will sell Tributes to you. However, this path will become very expensive.
Planetary materials, Legendary Shards, and Bright Dust will all be needed in large quantities if you can't wait to get Bad Juju. Although if you can wait, and complete every daily bounty, then the cost of these will eventually go down. Each bounty completed will grant you a token to lower the cost of the items by 1%. This will max out at 80%. So in twenty days, these materials will go down significantly.
Step 5
Complete the ascendant mission.
This mission can get a bit rough. However, it's doable solo. There aren't any Darkness areas so respawn is never restricted.
---
Once all of these steps are complete, you will be the proud owner of Bad Juju. This Pulse Rifle will reload when you kill an enemy as well as recharge your Super. This gun is a fan favorite for original Destiny players, and we are excited to see how players react to it.
If you are looking for more Exotics to snag, check out our other "How to" guides for:
Bungie has been delivering us solid gold content since the release of Forsaken. There is a reason why all Exotic's color is yellow. We at PSU will be creating guides for each Exotic quest to make sure everyone is ready going into Shadowkeep. If there are any specific weapons you would like to see us cover next, or gun that hasn't made its way into Destiny 2 yet from the original Destiny, let us know below. Until then, keep your eyes up to PSU, Guardian.