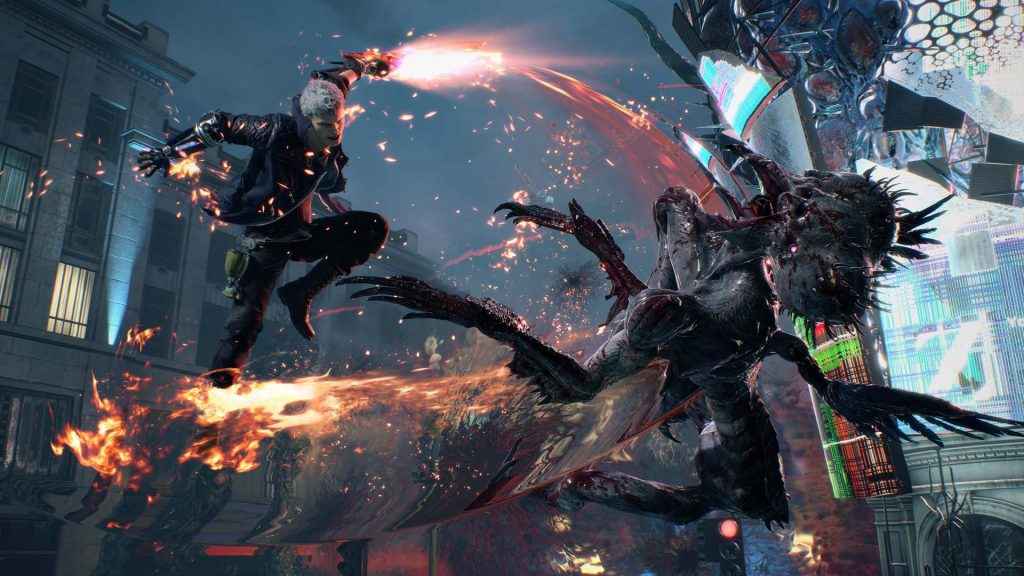 The DMC hype train might have slowed a bit, as Capcom has now confirmed that Devil May Cry 5 microtransactions will be a thing when the game releases in March.
Continuing the somewhat alarming trend of freemium mechanics intruding upon premium, single player games.
Devil May Cry 5 Microtransactions – How They Work
This unwelcome revelation comes straight from a behind closed doors demo featured at this year's Tokyo Game Show. During which our colleagues at GameSpot discovered an option for spending real world money on additional Red Orbs in the Divinity Statue shop menu.
Thereby enabling players to artificially expedite the process of upgrading their silver-tongued, demon-killing hero.
Naturally, the question of why microtransactions were being included in a premium, single player game was asked. And this was the response from director Hideaki Itsuno:
With giving people the ability to purchase Red Orbs, it's something we want to give people as an option. If they want to save time and just want to get all the stuff at once, those people can do that. But on the other, hand I don't feel you have to get all the moves.

You should be able to play it the way you want to play it.
However, because of the way Nero's various abilities have been priced (harder techniques costing substantially more than their entry level counterparts), Itsuno doesn't think it will have an adverse effect on the game's perfectly balanced combat mechanics.
While this ultimately remains to be seen, the fact that Capcom has included them in the first place is slightly disappointing.
Still, they are optional. So veteran players who enjoy the challenge of mastering Nero's impressive suite of visually stunning weapons and abilities organically, can simply ignore them and enjoy DMC as the gaming Gods intended.
Which, this time around, includes playing cooperatively with a friend and stopping every once in a while, to take a few photos.
Source – GameSpot