Blizzcon 2019 is just over a week away and Blizzard is set to make some major announcements at the event. Two of those may have leaked early, with Diablo 4 and Diablo 2: Remastered both rumoured to be unveiled at Blizzcon 2019, which makes sense as we've known Diablo 4 has been in development for some time now.
Diablo 4 & Diablo 2: Remastered Set For Blizzcon 2019 Reveal
Fans expected the game to be officially announced at last year's Blizzcon, despite the company insisting that Diablo 4 was not going to show up at the event. That didn't stop fans from expecting an announcement regardless.
Instead, fans were treated to a new Diablo game coming to mobile platforms, which resulted in massive backlash online. Fast forward a year, and it seems that Blizzard is finally ready to officially announce Diablo 4.
Twitch streamer Metro leaked on his Twitter that Diablo 4 and Diablo 2: Remastered will be announced at BlizzCon 2019 alongside Overwatch 2.
In addition, a German magazine features an article announcing the release of an Artbook featuring illustrations spanning the entire Diablo franchise. The magazine clearly states that the art book will feature art from Diablo, Diablo 2, Diablo 3, and Diablo 4. We aren't sure if this is a printing error or an official listing, but we are going to go with the latter.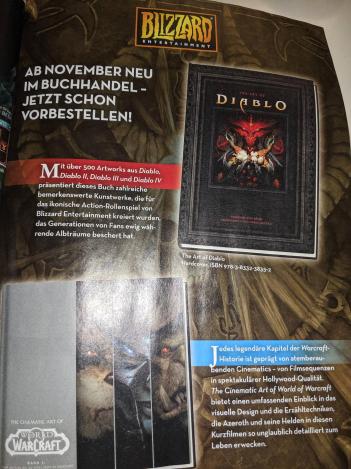 Blizzcon is a little over a week away and promises to be a memorable one. While Blizzard is set to make some major announcements, it's also been facing controversy recently after a Pro Hearthstone player's suspension over his support for Hong Kong.
The community has shown it's displeased with Blizzard over their actions against anyone speaking out in support of Hong Kong. China is a massive market for the Overwatch and World of Warcraft creator, leaving people to feel that Blizzard is more concerned about the money-making opportunities in the Chinese market, rather than supporting their community and human rights.
Blizzcon is set to begin on November 1 2019. Are you excited to finally see Diablo 4? Let us know in the comments below.
Source: PlayStation Lifestyle