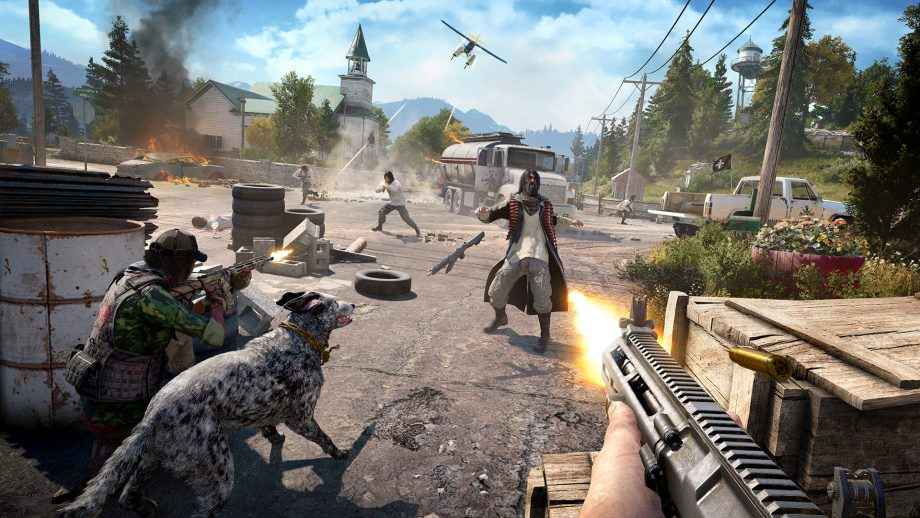 The Far Cry 5 Clutch Nixon missions are a blast! This dude is the stuntman of Hope County, and loves nothing more then putting his life in danger.
These fun Clutch Nixon side activities are not compulsory, but they are fun and can unlock some cool rewards! In this Far Cry 5 Clutch Nixon Guide, we're going to show you where to find all the various race tracks; areas where the daredevil can carry out some insane stunt jumps.
Complete the Clutch Nixon missions and you'll unlock new vehicles, Resistance points and cold-hard cash! Whizz through the checkpoints at speed to win.
Far Cry 5 Clutch Nixon Missions In John's Region
Southeast of Rae-Rae's Pumpkin Farm, you'll find the Spray And Pay Mission. Just keep following the road South from the farm take a left turning at the fork. You'll find it a short way down this road, and find yourself careering through checkpoints in a plane.
Discover the Baptism of Fire mission to the South-West of Rae-Rae's Pumpkin Far. This one is a little trickier to find. Open your map and check out the black main road that leads from the farm to the Southwest. Head down that road, and before you hit the bend that sends the road due South, there's another smaller road on your left. You'll see that this path leads to a squiggle of roads that intertwine. The start of the event is right down there. Get in your car and drive through the fiery checkpoints!
Far Cry 5 Clutch Nixon Missions In Jacob's Region
The Lord of the Wings Mission can be found in the Whitetail mountain to the east of the F.A.N.G center. Across Wishbone Lake, and just to the northwest of Fort Drubman. Get ready for an exciting wingsuit flying challenge!
Quadzilla, an exhilarating ATV race, can be found at the PIN-K0 Radar Station, west of the F.A.N.G center. This abandoned military radar station is also a cult outpost.
Get ready for some more wingsuit action with the Godspeed stunt. This can be found Southeast of Baron Lumber Mill, just off the road that leads to Drubman Marina.
Drive through the woods with The Mooseknuckle Run mission which is directly due north of Baron Lumber Mill and Southwest of Fort Drubman.
Far Cry 5 Clutch Nixon Missions In Faith's Region
Old Glory Holes can be found in the Henbane River area,directly east of the Moonflower trailer park. Keep heading East and cross the river to find the memorial to start this seaplane stunt quest!
If you know any more Far Cry 5 Clutch Nixon Mission locations, let us know in the comments below, and check out some of our other guides.