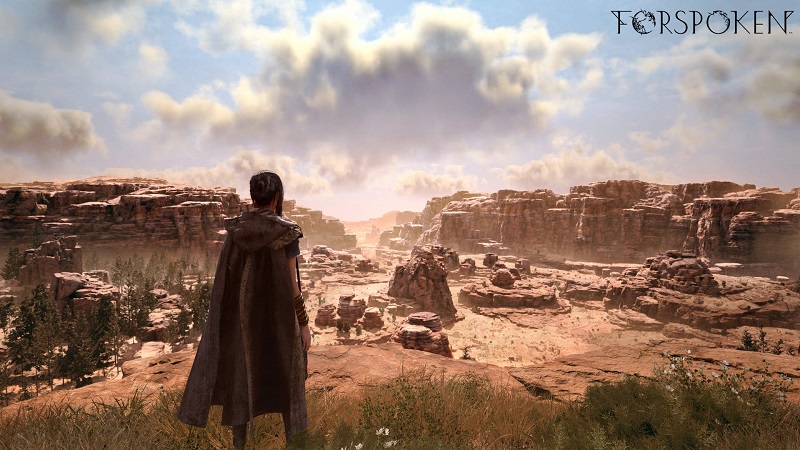 Players got a much better understanding of what Forspoken is after the latest trailer during the PlayStation Showcase 2021, and we just learned even more about the game thanks Tokyo Game Show where developers Luminous Productions shared more details on the games traversal, characters and the importance of magic.
The game's co-director Takefumi Terada and creative producer Raio Mitsuno spoke during the Square Enix extended showcase, in regards to magic saying: "Our goal was to allow players to learn a wide variety of spells. The game was designed to encourage players to experiment with various types of magic."
What that magic exactly is still isn't clear, specifically with traversal which the developers call "magic parkour". The trailers show Frey launching herself across vast distances, using the power of her companion Cuff, a bracelet that can talk and do all sorts of magic. Since the developers couldn't talk more about the role Cuff plays in the game, we'll have to wait to learn more, but since Cuff starts out on Frey's arm, and is the source of her powers, it's probably fair to say Cuff is important.
We also know a little more about who you'll be fighting in the game, the Tantas, who we know are Athia's cruel rulers, but we still don't know how they came to power, where they came from or who Tanta Sila is. We see Frey fight Tanta Sila briefly at the end of the trailer, but that's only one, and its likely Frey will have to take on many more.
All in all, Forspoken seems to be shaping up beautifully with a very rich and deep world. Hopefully we'll have a more specified release date than sometime in the spring of 2022 soon.
Source – [IGN]