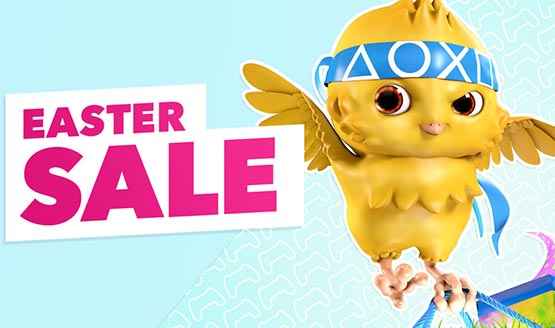 Spring has sprung, and hot on the heels of the Only on PlayStation sale, Sony have pushed the boat out with its next batch of bargains in Europe.
The Easter sale features a whopping list of PS4, PSVR, PS Vita, and PS3 titles with reduced prices. Some even have a secondary discount for PS Plus subscribers.
The deals are active right now. Some deals run until April 12, while others end a little earlier on April 5 (such as FIFA 18).
None of the games we picked for our PlayStation Plus April Predictions are featured in this sale. So hope remains for some winning picks!
Take a look at some of the highlights on PS4 and PSVR. There's some big hitters in there.
Air Conflicts: Secret Wars Ultimate Edition – £6.49
Alien: Isolation – £6.49
Alien: Isolation — The Collection – £7.99
Another World — 20Th Anniversary Edition – £2.49
Archangel – £11.99
Ark: Survival Evolved – £24.99
Ark: Survival Evolved Explorer's Edition – £39.99
Ark: Survival Evolved Season Pass – £19.99
Armagallant: Decks Of Destiny – £7.39
Assassin's Creed Chronicles: India – £3.29
Assassin's Creed Freedom Cry – £3.29
Assassin's Creed IV Black Flag — Standard Edition – £8.99
Assassin's Creed Origins – £32.99
Assassin's Creed Origins — Deluxe Edition – £39.99
Assassin's Creed Origins — Gold Edition – £54.99
Assassin's Creed Syndicate – £11.99
Assassin's Creed The Ezio Collection – £14.99
Assassin's Creed Triple Pack: Black Flag, Unity, Syndicate – £29.99
Assassin's Creed Unity – £9.99
Assault Suit Leynos – £3.99
Attractio – £3.99
Aven Colony – £11.99
Awesomenauts Assemble! – £1.99
Awesomenauts Assemble! Fully Loaded Collector's Pack – £17.99 / £13.99
Awesomenauts Assemble! Fully Loaded Pack – £8.99 / £6.99
Awesomenauts Assemble! Starstorm Expansion Character Bundle – £2.49
Axiom Verge – £7.39
Batman — The Telltale Series — Season Pass – £6.49
Batman: Arkham Knight – £11.99
Batman: Arkham Knight Premium Edition – £15.99
Batman: Return To Arkham – £11.99
Batman: The Enemy Within — Season Pass – £15.49
Battleborn – £3.99
Battlefield 1 & Titanfall 2 Ultimate Bundle – £24.99
Battlefield 1 Revolution – £15.99
Battlefield 4 Premium Edition – £8.99
Battlefield Anniversary Bundle – £24.99
Battlefield Hardline Ultimate Edition – £8.99
Battlezone – £9.49
Bioshock: The Collection – £15.99 / £11.49
Black Mirror – £15.99
Blackwood Crossing – £6.49
Broforce – £3.99
Broken Sword 5 — The Serpent's Curse – £7.39
Call Of Duty: WWII + Destiny 2 Bundle – £54.99
Call Of Duty: WWII – £39.99
Cars 3: Driven To Win – £19.99
Castlestorm VR Edition – £4.99
Chess Ultra – £4.99
Child Of Light – £3.29
Chroma Squad – £3.99
Citizens Of Earth – £2.49
Darksiders II Deathinitive Edition – £6.49
Darksiders Warmastered Edition – £5.79
Darksiders: Fury's Collection — War And Death – £9.99
Daylight – £2.49
De Blob – £8.99
Dead Island Definitive Collection – £7.99
Dead Island Definitive Edition – £4.99
Dead Island: Riptide Definitive Edition – £4.99
Deadcore – £2.49
Defunct – £7.39 / £5.59
Deus Ex: Mankind Divided — Digital Deluxe Edition – £19.99
Dexed – £3.29
Dirt Rally – £11.99
Dirt Rally Plus PlayStation VR Bundle – £15.99
Disc Jam – £5.79
Dishonored 2 – £15.99
Dishonored Definitive Edition – £8.99
Doom – £8.99
Doom VFR – £16.99
Downwell – £1.69
Dragon's Lair Trilogy – £9.99
Duke Nukem 3D: 20Th Anniversary World Tour – £6.49
Dungeons 2 – £6.49
Dungeons 3 – £24.99 / £20.99
Dying Light – £11.99
Dying Light: The Following — Enhanced Edition – £15.99
EA Family Bundle – £15.99
EA Sports FIFA 18 & NBA Live 18: The One Edition Bundle – £29.99
EA Sports FIFA 18 & NHL 18 Bundle – £39.99
EA Sports FIFA 18 And Need For Speed Payback Bundle – £49.99
EA Sports NHL 18 Standard Edition – £15.99
EA Sports NHL 18 Young Stars Deluxe Edition – £29.99
EA Sports NHL 18 Young Stars Edition – £24.99
EA Sports UFC 3 Deluxe Edition – £49.99
Eagle Flight – £14.99
Enter The Gungeon – £6.19
Eve: Valkyrie - Warzone – £9.99
Evolve – £3.99
Extreme Exorcism – £2.89
F1 2017 – £15.99
FIFA 18 – £24.99
FIFA 18 Icon Edition – £44.99
FIFA 18 Ronaldo Edition – £29.99
Fallout 4: Game Of The Year Edition – £19.99
Far Cry 4 + Far Cry Primal Bundle – £19.99
Far Cry 4 – £11.99
Far Cry 4 — Gold Edition – £14.99
Far Cry Primal – £11.99
Flatout 4: Total Insanity – £8.99
For Honor Standard Edition – £15.99
Forma.8 – £2.49
Foul Play – £2.49
Futuridium Ep Deluxe – £1.69
Game Of Thrones — Season Pass – £5.79
Goat Simulator – £2.99
Goat Simulator: The Goaty – £9.49 / £6.99
Grand Ages: Medieval – £8.99
Grand Theft Auto V – £24.99
Grand Theft Auto V And Criminal Enterprise Starter Pack Bundle – £59.99
Grand Theft Auto: The Trilogy – £11.49
Hasbro Family Fun Pack – £8.99
Hatoful Boyfriend – £7.99
Hatoful Boyfriend: Holiday Star – £2.49
Hitman Go: Definitive Edition – £1.69
Hitman — Game Of The Year Edition – £24.99
Holoball – £3.99
Home — A Unique Horror Adventure – £1.69
Homefront: The Revolution – £6.49
Hotline Miami – £2.49
Hotline Miami 2: Wrong Number – £3.29
Hotline Miami Collection – £4.99
I Expect You To Die – £7.99
Just Dance 2018 – £24.99
Koi: Game And Exclusive Theme Bundle – £2.49
Lara Croft And The Temple Of Osiris & Season Pass Pack – £3.69
Lara Croft And The Temple Of Osiris – £2.49
Lara Croft Go – £1.99
League Of War: VR Arena – £7.99
Lego Batman 3: Beyond Gotham – £9.99
Lego Batman 3: Beyond Gotham Premium Edition – £14.99
Lego Harry Potter Collection – £11.99
Lego Jurassic World – £11.99
Lego Marvel Super Heroes- £9.99
Lego Marvel's Avengers – £17.99
Lego Star Wars: The Force Awakens – £14.99
Lego Star Wars: The Force Awakens Deluxe Edition – £15.99
Lego The Hobbit – £9.99
Let's Sing 2018 – £19.99
Let's Sing 2018 — Platinum Edition – £29.99
Lethal VR – £3.29
Life Is Strange: Before The Storm Complete Season – £7.99
Life Is Strange: Before The Storm Deluxe Edition – £11.99
Lords Of The Fallen – £3.29
Lumo – £3.99
Madden NFL 18 – £15.99
Mantis Burn Racing – £4.99
Mass Effect: Andromeda - Deluxe Recruit Edition – £19.99
Mass Effect: Andromeda - Standard Recruit Edition – £15.99
Megaton Rainfall – £7.39
Micro Machines World Series – £9.29
Monopoly Deal – £1.69
Monopoly Family Fun Pack – £8.99
Monopoly Plus – £3.99
Monster Energy Supercross — Special Edition – £49.99
Monster Energy Supercross — The Official Videogame – £44.99
Mortal Blitz – £7.99
Mortal Kombat X – £11.99
Mortal Kombat XL – £15.99
Motorcycle Club – £6.49
Murdered: Soul Suspect – £3.29
N.E.R.O.: Nothing Ever Remains Obscure – £3.99
NBA 2K18 – £29.99
NBA 2K18 Legend Edition – £39.99
NBA 2K18 Legend Edition Gold – £54.99
NBA 2Kvr Experience – £11.99
Need For Speed Payback – £24.99
Need For Speed Payback — Deluxe Edition – £32.99
Need For Speed Ultimate Bundle – £39.99
Nier: Automata – £24.99
Nine Parchments – £11.49
Nom Nom Galaxy – £2.49
Obliteracers – £3.29
Oh My Godheads – £7.99
Orc Slayer – £1.69
Out Of Ammo – £9.49
Outlast – £3.99
Outlast 2 – £9.99
Overlord: Fellowship Of Evil – £3.69
Payday 2 — Crimewave Edition — The Big Score Game Bundle – £9.99
Payday 2: Crimewave Edition. – £6.49
Pierhead Arcade – £7.99
Pillars Of Eternity: Complete Edition – £19.99 / £15.49
Plants Vs. Zombies Garden Warfare 2 – £5.79
Plants Vs. Zombies Garden Warfare 2: Deluxe Edition – £7.99
Poltergeist: A Pixelated Horror – £1.69
Poncho – £1.69 £3.29
Portal Knights – £7.99
Prey – £11.99
Q.U.B.E: Director's Cut – £2.49
Quiplash – £2.49
Race The Sun – £2.49
Railway Empire – £39.99 / £37.49
Rayman Legends – £5.79
Real Farm – £17.99
Redout: Lightspeed Edition – £18.99
Rez Infinite – £11.99
Risk – £3.99
Risk Urban Assault – £3.99
Road Rage – £11.99
Robinson: The Journey – £15.99
Rocket's Renegades — Awesomenauts Assemble! Character Pack – £3.29
Rockstar Games Ps2 Classics Bundle – £21.99
Rollercoaster Dreams – £4.99
Rollers Of The Realm – £1.69
Ronin – £3.29
Sheltered – £2.49
Sherlock Holmes : The Devil's Daughter – £8.99
Sherlock Holmes: Crimes And Punishments – £6.49
Shooty Fruity – £11.49 / £9.89
Skullgirls 2Nd Encore – £3.29
Sleeping Dogs Definitive Edition – £3.69
Sneaky Bears – £7.39
Song Of The Deep – £3.29
Soul Dimension – £1.69
South Park: The Fractured But Whole – £24.99
South Park: The Fractured But Whole — Gold Edition – £39.99
Sprint Vector – £13.99
Star Trek: Bridge Crew – £15.99
Star Wars Battlefront II – £24.99
Statik – £7.39 / £5.79
Sudden Strike 4 – £19.99
Super Cloudbuilt – £6.49
Tembo The Badass Elephant – £2.49
Tethered Divine Edition – £7.99
Tetris Ultimate – £3.99
The Assembly – £9.79
The Crew – £9.49
The Crew Ultimate Edition – £15.99
The Elder Scrolls Online: Morrowind – £15.99
The Elder Scrolls V: Skyrim Special Edition – £15.99
The Elder Scrolls V: Skyrim VR – £34.99
The Escapists 2 – £11.99
The Escapists 2 Special Edition – £15.99
The Evil Within – £6.49
The Evil Within 2 – £15.99
The Golf Club 2 – £12.99
The Invisible Hours – £16.99
The Jackbox Party Bundle – £9.99
The Jackbox Party Pack – £4.99
The Jackbox Party Pack 2 – £5.79
The Jackbox Party Pack 3 – £7.99
The Jackbox Party Pack 4 – £11.99
The Jackbox Party Quadpack – £26.99
The Lego Movie Videogame – £9.99
The Lost Bear – £3.29
The Metronomicon: Slay The Dance Floor – £6.49
The Metronomicon: Slay The Dance Floor — Deluxe – £7.99
The Sims 4 – £24.99
The Sims 4 Deluxe Party Edition – £34.99
The Solus Project – £7.39
The Telltale Games Collection – £15.99
The Telltale Mega Collection – £24.99
The Walking Dead: A New Frontier — Season Pass – £7.99
The Walking Dead: Michonne — A Telltale Miniseries – £3.99
The Walking Dead: Season Two – £4.99
The Walking Dead: The Complete First Season – £4.99
The Witcher 3: Wild Hunt – £11.99
The Witcher 3: Wild Hunt - Game Of The Year Edition – £15.99
The Wolf Among Us – £4.99
Thief – £2.49
Thimbleweed Park – £7.99
Timothy Vs The Aliens – £9.99
Tiny Trax – £5.79
Titan Souls – £3.99
Tokyo 42 + Smaceshi's Castles – £9.49
Tokyo 42 – £8.99
Tom Clancy's Ghost Recon Wildlands — Standard Edition – £21.99
Tom Clancy's Rainbow Six Siege – £15.99
Tom Clancy's The Division – £15.99
Tom Clancy's The Division Gold Edition – £19.99
Tomb Raider: Definitive Edition – £4.99
Trials Fusion – £3.99
Trials Fusion The Awesome Max Edition – £7.99
Trivial Pursuit Live! – £3.99
Uno – £3.99
VR Karts – £9.49
Valhalla Hills — Definitive Edition – £6.49
Valiant Hearts: The Great War – £3.29
Velocity 2X: Critical Mass Edition – £11.99 / £8.99
Watch Dogs2 – £15.99
Watch_Dogs – £8.99
Werewolves Within – £11.99
Wolfenstein II: The New Colossus – £19.99
Wolfenstein: The New Order – £5.79
Wolfenstein: The Old Blood – £5.79
Wrc 7 Fia World Rally Championship – £19.99
Wrc Collection – £29.99
Wuppo — Super Deluxe Edition – £11.99
WWE 2K18 – £29.99
XCOM 2 – £11.99
XCOM 2 Collection – £39.99
XCOM 2 Digital Deluxe Edition – £15.99
Zombi – £3.99
Zombie Army Trilogy – £9.99 / £7.74