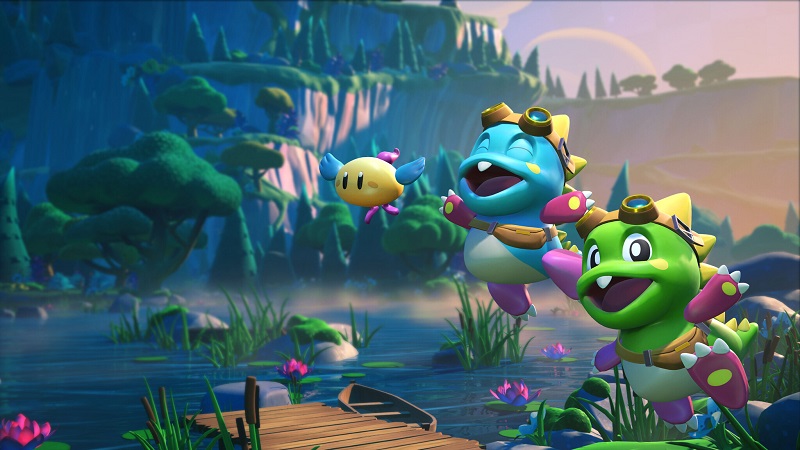 Puzzle Bobble 3D: Vacation Odyssey is not just an great achievement in that it takes a classic puzzle game and puts an entirely new spin on it, Puzzle Bobble 3D: Vacation Odyssey also stands as a great new, fun VR game that adds a never before seen layer to a game many already know and love.
Matt Bettelman, the lead developer on the title at Suvios sat down with us at PSU to talk all about what the process was like to bring this game to fruition, and the very exciting future that VR has ahead of it, especially with the dawn of PSVR 2.
Interview With Matt Bettelman, Lead Designer On Puzzle Bobble 3D: Vacation Odyseey
Before we get into the story of Puzzle Bobble 3D: Vacation Odyssey, it's pertinent we talk about Matt's story, and how his career in the game industry got started.
"Where do I begin? I started in the video game industry back in 2006, straight out of college. I was in the quality assurance team at Hyman Studios, which is a studio down in Carlsbad, California, outside San Diego. I helped them ship a game, and then I kinda proved somehow that I could be a game designer, and they were kind enough to promote me out of quality assurance and into their game design team. I helped them ship Transformers: War For Cybertron and Transformers: Fall Of Cybertron. Then in 2012, I had an opportunity to transfer from Hyman Studios up to Treyarch in Los Angeles, which is where I'm originally from.
So I took that opportunity and I helped them to ship Call Of Duty: Black Ops 2 and Call Of Duty: Black Ops 3 as a game designer, and I contributed to Call Of Duty: Black Ops 4 for about a year or so before I stepped away to be with Survios. I've bee at Survios for three and half years now, and I contributed to level design on The Walking Dead: Onslaught. Then they asked me to be the game director on Puzzle Bobble 3D: Vacation Odyssey."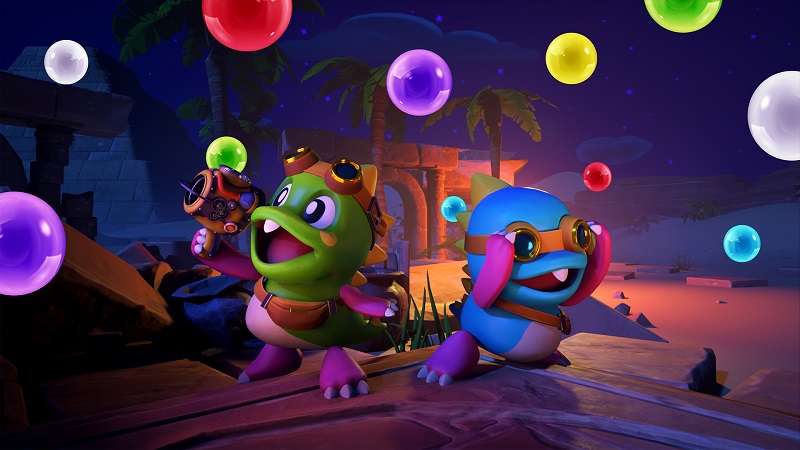 Bringing Puzzle Bobble 3D: Vacation Odyssey to life would prove to be no small task, but what is seemingly just as incredible is how Surivos got the opportunity to work on the game.
"A little while ago at the studio we had a casual games initiative. The idea there, you know Survios, we're experts in VR, we're one of the oldest VR developers in the world. So since VR is our expertise, the studio decided that we could take a really small team and do some quick experimentations into taking known quantities, like known gameplay elements from classic arcade games or casual games and bring them to VR and just see what shakes out, see what that looks like. So a small team within Survios did just that, and they basically made what amounts to a puzzle bobble game, but in VR, and the first experimentation with that was like a truly flat game, right? Like on a 2D plane out in front of you, but in VR."
The experiment proved successful in that it could be done, but the team wasn't satisfied with the quality of what they experiment gave birth to. "At that time the team looked at it and said, 'Well this works, but this isn't going to excite anyone. " Matt explains. "And it doesn't take advantage of what makes VR great as a medium, and that's when they started experimenting further and came up with a lot of the core pillars of the game that we know now."
As an origin story, it's a classic tale of a good, base idea being prodded at and picked until it became something much better, so much that Taito agreed, giving them the full go ahead for Puzzle Bobble 3D: Vacation Odyssey.
"It wasn't until later that we saw the team had made something extremely fun and intuitive and perfect for VR, and that's when Survios reached out to Taito and found that there was an opportunity for this amazing partnership to actually take what we had made and make it a true Puzzle Bobble game and the the Puzzle Bobble license, which is just mind blowing."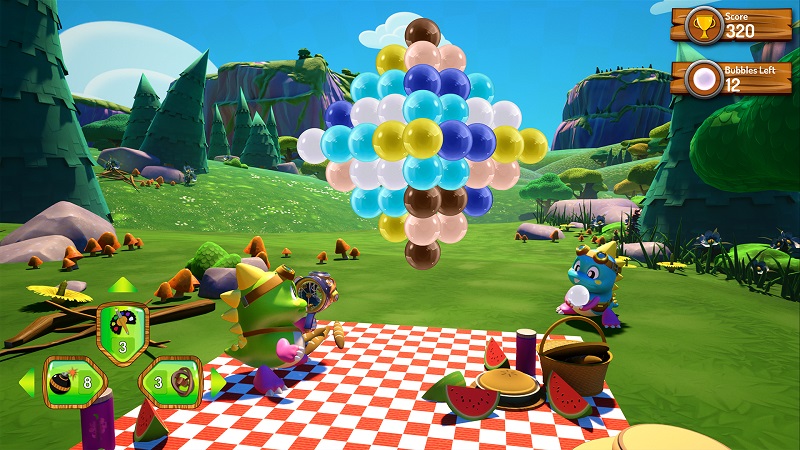 That's probably one of the most exciting things about VR, just how exciting it can be to take a tried and true gameplay design, and practically turn it on its head to try and make something new from it. As a developer working on VR technology for some time now and very invested in the future of the medium, Matt is very excited for what's to come.
"VR is just full of possibilities. I mean, there's just so much about it that's ne and exciting and challenging." he said. "There are so many ways you can try to take something that you already know and love and make it in VR, and think, oh, well it's just going to be that much more immersive and that much more engrossing, just being inside that world – and to some degree that's true, but there's also so many challenges inherent to making things in VR that isn't present when you're talking about traditional non-VR games."
"So all of it is really exciting. I mean, VR is just a really fertile space for new ideas and creativity, but it also comes with just a whole bucket full of challenges and problems to solve that don't exist in the non-VR space."
Despite the challenges of course, Matt and the rest of the Survios team are not wavered in their goals to create the best quality VR games they can, while continuously exploring what is next in the world of VR.
"The thing I'm thinking about these days is actually cross-reality. It's something that is now a priority for the studio, trying to find new ways to bridge the gap between VR and non-VR, and allowing both of those worlds to interplay and play together in as many interesting ways as we can. Actually, Puzzle Bobble 3D: Vacation Odyssey is one of the first ways that the studio is attempting to bridge that gap, right?
Because you can play the game on your VR headset, or you can play it with a controller on your tv, and actually if you're playing the duel mode which ahs the head to head multiplayer, you can play with opponents regardless of whether either of you is playing in VR. We're really embracing cross reality as a goal for the studio."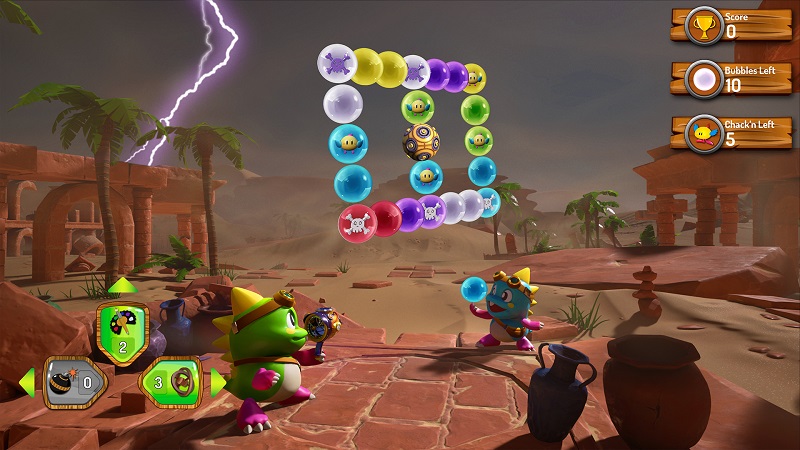 As exciting as VR is to work on, part of what being a new and exciting medium is are the growing pains, the things that are still keeping VR back. So keeping on the future of VR, we talked about what the next five years for example could do for the medium.
"VR, as I said, it's super exciting, but it is kind of just a small cloistered corner of the industry. So I think finding ways to broaden it's appeal and broaden its accessibility. I think that those are ways that VR has to evolve, because people like us, we're excited for any kind of new avenue for unexplored territory, but for people who aren't, you know, technophiles, putting on a giant heavy facemask with wires, it's just frankly not appealing to a lot of people.
So that's where VR has to go to me. It has to continue to become more comfortable, more user-friendly. There's a lot of hardware needs there, for sure, a lot of hardware evolution still to be done, but you know our partners at Sony and our partners at Oculus are continuing to make better and better hardware with every iteration. So we see nothing but a bright future and opportunity for VR going forward."
VR will definitely get there, but in it's current state, no VR enthusiast could rightly blame even a fellow technophile for being cautious. I personally don't have a VR system, for a multitude of reasons but ultimately I just haven't seen the thing that will make me jump in with both feet. Matt understood my hesitancy, because even though VR has come along way, there's still a ways to go.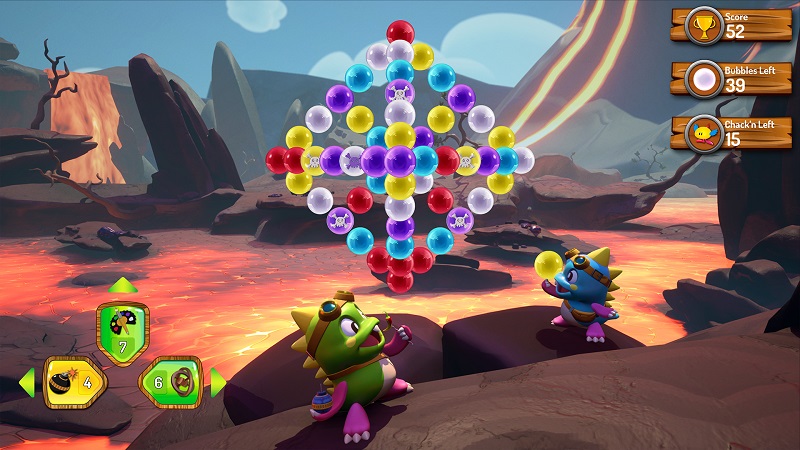 "It's totally understandable. I think a lot about the negative, if there is a negative perception around VR these days. I think a lot about the fact that the early 2010s, when Oculus was doing its first prototype versions of the Oculus hardware. There was just an immediate rush to declare that this thing is the future, and it's going to supplant all other forms of video game entertainment, take over consoles and PCs. The hyperbole was a little much, and it hasn't shaken out that way as quickly as the media machine would lead you to believe.
But I guess what I'm looking at is that it doesn't mean they were wrong. What it means is that the development in technology has proceeded more slowly than anyone would have anticipated, and it makes sense because this hardware that makes up all these VR headsets, it's technologically ridiculous. When you're talking about putting as high res, high fidelity a screen as you can, right to your face and make it as small as possible – the challenges there are immense."
These are challenges though that hardware developers are potentially starting to overcome, as new hardware is on the horizon.
"But that said, PSVR 2 looks like it's going to be an amazing machine and Sony is going to continue to support it the way it supported PSVR. So we're nothing but excited to continue making games in the VR space, and to continue branching out."
Now hopefully the hardware can catch up with the new generation of VR hardware coming, because as far as the software is concerned "It's everything we need" according to Matt. Survios uses Unreal Engine 4 to develop their games, and Matt gives full credit to Epic and their team. What's more exciting to hear though is that Survios has already begun investigating into Unreal Engine 5, though it's very early days. "We're very excited about it."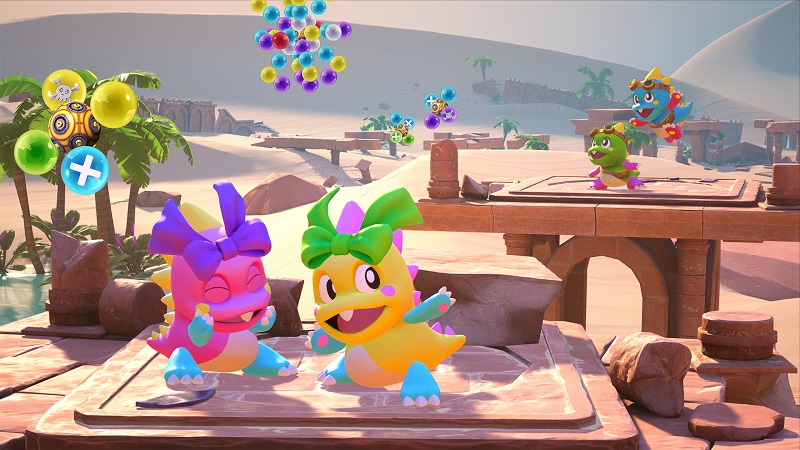 So all this upcoming technology is very exciting for a medium which could finally be ready to takeoff. "To me, it's just hardware iteration" says Matt, as that's what he believes is left to focus on.
"No wires. That to me is the most important one. Finger tracking, face tracking, those are really big ones. Honestly those are the biggest ones for me, beyond that it goes into the nitty gritty details about the controller. I think the DualSense has a lot of bells and whistles that are extremely exciting. So pulling that kind of technology into VR controllers. I think there's a lot of possibility there. That's what I would look at."
Exciting as VR is right now, the reality unfortunately for it and many other new upcoming technology is that we'll be seeing delays still for some time to come due to the global pandemic. Survios has been fortunate to not only keep things running smoothly, but to have the foresight to prep for the worst case scenario.
"In March of 2020, probably a little less than a week before the city of Los Angeles officially shut down and went into full-on quarantine, the studio said 'everyone come in today and pack up your machines and take them home because we are going full remote for, we do not know how long starting now.' So we were earlier even than the city of Los Angeles in getting people home and safe and up and running and working within the same week.
Just the amount of planning and forethought that must've took is still mind blowing to me today, and the studio has now shipped four games working fully remote. It's been a transition, but the studio has been flexible, and you know, we're pushing through it."
The pandemic has been difficult all around, so it was quite nice to hear Matt talk about how much of an effort Survios has done to keep them all connected, like a Friday Happy Hour with the whole studio partying across one giant Zoom call. "It's awesome to see the company trying to continue to embrace that organic culture within the workforce in the only ways we can at this time."
A key aspect and one that has certainly served Survios well, to keep that same creative flow and experimentation which led to games like Puzzle Bobble 3D: Vacation Odyssey. What's next beyond that for Survios? Well, the short answer is we'll hopefully find out soon.
"I'm sure as you can imagine, there's not much I can say concretely. I will just say that cross reality and bridging the gap between VR and non-VR gaming is a priority for us now, and going forward the studio is working on its next big project. You know, I think the whole studio is excited about it. I think it's not giving away too much to say it's going to be the biggest endeavour that the studio has ever undertaken so far. We're all just really excited."
There are few things about gaming that make me more excited than hearing a developer is undergoing a big new undertaking, and with talented developers like Matt Bettleman helping to steer the way it is sure to be something worth keeping an eye on.
I deeply appreciated the time Matt shared with me to talk about VR and Puzzle Bobble 3D: Vacation Odyssey, and absolutely cannot wait to see what they have up their sleeve.
Puzzle Bobble 3D: Vacation Odyssey is available for PS5, PS4, and PSVR now.