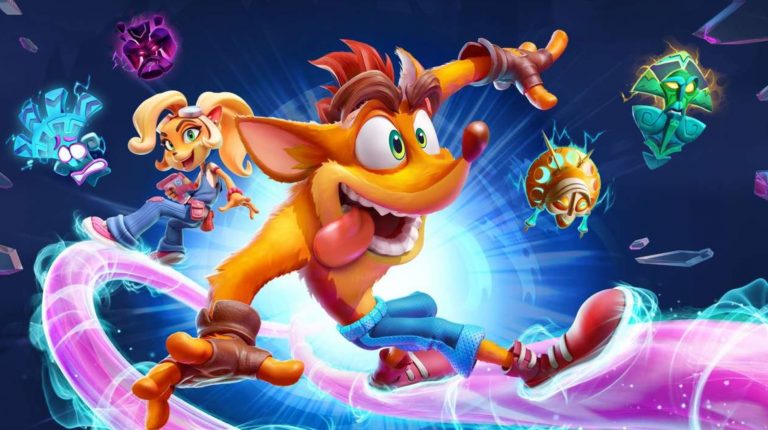 Is Crash Bandicoot 4 It's About Time coming to PS5? The one-time Sony mascot's latest outing released in early October 2020 for PS4 and Xbox One, and is the long-awaited sequel to Crash Bandicoot: Warped on the PSOne. Developed by Toys for Bob, the game picked up rave reviews and is seen as a strong comeback for the crate-smashing marsupial.
But what about a Crash Bandicoot 4 It's About Time PS5 release? Is it on the cards? Let's find out!
Crash Bandicoot 4 It's About Time PS5 Release – Is It Happening?
The ESRB recently posted up a rating for an Xbox Series X version of Crash Bandicoot 4, which could possibly mean we're also going to get a PS5 version at some point. While this isn't by any means confirmation of a Crash Bandicoot 4 PS5 release, it does give us hope that the game may come to Sony's new console in the future.
Related Content – Sony PS5 Complete Guide – A Total Resource On PlayStation 5
After all, if there's going to be an Xbox Series X version, then it stands to reason that PS5 would get a look in too, right? We'll be sure to let you know if we hear of any developments.
Related Content: Crash Bandicoot 4 It's About Time PS4 Review
What Is Crash Bandicoot 4?
Here's the full blurb via the game's official website:
THE DEVIOUS VILLAINS NEO CORTEX AND DR. N. TROPY HAVE FINALLY ESCAPED THEIR INTERDIMENSIONAL PRISON, LEAVING AN EVIL SCIENTIST SIZED HOLE IN THE UNIVERSE. NOW THEY'VE GOT THEIR EYES SET ON NOT ONLY SIMPLY CONQUERING THIS DIMENSION,

BUT ALL DIMENSIONS, AND IT'S UP TO CRASH AND COCO TO SAVE THE DAY. N. SANITY BEACH IS WHERE CRASH'S ADVENTURE FIRST STARTED, AND WHERE IT BEGINS IN CRASH 4. BUT THERE HAVE DEFINITELY BEEN CHANGES SINCE PLAYERS FIRST SAW N. SANITY BEACH ALL THOSE YEARS AGO, AND THROUGHOUT CRASH 4 YOU'LL NOTICE CHANGES TO GAMEPLAY AND EVEN THE ART STYLE.