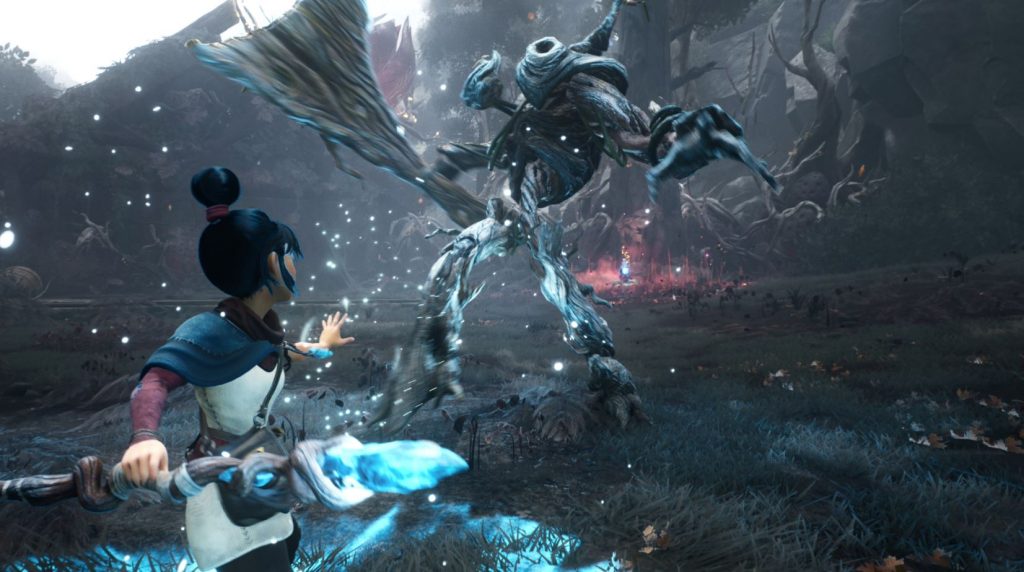 Ember Lab has revealed new story and gameplay details for Kena: Bridge of Spirits, as well as detailing that the game will not cost full price.
Kena is a Spirit Guide, someone who can help guide restless spirits to a peaceful end. From the GameInformer article, it reveals that:
"…people who have suffered great trauma or who have unresolved business can linger between the physical and spirit world, causing trouble for ordinary (living) people. Kena's job is to understand what's keeping them from moving on and helping them reconcile past events."
On top of that, Kena will be voice-acted and she will sing one of a number of songs in the game. Bridge of Spirits is also set in a fictional place that pays homage to a variety of Asian locations, including Bali and Japan. Kena also isn't from this land and has instead travelled to the location from quite far away.
The small black creatures called Rot can be found throughout the game and they are responsible for decomposing things. Outside of combat, they can be directed, moving objects for Kena and helping her solve puzzles. In combat, they will distract enemies and infuse Kena's abilities with special powers. You will need to build their courage, however, to get them to fight.
The game will also be wide linear, with a hub town. You will then go off on missions from that town. The Rot can be customised with hats and the game will launch at a price lower than $60. Ember Lab is hoping they can add a photo mode to the game, but it might not be ready for launch. The game will is built in Unreal Engine 4 and it can be beaten comfortably within a weekend. You can see all the details about the game from today's GameInformer article here. Ember Lab has also revealed how the game will take advantage of the PS5.
All of this information gives us a great first look at the game and we will hopefully be able to see more in the coming days and weeks, as the game is a part of GameInformer's cover story for the month.
Kena: Bridge Of Spirits is set to release on PS5 and PS4 this Holiday.