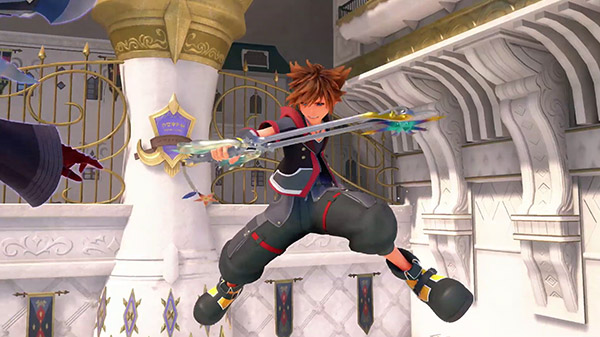 Speaking during an interview with Japanese gaming bible Famitsu, Square Enix's Tetsuya Nomura spilled a few new details on the upcoming Kingdom Hearts 3 DLC Re:Mind, which was showcased at E3 2019 during the company's press conference. You might remember the trailer for it, as it had no sound effects and look more something a fan knocked together in 30 minutes than a professional video.
Note that the following information contains some spoilers, so be warned if you haven't finished Kingdom Hearts 3 yet.
Kingdom Hearts 3 DLC Details Revealed
Firstly, Nomura-san revealed that the Oathkeeper Keyblade for Sora all be released for free alongside the Re:Mind expansion, and promised the Limit Cut bosses will total roughly the same amount as those in Kingdom Hearts II Final Mix. Sadly, there's no release date on the horizon yet, but Square Enix is mindful of not launching it around the same time as Final Fantasy 7 Remake next March.
Elsewhere, Nomura revealed that players can pick Roxas and other characters by progressing through the extra scenario, similar to how Riku and Aqua functioned. Speaking of which, the extra scenario can be played after completing Kingdom Hearts 3's main campaign and is a standalone affair.
Kingdom Hearts 3 was released on PlayStation 4 and Xbox One in January 2019, and has sold over five million copies worldwide to date. As a result, the Disney-RPG sequel is the best-selling instalment in the franchise's history. Nomura served as co-director on the project, a title he also shares on the upcoming Final Fantasy 7 Remake alongside Naoki Hamaguchi.
The Kingdom Hearts franchise is now fully available on the PS4 thanks to the Kingdom Hearts: The Story So Far, which includes the following titles:
Kingdom Hearts Final Mix, Kingdom Hearts Re: Chain of Memories, Kingdom Hearts 358/2 Days, Kingdom Hearts 2 Final Mix, Kingdom Hearts Birth by Sleep Final Mix, Kingdom Hearts Re:coded, Kingdom Hearts Dream Drop Distance, Kingdom Hearts 0.2 Birth by Sleep – A fragmentary passage, and Kingdom Hearts x Back Cover.
Read our review of Kingdom Hearts 3 here.
Source: Gematsu