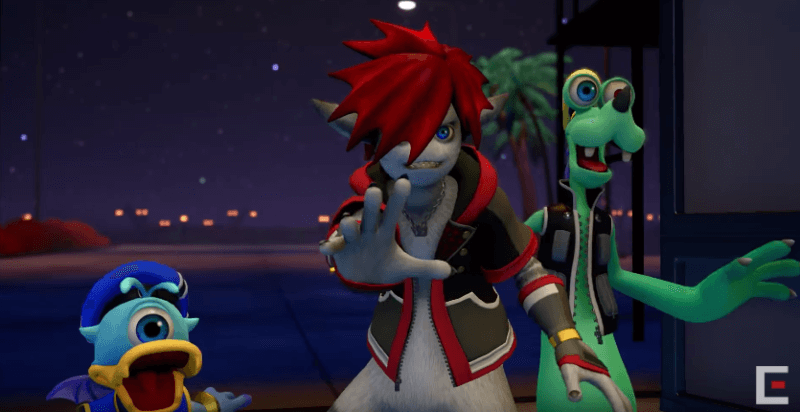 Disney's D23 event is taking place in Tokyo, Japan this weekend, and there were murmurings of a fresh glimpse at Kingdom Hearts III.
Turns out the latest entry in Square Enix's crossover RPG series, has indeed received not one, but two new trailers. One detailing a new world alongside gameplay of previously announced ones, and another that presented the game's theme song.
During a special event held in Disneyland, Square-Enix first showed a new trailer which confirmed there will be a new Monsters Inc world in the game.
The trailer opens with Sora, Donald, and Goofy meeting Marluxia, of the shady New Organization XIII. It marks the character's mainline debut, after first appearing in one of several hundred spinoffs. After this encounter, there's a brief switch to the world of Toy Story, before we're thrust into the brand new Monster's Inc world, complete with an endearing introduction to Mike, Sulley, and Boo.
As is par for the course with the jump between worlds, Sora and his buddies have been transformed to fit in. Sora is a monster version of himself, with furry blue skin and red spiky hair. Donald and Goofy also get a monster makeover.
From here it's a smorgasbord of gameplay and cutscenes from Tangled, Toy Story, and Monster's Inc worlds. The Little Mermaid's Ariel makes an appearance, as well as Kingdom Hearts: Birth By Sleep character Vanitas.
The trailer also shows Tangled's Rapunzel in action. She interacts with the world by swinging her hair, using it to traverse environments and whip enemies. According to Square Enix, Rapunzel will have a number of ways to use her hair in the game.
Square Enix also confirmed that Utada Hikaru will be returning for the third game's theme song, which is called "Don't Think Twice." The song features in the second trailer which sees Rikku leaving his Keyblade behind for the other version of him to use.
Also during the event, Square Enix revealed some further details about the game. Gummi Ship segments will return. It has now been split into two phases. Firstly there's an exploration phase, which is thought to be open world based. Then there's a combat phase that promises to be bigger and better than before, and teeming with enemies.
Square Enix have said everyone in the Osaka studio is working on Kingdom Hearts 3. 100 people from its Tokyo studio are also involved. Development is currently split into three distinct sections: Early, middle, and late. There's supposedly around three worlds per section, but Square Enix have noted that this does not rule out more worlds beyond that number.
Kingdom Hearts III is still on course to release sometime later this year.