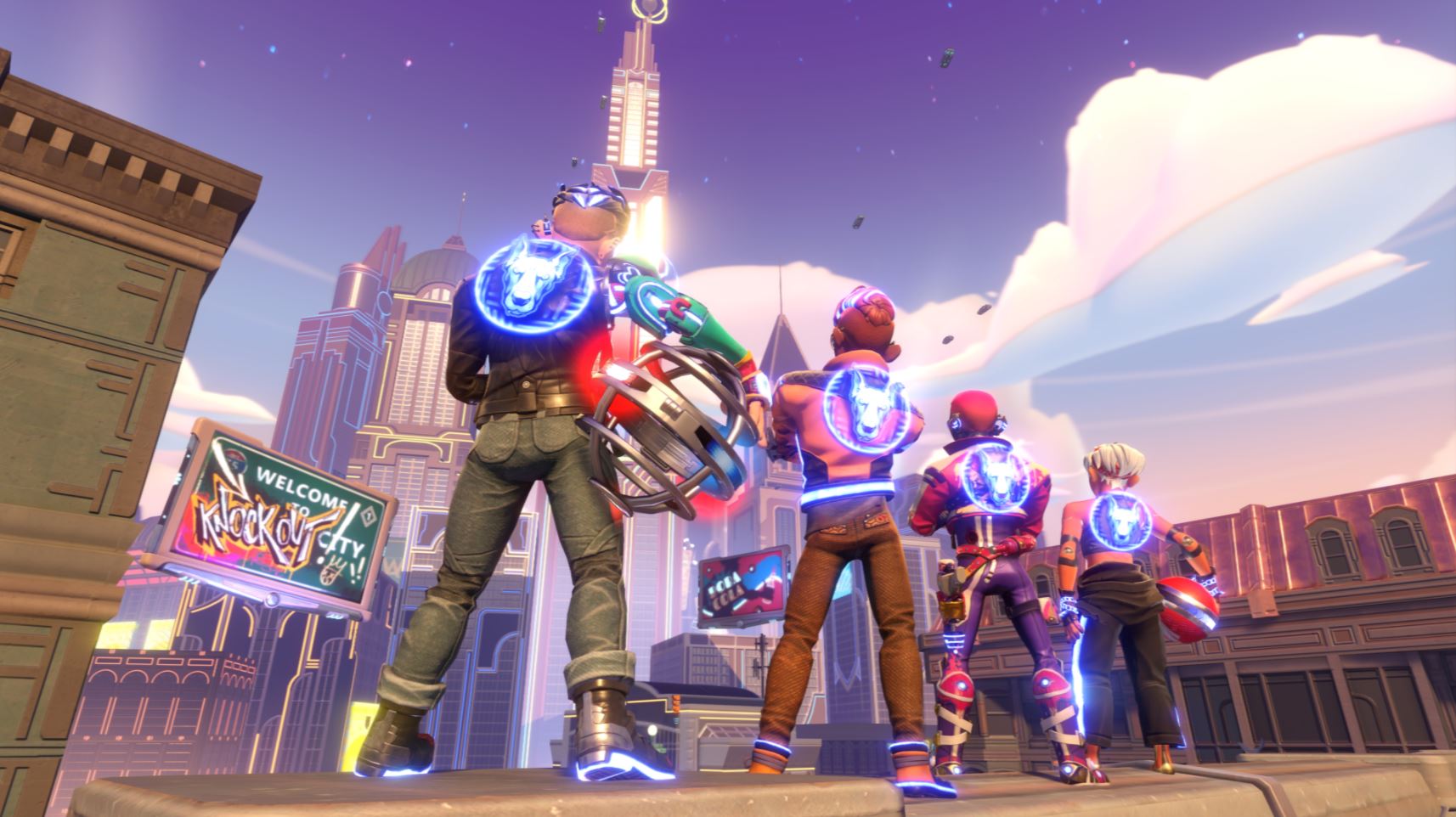 After a lot of anticipation and a successful launch, Velan Studios; Knockout City has been out for around a month now and we got the chance to chat with the team behind the game on the release, development and future of the game. If you want to see what we thought, be sure to read our review.
PSU: Hi there! Thank you for taking the time to join us for an interview! Firstly, could you tell us who you are and what your role is in developing Knockout City? And for those unaware, tell us more about Knockout City too?
We're Karthik Bala and Guha Bala, brothers and co-founders of Velan Studios. Our studio just released Knockout City, which is our fresh take of the team multiplayer games inspired by over-the-top competitive dodgeball.
We wanted to make a game that makes the player feel the joy of competition. A game that is accessible, but with surprising skill depth. If you're looking for a team-based game to play with your friends, you and your Crew of up to 32 friends can team up across platforms, even switch between platforms with progress intact, to take down rival Crews. Knockout City is a great way to play with friends for laughs and bragging rights, as well as serious take on serious competitors.
PSU: This is your first major game release with your own, created IP, could you tell us how it felt to work on such an ambitious project, as well as your experience with EA?
Knockout City has been an amazing experience and we're so excited to continue expanding on it long past launch. Many of our team worked on several of the most innovative game franchises of the last 20 years including Skylanders and Guitar Hero, and our last game before Knockout City was Mario Kart Live: Home Circuit. But it has been very rewarding to release our own IP and to have the support of EA behind us.
Our vision for Velan Studios is to create breakthrough games that are magic, where "playing is believing". They really saw and understood the vision for Knockout City. What impressed us is that everyone at EA plays. This includes not only the creative vision, but also cool features that can bring friends together like cross play and cross progression.
PSU: Dodgeball is a beloved and popular sport, so translating that into a video game format must've been difficult! Was there any major challenges during development?
We quickly realized how ambitious we were when testing out just how throwing and catching balls might work over the internet. Turns out it's surprisingly difficult to do! We created our own proprietary engine from scratch, called the Viper engine, to pull it off from a technical perspective. We're all about finding something special about the way a game feels and plays first, and then working to find a technical solution to deliver that experience.
We knew that we needed our engine to run a live distributed deterministic physics simulation with many physics objects (balls) with travel time, collision, where the player can also be a physics object. It just wasn't possible, to our knowledge, with any existing commercial engine. So we invented our own. Viper is super fast, lightweight and lets us manage server authoritative competitive gaming across platforms and a range of internet latencies.
PSU: Following on from that, the gameplay mechanics are finely tuned, what was the process for balancing the characters and balls so they didn't feel under-or-over powered?
Balancing was a major thing we knew we had to get right. That started from the very core of the game: throwing, catching, and passing. Then we built on the base with dodging, charging, ultimate throws, and various moves and interrupts. Then there were map designs, ball density, and ball functions.
Our whole development approach is starting from the core, and layering mechanics while maintaining balance. Each ball type is designed to have unique advantages and trade-offs. Something new to learn and master, and with personality. What's cool for us is seeing our community incorporate ball times into unique team and individual strategies. We have a lot more in the works to release over the coming months during our live updates.
PSU: As it's a live-service experience, there's typically no story involved, so what's the story and lore within Knockout City?
Knockout City doesn't exist in the real world or at any specific place in time. It's a universe we want to be in, relentlessly optimistic, taking the unserious totally seriously. Crews of rebellious brawlers roam the streets battling for dodgeball dominance. The rules here are different there. We implemented a massive amount of customization items and ways to show off your style with your Crew, so hopefully players can create their own stories with their characters and go wild with it. But if you look a little closer, every environment has a backstory, and the DJ on the Moon from Pirate Radio reveals some of it in his dialog. We hope to expand on that in the future.
PSU: Knockout City, thankfully, features cross-play for all platforms! What was the process for creating the cross-play experience, as well as adapting to different platforms taking each other on?
Crossplay was an early goal for us with Knockout City. Our friends who play with us on a regular basis each have their platform of choice. It was important to us that we could play regardless of platform. This was aided by the early insight that in Knockout City the core throw and catch action would be about position and timing, rather than the position and aiming common to shooting games. This allowed us to better accommodate control differences between platforms for fair competition.
For example, we don't see a real difference in win/loss outcomes between mouse and keyboard versus traditional game controllers. Our Viper engine also allows us to synchronize simulations across a variety of CPUs. So that allows us to keep a player on a Switch at the same place as a player on a PlayStation. It was a combination of technical choices and design choices to create a satisfying crossplay experience.
PSU: As a live-service game, there's always questions regarding the lifespan of this genre. How do you plan to support Knockout City within the future?
We see the launch of Knockout City as the starting point. We'll continue supporting Knockout City through seasons with regular updates and new content at no additional cost. Each new season can include new maps, modes, balls, limited time events and more, and the first season starts shortly after launch on May 25. We'll also be adding new and refined playlists that change the rules and player counts to keep players on their toes and keeping the action fresh. Of course we'll also be looking to our community for where to take the game.
PSU: Knockout City has a very arcade-feel to it, why did you choose this design instead of a realistic or any other design?
The core move set of throwing and catching really came together when our Game Director, Jeremy Russo, had the insight of making Knockout City about position and timing like old school fighting games. This allowed us to simplify certain actions, like passing, ball pick-up and precision aiming, in order to focus on a fast motion model, face-offs, and dynamic teamplay that is distinctive in the game.
A realistic design may not have allowed us to take creative liberties with elements like players becoming balls, and could have slowed the pace of the game. Plus, we could make the ball sound like they really made contact when you get hit in the face.
PSU: How do you plan to keep players coming back for more dodgeball fun?
One of the things we believe is that Knockout City is a game that is unlike anything else out there, and it's great seeing players already respond to that. We support this with an extensive live services plan. We already have Season 1, and Season 2 is in the works, with a new level, ball type, unique items, events, and playlists.
PSU: Finally, there's many indie games looking to get into the industry and make it big, do you have any advice for them on how they can succeed in today's market?
There is no easy pathway as an indie. But being indie allows a developer to take creative risks not often possible in larger, more integrated game companies. Being indie allows you to stay small and focused with the core design, which is the best way to prove out the core design. I think the best approach is to work as a small team to establish the interactivity that makes your game special enough that an industry peer with a critical eye cannot put it down. Then it's time to show it to partners to figure out the best way to market. There are lots of options if you have a great experience on your hands.
Thank you for taking the time, and I can say it's been an absolute pleasure! Knockout City has been an incredibly fun time.
Knockout City is available now on PS4 and is playable on PS5 via backwards compatibility.