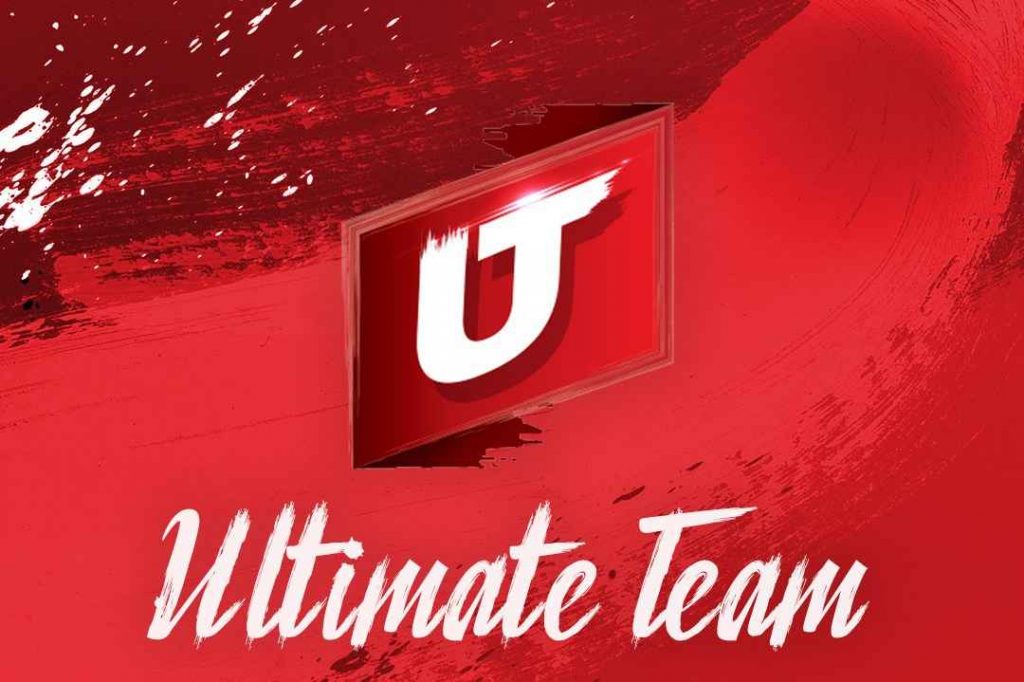 We put together a Madden 20 Ultimate Team guide to help you consolidate your resources and better manage your time to build the best MUT team you can. Madden Ultimate Team plays like all card-based sports modes: collect cards, build a team, and play football. However, many little things about it can prove to be more cumbersome than others.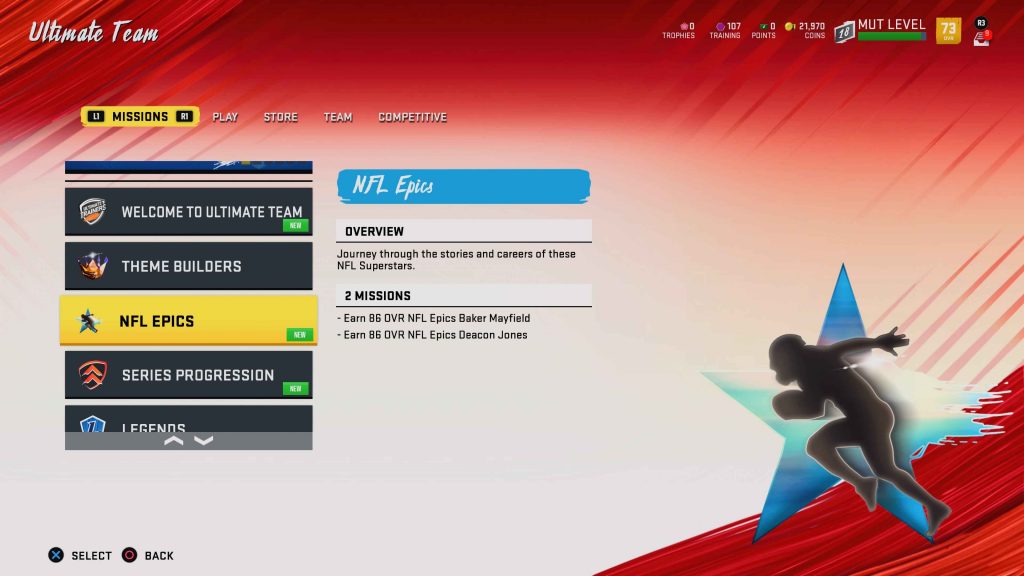 Madden 20 Ultimate Team guide
Missions
Madden Ultimate Team literally provides a ton of different missions to do. These provide different levels of rewards, from coins to Training Points to even cards. However, not all are created equally. Some ramp up the difficulty much higher than others, and you will definitely feel it with a low-level team.
So, after getting all the introductory tasks finished, I recommend digging into the NFL Epics missions. These lists provide you with powered up cards that you can upgrade once you unlock them. At the time of publication, both Deacon Jones and Baker Mayfield are available to unlock. Each list also provides coins for each task on the mission list, these missions are well worth the effort.
Once your team grows stronger, then I feel free to dig into the harder missions. If you have some difficulty, do feel free to play the missions on lower difficulties. The rewards will be lower for now, but get some rewards from beating easy missions is more productive than failing over and over with zero rewards.
Daily Missions are just as important to do as all the other missions. Not only do they provide refreshing coins, but they also stack based on how many daily missions you complete. Each step in the milestone list provides both coins and randomized Power Up Cards.
What makes these missions convenient is that you will likely get them naturally without much thought. Just avoid the one that asks you to buy a pack of cards. All it gives you is 50 coins for buying a pack at the cheapest cost of 500 coins. If you receive the extra bonus from buying worthwhile packs, then so be it. Just don't prioritize that daily mission.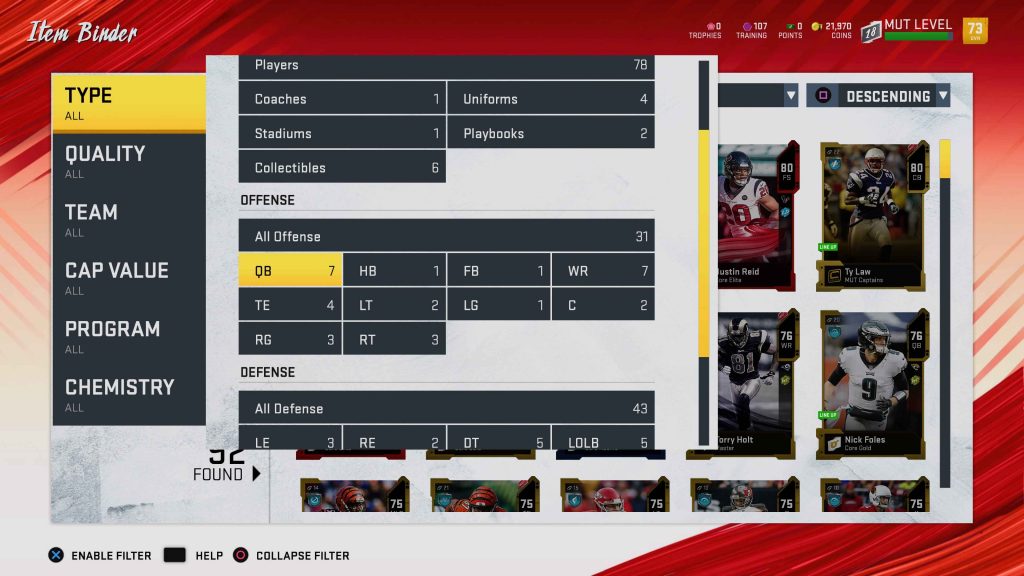 Buying and selling
Madden Ultimate Team provides an auction house where you can buy and sell cards. However, in the early goings, I highly recommend limiting your time in the auction house. Instead, you should focus on your Item Binder, found under the Team submenu. From there, you can go through your cards to see which ones you don't need. Just make sure that you filter the cards based on position before you start selling low cards so that you don't sell cards in the wrong positions.
Since most of the cards below 70 are easily replaceable, I recommend selling them for resources. Most will provide Training Points, but some may give you a few coins here and there. Either way, these resources are exactly what you're looking for right now. Just go through each position and sell all the cards not in your lineup.
Later on, when you get better cards, then I recommend trying to place those cards in the auction house for better returns. Very few lower ranking cards will sell, so trying to sell them, even for cheap, will see you wasting posting costs over and over. Just scrap the low level stuff.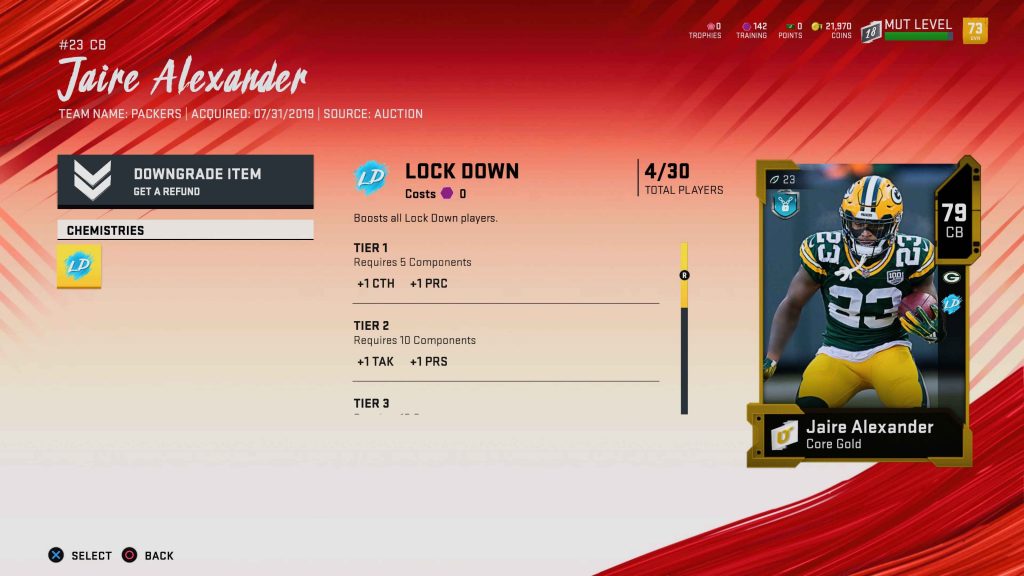 Training Points
As mentioned in the first section, Training Points come from selling low-level cards. However, Training Points also come from completing certain missions. Using these Training Points unlocks Chemistry slots for your cards. This allows you to better customize how your cards play together. They may not increase the ranks of your cards, but aligning the Chemistry across all your cards makes them play better just because they are all playing together with the same chemistry.
For me, I prefer to use the West Coast Chemistry for my offense and the Lock Down Chemistry for my defense. That way, my offense utilizes passing plays better and my defense stops passing plays better. I choose these just because I do a better job of manually adjusting to when I need to run on my own. This may not help everyone, but the philosophy is the same: Tune in to how you play, and use Chemistry to counter your weaknesses.
The card store also provides a cheap pack under Special Offers that you can buy with Training Points. It grants you an 80 overall defensive player for 180 Training Points. You won't find a better upgrade for that cheap for a long time, if ever, so definitely pick up that pack! Make sure you do so soon after starting, because you will get cut off from it after you reach level 16.
Power Up Cards
Many specialized cards require these Power Up Cards in order to improve them. In general, you use basic Training Points in order to unlock Chemistry slots in your cards, but Training Points do not improve your card's overall numbers. Power Up Cards do upgrade card overall numbers.
However, only certain cards can utilize Power Up Cards. While this is exclusive to rarer cards, some lower ranking cards come from featured missions and can be upgraded this way as well. So, the best way to figure out what you need for each card is to simply select the card and see if it allows you to upgrade it.
Free card!
To help get you started, go to Twitch.Amazon.com/Madden20 and link your EA account. Then, you get an 85 overall, upgradeable Jim Brown card! Believe me: Having a good running back in the beginning changes things for the better.
---
Good luck with your team building! Let us know if this Madden 20 Ultimate Team Guide helped you out.
If you're still a bit on the fence about Madden 20, take a look at our official review! It may have what you're looking for this year. If you're still not quite sure, take a bit of a chance on it by playing it through EA Access. EA Access provides a limited time trial so you can see exactly how the game plays before you pick it up.