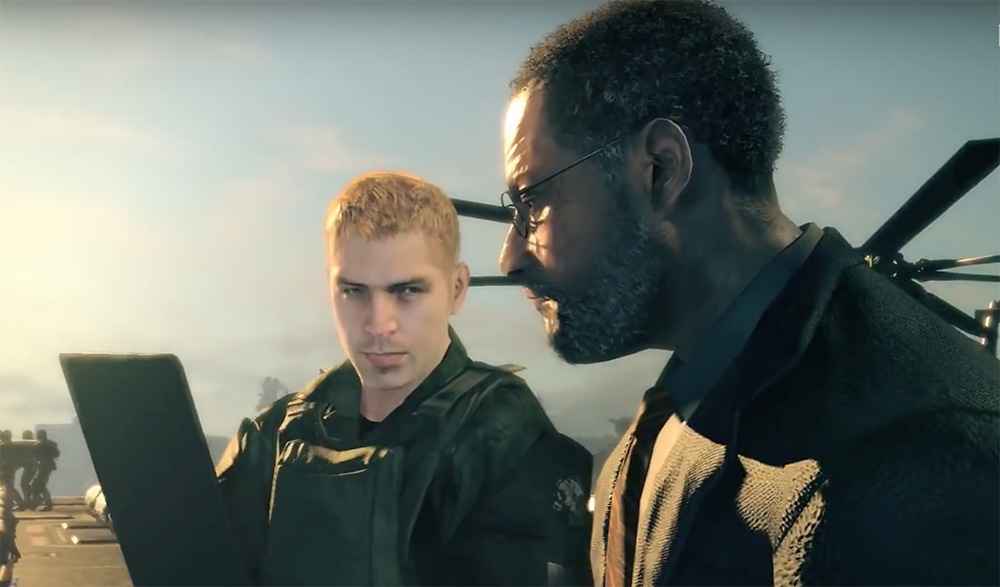 The last thing I'd imagine most Metal Gear fans want to hear about is Metal Gear Survive. Second to last thing would be the Metal Gear Survive story.
After all, it's not going to be canonical. And a large chunk of the folk responsible for making the series what it is are long gone.
Nevertheless, Metal Gear Survive does have a story, and while it isn't written by Hideo Kojima, it does sound like it ticks a lot of Metal Gear plot boxes.
A shady organisation? Check. Ridiculous character naming? Otherworldly occurrences? Check. Multiple checks. Man infected by debilitating disease? Metal Gear Bingo!
Metal Gear Survive Story – plot details land
You can read the plot details in the quote below.
Following Big Boss' escape at the end of METAL GEAR SOLID: GROUND ZEROES, a solider on the collapsing Mother Base is nearly pulled into a wormhole that opens over the base. The soldier loses consciousness and awakes six months later in a facility belonging to Wardenclyffe Section, a secret research organization within the United States government.

Players take the role of this soldier with a goal of rescuing those pulled into the wormhole half a year ago and to find a cure for a mysterious infection. "You don't get to sit this one out. You're already infected with that lifeform I was telling you about," a man named Goodluck in Wardenclyffe Section instructs.

METAL GEAR SURVIVE is a survival action game in an alternative universe. In a struggle to survive and understand this hellish new environment, players engage in both single player and connected co-op. In the battle for survival scavenged materials must be wrought into usable items, gear and weapons if you are to have any hope of making it home.
Doesn't sound quite as tantalising as Metal Gear's greatest stories. Still, it's nice to see that some core series ideas haven't been forgotten. Even if they aren't necessarily the most essential to a good Metal Gear experience.
Why Metal Gear Survive requires 'always online' connection
There is also a list of key features. These include the reason behind the game being always online. Single player progress carries across to co-op, so that's clearly a measure to avoid offline exploits ruining the fun.
Two modes of play - single player and co-op. Character experience, skills and items obtained are shared between the two modes.
Build and develop your Base Camp. This offers access to crafting weapons and gear, and serves as a command center for planning missions in both single player and co-op modes.
Gather resources, blueprints and raw materials for use in crafting. These can be gathered in single player mode by exploring the environment or won in successful co-op missions.
Develop Base Camp with new facilities to aid survival, including crop growing, animal rearing, and food and water storage. As your camp develops you'll gain access to high grade crafting items.
Manage resources, including essentials such as food and water, as well as raw materials used for weapons, defences and expendables.
Complete daily, weekly and special event Orders for rewarding materials and blueprints to be used in single player and co-op.
This may not be Metal Gear as we know it, but the Metal Gear Survive story continues to look and sound like daft, wholesome fun.
Pre-orders for Metal Gear Survive come with the Day 1 Survival Bonus Pack. This features a number of bonus items to kick you off.
Metal Gear Survive is out on PS4 February 20 in North America, and February 22 in the EU.
Source: metalgearinformer.com