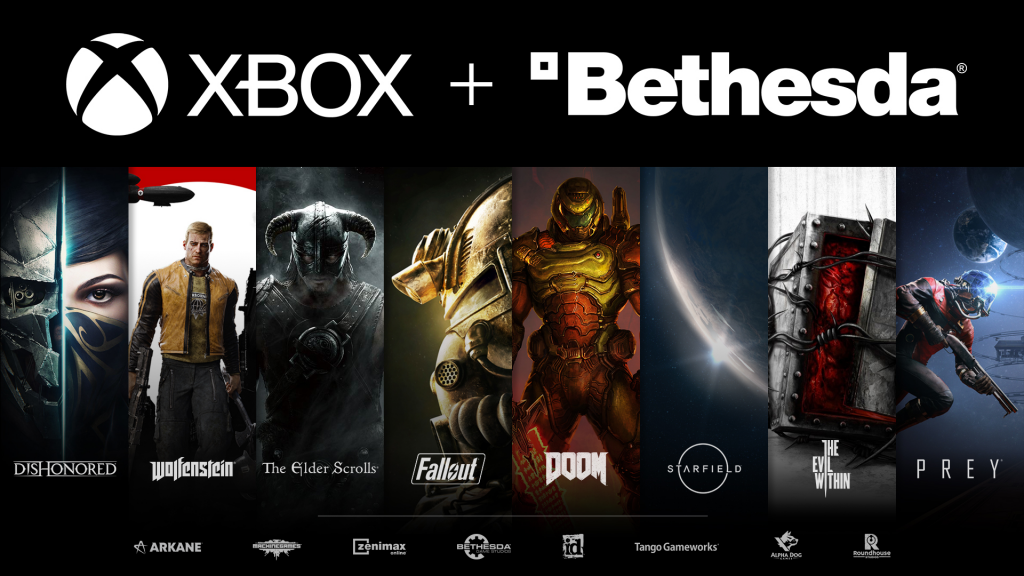 UPDATE: Xbox's Phil Spencer has told Bloomberg that "Xbox plans to honor the PS5 exclusivity commitment for Deathloop and Ghostwire: Tokyo." Meanwhile, future games from Bethesda and other ZeniMax studios will be on Xbox consoles, PC, and "other consoles on a case by case basis."
ORIGINAL STORY: Microsoft is officially acquiring ZeniMax Media for a whopping $7.5 billion in cash, thus making it a first-party Xbox Games Studios. This purchase includes developers like Bethesda Game Studios, id Software, ZeniMax Online Studios, Arkane, MachineGames, Tango Gameworks, Alpha Dog, and Roundhouse Studios.
The news was announced by Microsoft today and means that games by ZeniMax's roster of studios will likely be Xbox-exclusive games. Thus future titles in series such as The Elder Scrolls, Fallout, Starfield, Doom, Wolfenstein, Dishonored, The Evil Within, Prey, and other ZeniMax franchises not releasing on PS5 or PS4, though the official word on this is unclear at this time.
There is a history of other Microsoft first-party franchises (like Minecraft, Cuphead, and Ori) releasing on other platforms, though sometimes at a delay from when the Xbox versions did.
Microsoft intends to bring Bethesda's future games to its Xbox Game Pass subscription, allowing those titles to be played to subscribers on Xbox consoles and PC at launch.
This acquisition increases Microsoft's number of first-party studios from 15 to 23 studios and adds over 2,300 employees across the globe.
"Generations of gamers have been captivated by the renowned franchises in the Bethesda portfolio and will continue to be so for years to come as part of Xbox," said Xbox executive Phil Spencer.
Microsoft's acquisition of Zenimax Media is expected to close in the second half of 2021's fiscal year.
"But the key point is we're still Bethesda," said Bethesda marketing senior vice president Pete Hines. "We're still working on the same games we were yesterday, made by the same studios we've worked with for years, and those games will be published by us."
"Yes, it's a big change for us, but after taking a minute to absorb the magnitude of this acquisition, we're going to continue doing what we know and love: making great games. We're going to keep trying new things."
Source: Microsoft, Bloomberg, Bethesda, PR Newswire