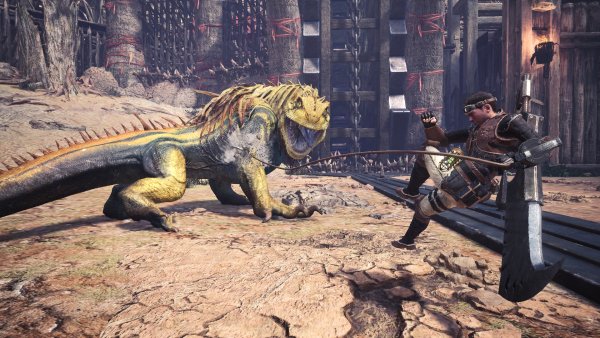 A trio of fresh Monster Hunter World: Iceborne trailers have been released by Capcom overnight, highlighting some of the key items players can get their mitts on in the expansion, such as the Clutch Claw, Great Sword, and Long Sword. In case you missed it, the Iceborne DLC was announced during Sony's most recent State of Play event, and is due out later this year.
Monster Hunter World: Iceborne Trailers Showcase New Weapons
The new Monster Hunter World trailers are only about 45 seconds long, and offer a brief demonstration of each weapon's abilities in action.
The Clutch Claw is a complement to the Slinger ability, allowing players to shoot a claw while prepping the Slinger to latch onto creatures. The Great Sword meanwhile is capable of dishing out some meaty damage, although it's a cumbersome weapon to wield and its attacks are pretty slow. Finally, the Long Sword is a little more agile, and boasts greater range, too.
Check out the trailers at the bottom of the article. Monster Hunter World: Iceborne is due for release on PlayStation 4 and Xbox One on September 6, with a PC version following later in the year.
Iceborne takes place in a brand new location known as the Hoarfrost Reach, which is completely drenched in snow (sometimes waist-deep) and home to some brand new creatures. Chief among these beasts include the Velkhana, an elder dragon capable of dishing out an icy breath attack, and the Banbaro, a two-horned behemoth that charges its enemies 'like a running brick wall.'
Monster Hunter World was released on PS4 and Xbox One in January 2018, and ranks as Capcom's best-selling game of all time, taking the crown from Resident Evil 5 in the process. The series has always been pretty huge in Japan, but in the west it was more of a cult franchise until Monster Hunter World came along and mixed things up.
Read our review of Monster Hunter World here.